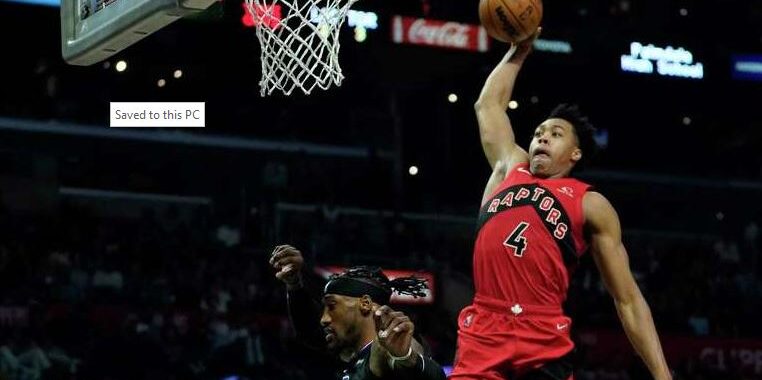 Hollywood Showdown – Despite a heartbreaking loss, Toronto wins the battle against the City of Angels
The High 5 – Week in Review – Week 22
The High 5 is where I review the last week of Toronto Raptors basketball including how the team did, who were the impact players as well as some news and notes from around the league.
The Thumb – How was the week?
We are at the point of the season where every game matters. The stakes are growing higher and higher as the playoffs approach. There are no more easy wins, every night is a rock fight.
The Raptors took 2 out of 3 games against Los Angeles this week after splitting a pair against the Lakers and outright beating the Clippers.
They punched the Lakers in the mouth for a win which elicited a "Lets go Raptors" chant from the Raptors fans in attendance. Then, they outlasted the Clippers who looked impressive in defeat.
However, they were handed a crushing loss when Westbrook and the Lakers got their revenge by ripping victory away from a rabid Scotiabank arena. Even though Toronto should have won that game, the Lakers were focused, determined, and motivated. LeBron had that look in his eye and Westbrook was a bubbling kettle pot waiting to explode. This game had a playoff feel with an air of unpredictability and chaos.
Toronto will head into a difficult stretch of games that carry heavy implications. A couple of wins could vault them out of the Play in Tournament, but a couple of losses could close the gap between them and the dangerous Nets. Something Toronto desperately wants to avoid.
Anunoby (or even Flynn) could be exactly what Toronto needs for this final push but there has not been an update on their status in a while. Hopefully, their return is sooner rather than later because competition will only get tougher the rest of the way and Toronto needs all the help they can get.
Week Record (2 – 1)                       Season Record (39 – 31)
Toronto Raptors v Los Angeles Lakers                    W           114 – 103
Toronto rolled into LA riding a tidal wave of momentum. The Lakers have a laundry list of issues, and the Raptors could smell blood in the water. They rocked the Lakers with a haymaker named Barnes, prompting them to call 2 timeouts within the first 5 minutes. Toronto held LA to 12, 1st quarter points, the lowest they have scored in any quarter this season. They carried their hefty lead for most of the game. Trent Jr., Siakam, and Barnes looked like stars. The Lakers did enough to keep the final score respectable, but Toronto was in no danger.
Toronto Raptors v LA Clippers                                   W           103 – 100
The City of Angels has been kind to Toronto, and they were looking for more on Wednesday against the Clips. The Clippers have been playing above their heads, especially considering their injuries, and they were looking to put up more of a fight than the hapless Lakers. Momentum swung like a seesaw with single digits separating both teams. This game was played at a high level with attention to details. Toronto closed out the victory with excellent defense down the stretch.
Los Angeles Lakers v Toronto Raptors                     L              128 – 123
Toronto had a golden opportunity to extend their streak when the dysfunctional Lakers visited on Friday. LA held a modest lead throughout the first half, they learned from the mistakes of their previous matchup and were better prepared. Toronto countered with Siakam, an energized Achiuwa who suddenly has a 3-point shot, and Scottie Barnes who had the best game of his career. This one was all but over until a horrendous turnover in the dying seconds allowed none other than Russell Westbrook to bury a triple forcing over time where LA eventually won. The Lakers absolutely stole this victory.
The Index – The Leader – Player of the Week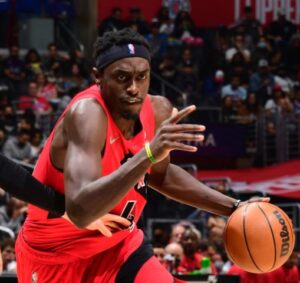 Pascal Siakam
It was a toss up between Siakam and Barnes for Player of the Week. Barnes has been heating up recently and putting up some incredible numbers, but Siakam has been doing this all year and as the de facto leader of the team, Siakam gets the nod. Pascal picked up double doubles in the first two games but gave way for Barnes to have a monster night on Friday. He is instant offense within the paint and his jumper continues to look more confident. Siakam has been excellent at reading defenses and taking what is given. In space, he is hitting that J. If crowded, he uses his length and quickness to leave opponents in the dust. And when doubled, he will spin away from coverages or find cutters when he has the attention of defenders. Siakam may still have doubters, but it is not unreasonable to say he is a top 10 forward in the league.
| | | | | | | | | |
| --- | --- | --- | --- | --- | --- | --- | --- | --- |
|   | Points | Rebounds | Assists | Steals | Blocks | FG | 3PT | FT |
| v LAL | 27 | 11 | 5 | 1 | 1 | 9/17 | 2/3 | 7/10 |
| v LAC | 31 | 12 | 3 | 1 | 0 | 13/22 | 3/5 | 2/2 |
| v LAL | 17 | 6 | 7 | 1 | 1 | 6/12 | 1/2 | 4/7 |
| | | | | | | | | |
| Weekly Avg | 25 | 9.6 | 5 | 1 | 0.6 | 28/51 | 6/10 | 13/19 |
|  Games |   |   |   |   |   | 55% | 60% | 68% |
| Season Avg | 21.9 | 8.4 | 5.1 | 1.2 | 0.6 | 47% | 36% | 74% |
| | | | | | | | | |
Honourable Mention: S. Barnes
The Middle – The Enemy – Best Opposing Player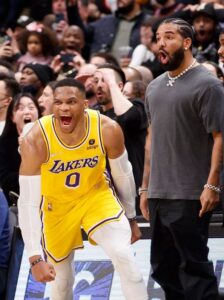 Russell Westbrook – Los Angeles Lakers
Despite his first ballot Hall of Fame career, Westbrook has been the butt end of many jokes this season. Fans used to watch him in awe and admiration, now they can't wait to clown him in the arena or even on the streets. Russell flipped the narrative with a game to silence his critics, at least temporarily. Westbrook, fueled with rage and frustration, collected a triple double and played solid defense. However, the only thing anyone will remember was how he connected on a cold blooded 3 with .4 on the clock to send the game to overtime. Despite the extra frame, Toronto lost the game in that moment. He must have felt incredible after he hit that shot, Westbrook let out weeks of emotion as he celebrated with teammates.
| | | | | | | | | |
| --- | --- | --- | --- | --- | --- | --- | --- | --- |
|   | Points | Rebounds | Assists | Steals | Blocks | FG | 3PT | FT |
| v TOR | 22 | 10 | 10 | 1 | 0 | 8/18 | 4/7 | 2/2 |
Honourable Mention: L. James (LAL – GM1), R. Jackson (LAC), L. James (LAL – GM2)
The Ring – The X Factor – Standout Performance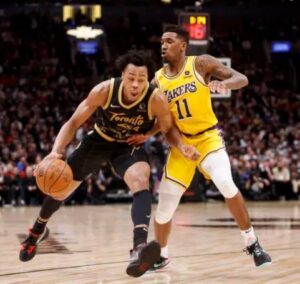 Scottie Barnes v Los Angeles Lakers (Game 2)
How often can a team say that their rookie put up MVP numbers? This is exactly what Scottie Barnes did against the Lakers. His final stat line was more reminiscent of a game from Giannis Antetokounmpo than a fresh faced 20-year-old. He set two career highs in rebounds and points and was an unstoppable dynamo all game long. Only 5 of his 31 points came from the stripe or from deep which means he did his damage around the paint with great efficiency. His game was punctuated with a big one-handed tomahawk slam, clutch defensive possessions and savvy basketball IQ. He even got the stamp of approval from King James who raved about him in the post game conference. Scottie made the incredible look routine.
| | | | | | | | | |
| --- | --- | --- | --- | --- | --- | --- | --- | --- |
|   | Points | Rebounds | Assists | Steals | Blocks | FG | 3PT | FT |
| v LAL | 31 | 17 | 6 | 1 | 0 | 14/21 | 1/4 | 2/2 |
Honourable Mention: P. Siakam v LAL (GM 1), Trent Jr. v LAL (GM 1), P. Siakam v LAC
The Pinky – The Unsung Hero – Key Contributor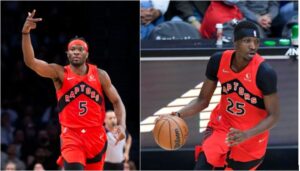 Precious Achiuwa and Chris Boucher
Hustle and Energy. That should be the nicknames for Chris and Precious because that has been predominantly what they bring to each game. Boucher has significantly decreased his urge to put up three pointers in favour of mixing it up in the paint for second and third chance efforts. His wiry frame allows him to weave into tight spaces and find angles denied to bigger bodies. Boucher's lengthy wingspan and pogo stick bounce has rewarded him with crucial rebounds on the offensive glass. But just as Boucher is modifying his game from deep range to up close, Achiuwa has been doing the opposite. He has stretched his range to beyond the arc and has found paydirt more often than anyone expected. His corner threes are becoming more consistent, he isn't afraid to take the ball the length of the floor and his bounce is explosive. These two bench players, sometimes starters, have fulfilled their roles admirably and should be commended.
Honourable Mention: G. Trent Jr., F. VanVleet                       
News and Notes
25, 15, 5 – Scottie Barnes joins LeBron James, Blake Griffin, and Ben Simmons as the only rookies to ever have 25 points, 15 rebounds and 5 assists in a game.
Turning Red – The new Pixar film Turning Red is based out of Toronto in 2002. A subtle detail that some may have missed is that one of the characters wears a purple and red basketball jersey with the number 15 on it. This is clearly a tribute to Vince Carter and a nice Easter Egg for basketball fans.

Photo Courtesy: @UNCanada/Twitter
Around the League
10k – Shoutout to the King, LeBron James, who becomes the first player ever to collect over 10000 points, 10000 rebounds, and 10000 assists.
New York Minute – The Nets, a team used to being fined, was hit with another one, this time totalling $50000. In their game against the Knicks, Kyrie Irving, a player currently unable to play in home games due to vaccine mandates, was allowed into the Brooklyn locker room. Despite not taking the court, this is still a violation of New York City law and health and safety protocols.
And Counting – Nets forward Kevin Durant incurred a $25000 fine of his own after cussing out a fan at a home game in Brooklyn.
Colour Scheme – The Grizzlies and Thunder game was postponed last Sunday when both teams took the court in white jerseys. It is surprising that this happened considering the rainbow of jerseys every team has, but it was hilarious nonetheless to see everyone in white with confusion on their faces.

Photo Courtesy: Bally Sports
Up Next
The Raptors have a late-night Sunday game against the 6ixers in Philly. That game would have been included in this week's High 5 if not for the fact that the Raptors play on Monday night against the Bulls in Chicago. This is a rough back-to-back. On Thursday, Toronto will host the Cavaliers, a team they are chasing in the standings. On Saturday, they will close out their week with a winnable game against the Pacers in Toronto.