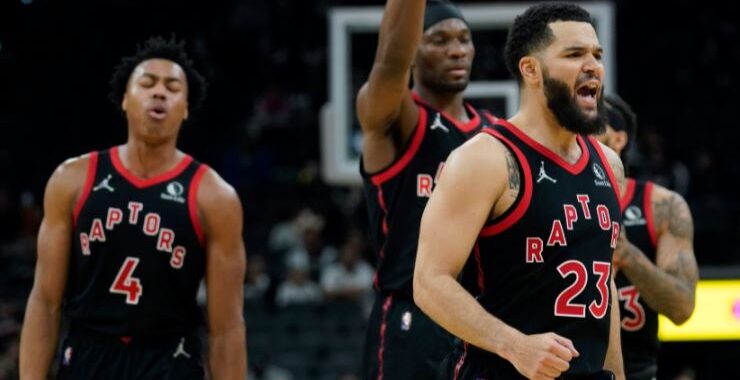 Adversity Creates Character – The Raptors Bounce Back for Perfect Week
The High 5 – Week in Review – Week 21
The High 5 is where I review the last week of Toronto Raptors basketball including how the team did, who were the impact players as well as some news and notes from around the league.
The Thumb – How was the week?
What a difference one week can make.
This time last week, the Raptors were a mess. They were handed two of their worst losses against two of the worst teams in the league. Their locker room was riddled with injuries, their shooters were colder than the weather, and team morale was low. They had just begun a 6-game road trip which took them through the difficult West. To make matters worse, VanVleet's suspect knees were still an issue, and with Flynn still injured, Coach Nurse was left scrambling for ball handlers.
By all accounts, this should have sent the Raptors spiralling down the standings but instead, the team has come together against the opposition. Their camaraderie only got stronger, and the results were an undefeated week.
The only game VanVleet played was in a win against the Spurs where he went off for 26. In Phoenix, it was Trent Jr. who exploded to tie his season high 42 points. And against the Nuggets, the tandem of Siakam and Barnes kept the ball moving while sharing the scoring load for an impressive win.
Toronto now creeps ever closer to the Cavaliers for 6th spot in the East. With the Nets heating up behind them, the Raptors cannot afford any slippage.
This was a character-building week. These wins prove that the Raptors can compete with anyone. If they retain that confidence and ride it through their upcoming LA swing, the Eastern conference race will only get tighter.
Week Record (3 – 0)                       Season Record (37 – 30)
Toronto Raptors v San Antonio Spurs                     W           119 – 104
The Raptors collective breathed a sigh of relief when Fred VanVleet took the floor with the starters. His presence alone added some much-needed organization and spacing. Everyone looked energized and engaged but the Spurs were ready to defend their home court. It was an entertaining first half with points a plenty. Siakam was in his bag, VanVleet put up desperately needed points from the guard spot and Barnes used every drop of fuel in his tank for a big 2nd half. The Raptors methodically kept the pressure on and grew their lead for the easy win.
Toronto Raptors v Phoenix Suns                               W           117 – 112
The Raptors were in it tough when they took on Phoenix in the Valley of the Rising Sun. Even without Chris Paul, the Suns are the class of the NBA and currently hold the best record in the league. Phoenix balanced their attack around the towering Ayton and the sharpshooting Booker. Both players demanded double teams and kept the Raptors scrambling on D. On the other end, Toronto countered by attacking the rim every chance they got. Trent Jr. was a pit-bull down the stretch that would not be denied. This was a statement win.
Toronto Raptors v Denver Nuggets                         W           127 – 115
After Toronto pulled off the improbable, they were in hostile territory once again, this time against the Nuggets in Denver. Jokic was still a 1-man wrecking crew, but Toronto was ready. Barnes has recently found a new level of comfort. His defensive instincts caused chaos in the lane, and he was money anywhere from 6 feet of the rim. Siakam ran a basketball masterclass; he knew exactly when to pass and when to attack. Boucher and Achiuwa gave the Raps an injection of energy. Toronto outscored Denver on second chance opportunities by 19 points. That effort was the difference.
The Index – The Leader – Player of the Week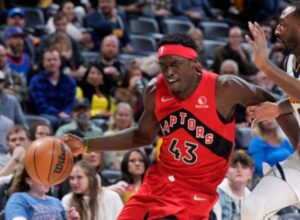 Pascal Siakam
The Spicy one brought the heat this week with yet another strong string of games. He was solid in San Antonio, a dime man in Phoenix and a stud in Denver. Siakam's confidence is palpable, it oozed off the screen whenever he had the ball. He no longer thinks about his moves, he just acts instinctively. With polish on his touch, nice elevation on his jumper and endless length, defenders struggled to keep up with him. His budding relationship with Barnes is nearing 'Stepbrothers' territory, they fit next to each other seamlessly. When Pascal plays like this, he is a joy to watch. Some say if you listen hard enough you can still hear him screaming, 'AND 1'!
| | | | | | | | | |
| --- | --- | --- | --- | --- | --- | --- | --- | --- |
|   | Points | Rebounds | Assists | Steals | Blocks | FG | 3PT | FT |
| v SAS | 20 | 8 | 3 | 1 | 0 | 7/15 | 2/5 | 4/4 |
| v PHX | 25 | 7 | 10 | 1 | 0 | 10/24 | 2/5 | 3/4 |
| v DEN | 33 | 5 | 7 | 2 | 0 | 12/22 | 2/4 | 7/8 |
| | | | | | | | | |
| Weekly Avg | 26 | 6.6 | 6.6 | 1.3 | 0 | 29/61 | 6/14 | 14/16 |
|  Games |   |   |   |   |   | 48% | 43% | 88% |
| Season Avg | 21.8 | 8.3 | 5.1 | 1.3 | 0.6 | 48% | 35% | 74% |
| | | | | | | | | |
Honourable Mention: S. Barnes
The Middle – The Enemy – Best Opposing Player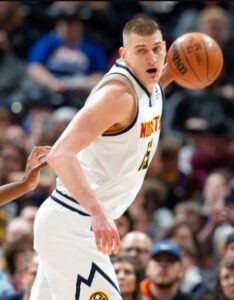 Nikola Jokic – Denver Nuggets
There were a lot of good opposing players this week. From Murray and Johnson in San Antonio to Payne and Booker in Phoenix, however there was no one more impressive than Jokic. Toronto focused all their attention on the big man, but Nikola still loomed large in the paint like an angry thunderstorm. He got his points off smooth post moves where he expertly used his hulking frame to create space. His crafty passing and nimble footwork was almost enough for a win but Toronto took away the Jokers smile.
| | | | | | | | | |
| --- | --- | --- | --- | --- | --- | --- | --- | --- |
|   | Points | Rebounds | Assists | Steals | Blocks | FG | 3PT | FT |
| v TOR | 26 | 10 | 7 | 0 | 2 | 9/13 | 0/0 | 8/9 |
Honourable Mention: K. Johnson (SAS), D. Murray (SAS), C. Payne (PHX)
The Ring – The X Factor – Standout Performance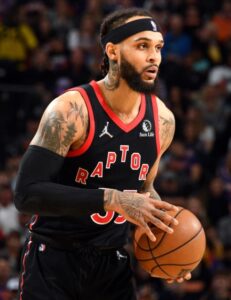 Gary Trent Jr. v Phoenix Suns
In the movie Austin Power: Goldmember, Austin has his 'mojo' stolen. This resulted in his inability to perform when it mattered most. This was exactly what happened to Trent Jr. since the All-Star break. He had been shooting blanks and the Raptors had been losing. But all it took was a little bit of sun for Gary to find his 'mojo' again. Gary caught fire from deep and rained terror for a monster night. He was automatic from the field. Phoenix tried everything to throw water on him. Cam Payne got in his grill, crowded his landing space, jaw jacked him and got physical but it didn't matter. Gary still burned them. Yeah, baby.
| | | | | | | | | |
| --- | --- | --- | --- | --- | --- | --- | --- | --- |
|   | Points | Rebounds | Assists | Steals | Blocks | FG | 3PT | FT |
| v PHX | 42 | 8 | 1 | 0 | 0 | 13/21 | 8/11 | 8/8 |
Honourable Mention: F. VanVleet v SAS, P. Siakam v PHX, S. Barnes v DEN, C. Boucher v DEN
The Pinky – The Unsung Hero – Key Contributor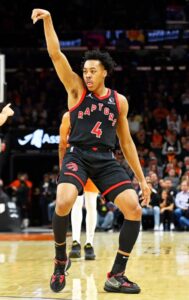 Scottie Barnes
Early in the season, Barnes did not know his place in the rotation. He would differ when he should have been aggressive or send a no look pass into the front row when a simple chest pass would do. He is now showing signs of putting it all together with a better balance of aggression and poise. His throw back post game helps him get an easy 10-12 points a game while his 3-point shot is developing faster than expected. The best part about Scottie is that he only gets better as the game wears on. He makes winning plays in the crunch with confidence and moxie.
Honourable Mention: P. Achiuwa, C. Boucher                        
News and Notes
Bad Khemistry – Poor Khem Birch. He had only been back a few weeks since breaking his nose, then, in the game against San Antonio, he took another shot to the face, this time knocking out his front tooth. He may want to consider a full-face mask going forward.
Brothers reunited – Former Raptor Norm Powell is teasing a partnership with Fred VanVleet. Instagram hints a joint project called 'Bet on the Grind'. This could be a mix of Powell's 'Understand the Grind' and VanVleet's 'Bet on Yourself'.

Photo Courtesy: @npowell2404/Twitter
Around the League
Randle off the Handle – New York's Julius Randle makes a familiar return to the High 5 as his tumultuous season continues. This time it is for instigating an altercation during a game. He lost his temper and went after Cam Johnson of the Phoenix Suns. Because of this, Randle was fined $50000.
Frustration continued – Sacramento centre Domantas Sabonis was suspended without pay for getting into the face of a game official in the Kings loss to New York. Losing pay for a game is much worse than being assessed a fine. This will cost Domantas $127586.
Nice Beard – Not enough positive things are said about Philly's James Harden. He may be one of the most polarizing players in the league, but he is still one of the best. On Thursday, he passed the great Reggie Miller on the all-time 3 pointers list. He now sits in 3rd behind Ray Allen and Steph Curry.
Big Business – Shout out to Phoenix Center Bismack Biyombo who has pledged to donate his entire salary for this season to help build a hospital in the Congo. His efforts are to honour his father and to use his platform and resources to make a larger impact than anything he could do on the court.
Pop On Top – Congrats to San Antonio coach Gregg Popovich who became the winningest coach in regular season history after he picked up his 1336th career win!

Photo Courtesy: William Luther/AP
Up Next
The Raptors will be in the City of Angels on Monday night to take on LeBron James and the Lakers. They will stay in Hollywood for a few days and face the Clippers on Wednesday to conclude their road trip. The Lakers will follow them home for a Friday night game. On Sunday night, the Raptors will face the 6ixers in Philly but considering the time of tip and subsequent schedule, that game will likely be included in the following weeks High 5.