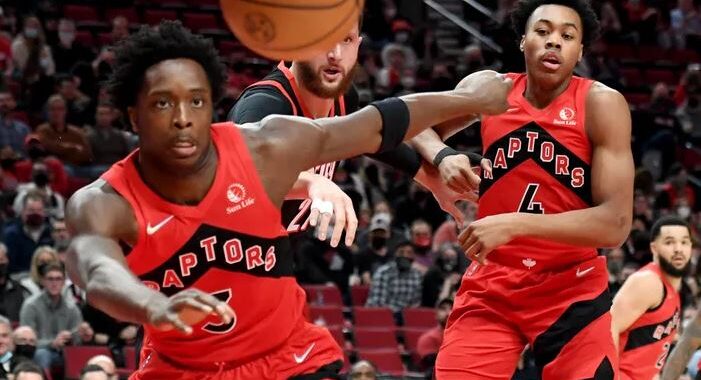 Climate Change – Toronto's bitter defeat to the Blazers reminds them there is still a lot of work to do
The High 5 – Week in Review – Week 14
The High 5 is where I review the last week of Toronto Raptors basketball including how the team did, who were the impact players as well as some news and notes from around the league.
The Thumb – How was the week?
The Raptors have passed the halfway point of the season and the obvious take is that they are a perfectly average team. Not only does their record reflect that, but so does their place in the standings, right in the middle of the pack. At times they look like world beaters, able to hang with the leagues best. Other times they look confused and frazzled, barely able to squeak by inferior squads or worse, flat out losing in embarrassing fashion.
Health and safety protocols along with lingering injuries has influenced their chemistry, but that is not a situation unique to Toronto. When healthy, the Raptors have looked considerably better and occasionally, tease dangerous potential. With Coach Nurse only trusting 7 maybe 8 players a night, anybody missing action has a detrimental ripple effect. Although Boucher and Achiuwa have been resurgent off the pine, depth has been an issue.
Ontario was hit with the mother of all storms on Monday and some of the bitter chill must have reached them in South Beach because the Raptors were cold against the Heat. They were fed another loss in Dallas. Their only win came against Washington. They took the season series with that victory which may be important come playoff time. They ended their week by letting an undermanned Portland team steal a win on their home floor.
The road is long, but the potential is there. With another tough stretch of games looming, Toronto can't afford any slippage.
Week Record (1 – 3)                       Season Record (22 – 22)
Toronto Raptors v Miami Heat                                  L              104 – 99              
The Raptors were looking forward to playing their former point guard but unfortunately, Kyle Lowry was out which meant the reunion with their franchise legend would be put off to another date. Toronto attacked with defense. They put the Heat in handcuffs, forced turnovers and broke out in transition as if it was a track meet. Coach Nurse only really played 6 players and he rode them into the ground. This was a tough, gritty game. The Raps had their hands on their knees at every break. They fought every second but came up short.
Toronto Raptors v Dallas Mavericks                        L              102 – 98
The Raptors paid their only visit to Dallas on Wednesday to take on the feisty Mavericks. Toronto may have taken their lumps recently, but their confidence and chemistry is growing. The team continues to tweak their offense and find little wrinkles of opportunities. The action was crisp an exciting. Achiuwa and Boucher noticeably increased their level of play. The team look motivated, locked in and quick to the ball. In the second half, heavy legs set in, and the Raps suddenly looked fatigued. They pushed through the pain and nearly stole a win in the final moments but once again tasted defeat.
Toronto Raptors v Washington Wizards                W           109 – 105
Toronto spent Friday night in DC to take on the Wizards. Washington began the game by beating up on a flat Raptors squad forcing Coach Nurse to call a timeout within the first 2 minutes. The Raps finally came alive late in the 2nd behind the rook Scottie Barnes. They used their unconventional length to take a sliver of a lead into halftime. Toronto picked apart Washington's D but the Wiz rallied back when the Raps got predictable on offence. They pushed but the Raps were more than willing to push back.
Portland Trailblazers v Toronto Raptors                L              114 – 105
Toronto must have missed the start time of their game because they were a complete nonfactor for the entire first half. They disrespected the Trailblazers and Portland made them pay by opening up a massive lead. They blitzed Toronto like a group of ducks swarming an old man carrying bread. The Raptors were caught on their back heels and had no response. They could lay the foundation for a whole neighbourhood with all the bricks they were shooting. Believe it or not, Toronto came all the way back from down 34 to make it close. By then, the clock became their enemy and time ran out.
The Index – The Leader – Player of the Week
Pascal Siakam
Pascal's ascension continues and his ceiling is no where in sight. He routinely filled the stat sheets with high scoring totals and crooked numbers off impressive playmaking and rebounding. Offence looked easy for Pascal; he seemed to get any shot he wanted. His chemistry with OG and Scottie is developing nicely, and he has found a lot of success off pick and rolls and in the midrange.
| | | | | | | | | |
| --- | --- | --- | --- | --- | --- | --- | --- | --- |
|   | Points | Rebounds | Assists | Steals | Blocks | FG | 3PT | FT |
| v MIA | 18 | 6 | 10 | 5 | 1 | 9/20 | 0/2 | 0/0 |
| v DAL | 20 | 8 | 3 | 3 | 0 | 7/18 | 0/2 | 6/8 |
| v WASH | 21 | 7 | 4 | 1 | 0 | 8/17 | 1/2 | 4/4 |
| v POR | 28 | 8 | 5 | 1 | 1 | 13/20 | 0/1 | 2/4 |
| | | | | | | | | |
| Weekly Avg | 21.75 | 7.25 | 5.5 | 2.5 | 0.5 | 37/75 | 1/8 | 12/16 |
| 4 Games |   |   |   |   |   | 49% | 13% | 75% |
| Season Avg | 21 | 8.3 | 4.9 | 1.2 | 0.7 | 47% | 33% | 73% |
| | | | | | | | | |
Honourable Mention: F. VanVleet
The Middle – The Enemy – Best Opposing Player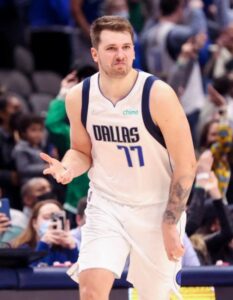 Luka Doncic – Dallas Mavericks
Cool hand Luka was a one-man marvel in easily his best game of the year. He reeled off a season high in points, got double the number of rebounds as his nearest teammate, while leading his side in dimes, free throws, and triples. He looked to be playing at half speed while others struggled to keep pace. To say he did it all would be an understatement, Doncic dragged his team to the win. Games like this will force Luka back into the MVP conversation.
| | | | | | | | | |
| --- | --- | --- | --- | --- | --- | --- | --- | --- |
|   | Points | Rebounds | Assists | Steals | Blocks | FG | 3PT | FT |
| v TOR | 41 | 14 | 7 | 1 | 0 | 13/24 | 4/10 | 11/12 |
Honourable Mention: J. Butler (MIA), T. Herro (MIA), B. Beal (WASH), CJ. McCollum (POR)
The Ring – The X Factor – Standout Performance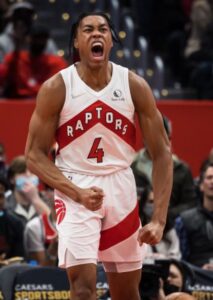 Scottie Barnes v Washington Wizards
Scottie received some heat after he failed to close out on dangerous shooters in the Mavericks loss. The lasting image of that defeat is Luka draining a deep triple with Barnes, the closest defender, with his arms at his side. Barnes needed a bounce back game; cue the middling Wizards. The rook went off, he feasted from mid post with a soft floater that was near unguardable. It wasn't anything complicated or flashy. Muscle into the paint, turn and hook. The Raps fed Barnes through 3 quarters, and though he was quiet in the 4th, he still set a new career high in points.
| | | | | | | | | |
| --- | --- | --- | --- | --- | --- | --- | --- | --- |
|   | Points | Rebounds | Assists | Steals | Blocks | FG | 3PT | FT |
| v WASH | 27 | 8 | 1 | 1 | 0 | 12/19 | 0/1 | 3/4 |
Honourable Mention: P. Siakam v MIA, C. Boucher v MIA, C. Boucher v Dallas, F. VanVleet v WASH
The Pinky – The Unsung Hero – Key Contributor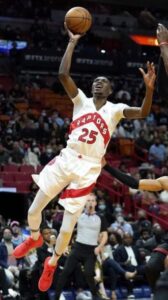 Chris Boucher
Boucher has been Toronto's best bench player, heck at times, he has been Toronto's only bench player. Chris continues to excel with elusive rebounding, disruptive defence and hustle, hustle, hustle. Boucher's hyperactivity has been a boon and he is starting to slip the occasional triple again when the opportunity arises. His resurgence has been a shot in the arm for a team desperate for bench production. The image of an exhausted Boucher has become an instant meme and also a reflection of what the Raptors need from him. Effort and energy. All of it.
Honourable Mention: F. VanVleet, OG. Anunoby                  
Around the League
No Grace – Milwaukee's Grayson Allen, a player known to be dirty, only added to his reputation after he dangerously took down Chicago's Alex Caruso in an attempt to stop a fast break. He was immediately ejected and vilified over the internet. It did not help that Grayson showed little remorse at the time. He did not check on the fallen player and instead flashed a little smirk that the Chicago faithful won't soon forget. Caruso ended up breaking his wrist, now needs surgery and will be out for weeks.
Buck Stop – In a pretty classless move, the Bucks social media team reflected their indifference to the incident by posting a gif of a grinning Grayson Allen eating a donut the next morning. The NBA handed Allen a 1 game suspension.

Photo Courtesy: @Bucks/Instagram

New York Friction – As documented in a previous High 5, New York's Julius Randle was fined for booing his home fans and telling off a reporter. His trepidation with the media continued this week when the team failed to make him available for responsibilities after the Knicks played the Pelicans. This incurred a $25000 fine for the organization for violating league rules.
Hand Ball – Brooklyn's assistant coach David Vanterpool reached out and deflected the ball in live play when the Nets played the Wizards. Somehow, the obvious infraction was missed by game officials and play continued with Brooklyn coming away with a steal. What's worse, the Wizards lost by only 1 point. Though the outcome of the game won't change, the Nets will be fined $25000 with Coach Vanterpool picking up an additional $10000 for his part.
Brooklyn Bad Boys – The Nets seem to have no problem running their mouths against fans. Not only has Kevin Durant been fined for multiple language violations, but his teammate, flat Earther Kyrie Irving has now joined him. The much-maligned guard cussed out a fan in Cleveland which cost him, you guessed it, a $25000 fine.
King of Kings – LeBron's greatness cannot be denied. LBJ has now become the first player to score over 30000 points, collect over 10000 rebounds and dish out over 9000 assists.
Up Next
Toronto will host the Hornets on Tuesday. The next night, they will be in Chicago for a difficult game against the Bulls. They conclude their week with yet another matchup against the Heat, again in Miami on Saturday. This week gives the Raptors three opportunities to make a statement. With a strong showing they can prove that they belong among the upper echelon of the East. However, a weak effort will have them tumbling down the standings once again.