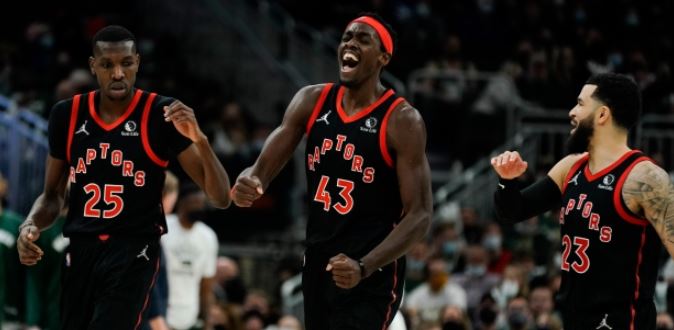 Bite Back – The Raptors salvage a tough week with a monster win over the Bucks
The High 5 – Week in Review – Week 13
The High 5 is where I review the last week of Toronto Raptors basketball including how the team did, who were the impact players as well as some news and notes from around the league.
The Thumb – How was the week
Despite the losses, Toronto is approaching a point where it feels like they can play with anyone and never seem overmatched.
The Phoenix game was always going to be difficult. The Raptors needed a good effort from Chris Boucher, who channeled the spirit of Dennis Rodman, to keep the game tight. The Detroit game was a trap and the Raps fell right into it. They completely overlooked the Pistons and got punched in the mouth for it.
Toronto disappointingly let those games, and opportunities, get away.
However, the main event for the week was the matchup against the Bucks. The Raptors used the sting of their Pistons loss to fuel a statement win in the heart of Milwaukee. That victory alone made up for their defeats and reignited Toronto's resolve.
If their backs are ever against the wall, they only need to look to their win over the Bucks to reaffirm their confidence.
They are going to need all the positive energy they can get heading into a loaded week.
Week Record     (1 – 2)                   Season Record (21 – 19)
Phoenix Suns v Toronto Raptors               L              99 – 95
The Suns were as hot as their name, and they brought stiffer competition than what Toronto had recently faced. Furthermore, Toronto's run of good health ended when Barnes and Trent Jr. sat due to injury. Toronto attacked with aggressive D to try and force the ball out of Chris Paul's hands, they sent instant doubles to Devin Booker and rolled the dice on the rest. Phoenix raised the intensity after halftime, challenging the Raptors to match them. This was a highly entertaining game, but the Suns were just too much. If there is such thing as a good loss, this was it.
Toronto Raptors v Detroit Pistons            L              103 – 87
The Raptors wanted to avoid any bad luck when they visited the Motor city. The Pistons somehow always give Toronto problems, no matter the standings. Toronto started as cold as the weather, the Pistons got easy transition buckets off them early. This was the opposite to Toronto's game against the Suns, it was mucky, ugly basketball. Detroit embarrassed the Raps in the second half. They were the aggressor and were rewarded with the win. If there is such a thing as a bad loss, this was it.
Toronto Raptors v Milwaukee Bucks       W           103 – 96
There was an ominous feeling heading into this one. The Raptors had their confidence rocked and to make matters worse not only were they still missing bodies, but the Bucks also had a motivated Antetokounmpo in their lineup. The Bucks, galvanized by a packed home crowd, forced Toronto to fight uphill all half. After the break, the Raptors relied on a tight rotation. Their trio of Siakam, Anunoby and VanVleet played like the champions they are. They also got great contributions from Boucher, Achiuwa and the ultimate hustle man, Champagnie. It took laser sharp focus for Toronto to win this game.
The Index – The Leader – Player of the Week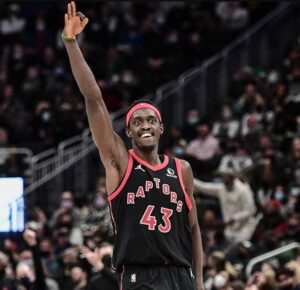 Pascal Siakam
Pascal's ascension has been steadily progressing over these last few weeks. His scoring looks like second nature, he has left many defenders befuddled in his wake. His rebounding has elevated to near elite levels as well as his passing. Siakam's basketball IQ has taken a step up while the game has slowed down, he knows how and where to attack. His pick and roll with VanVleet is nearly unguardable and he is a key piece to Toronto's defensive front. He capped off a strong week with an impressive Triple Double. Siakam reminds me of that scene in the first John Wick movie where the villains have Keanu captive and he yells "People keep asking me if I'm back… yea, I'm thinking I'm back!"
| | | | | | | | | |
| --- | --- | --- | --- | --- | --- | --- | --- | --- |
|   | Points | Rebounds | Assists | Steals | Blocks | FG | 3PT | FT |
| v PHX | 22 | 7 | 7 | 3 | 0 | 10/23 | 0/5 | 2/4 |
| v DET | 23 | 11 | 4 | 0 | 1 | 8/17 | 1/2 | 6/9 |
| v MIL | 30 | 10 | 10 | 2 | 0 | 11/20 | 3/3 | 5/9 |
| | | | | | | | | |
| Weekly Avg | 25 | 9.3 | 7 | 1.6 | 0.3 | 29/60 | 4/10 | 13/22 |
| 3 Games |   |   |   |   |   | 48% | 40% | 59% |
| Season Avg | 21.1 | 8.5 | 4.8 | 1.0 | 0.7 | 48% | 34% | 72% |
| | | | | | | | | |
Honourable Mention: F. VanVleet
The Middle – The Enemy – Best Opposing Player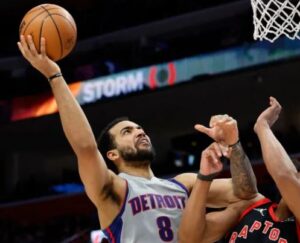 Trey Lyles – Detroit Pistons
The Suns beat the Raptors by committee and even though Giannis went off in his game, it came in a loss. As a result, the door was open for the Best Opposing Player and Saskatoon native Trey Lyles walked right in. Trey may not look like a threatening player, he isn't particularly strong or fast, but he does understand angles and timing. He worked his way to easy buckets and led his team in scoring, rebounding and free throws. All of this came off the bench. He was the X factor for the Pistons.
| | | | | | | | | |
| --- | --- | --- | --- | --- | --- | --- | --- | --- |
|   | Points | Rebounds | Assists | Steals | Blocks | FG | 3PT | FT |
| v TOR | 21 | 7 | 1 | 2 | 2 | 6/10 | 0/2 | 9/10 |
Honourable Mention: C. Paul (PHX), G. Antetokounmpo (MIL)
The Ring – The X Factor – Standout Performance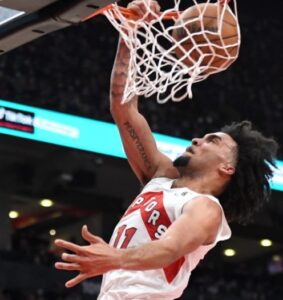 Justin Champagnie v Milwaukee Bucks
As the Raptors bench continues to struggle, Justin Champagnie is making his case for more minutes. By all accounts, he appears undersized against most forwards in the league, but he has an uncanny knack at finding loose balls. This was on full display in the win against the Bucks. It was as if his hands were magnets, he would pull rebounds towards him like Thor calling for his hammer. Justin used his impeccable timing on his jumps to pick rebounds out of the sky at the peak of his verticality. What's even more impressive was that 6 of his boards were offensive.
| | | | | | | | | |
| --- | --- | --- | --- | --- | --- | --- | --- | --- |
|   | Points | Rebounds | Assists | Steals | Blocks | FG | 3PT | FT |
| v MIL | 3 | 12 | 1 | 0 | 1 | 1/5 | 1/2 | 0/0 |
Honourable Mention: C. Boucher v PHX, F. VanVleet v Det, Siakam v Det, Siakam v MIL
The Pinky – The Unsung Hero – Key Contributor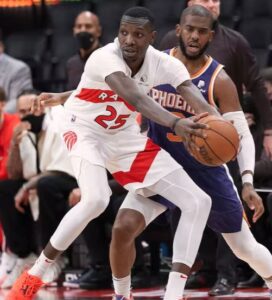 Chris Boucher
After a rocky first half of the season, Boucher has found his groove and place in the rotation. He no longer relies on his streaky outside shot to be effective. He has learned how to use his extendo-arms to disrupt passing lanes and shot attempts without leaving his feet. Boucher was outstanding against the Suns where he battled amongst larger men and earned a tough double double with 13 and 16. He was energized against Detroit, albeit not as effective, but he had another strong game against the Bucks. Chris is providing points, timely rebounds, and reliable defense. Can't ask much more than that.
Honourable Mention: OG Anunoby, J. Champagnie, F. VanVleet 
News and Notes
3 Point Barrage – Fred VanVleet was on an impressive run from deep. He had hit 4 plus threes in 10 straight games. Only Steph Curry and James Harden have longer streaks. Unfortunately, that came to an end against the Bucks were he only stuck 3.
Nose for the Ball – Khem Birch only logged 4 minutes against the Pistons before he was taken out due to injury. He took a shot to the face that broke his nose. Don't be surprised to see him with a mask whenever he returns to the team.
Around the League
The King Giveth – LeBron James now sits 7th on the NBA's all time assist list. People get caught up in the scoring and forget how good of a passer LeBron really is.
Brothers at Arms – The Wizards have come back to Earth after a hot start to their season and their frustration is starting to show. On Tuesday, Montrezl Harrell and Kentavious Caldwell-Pope got physical with each other during halftime of their game against OKC.
No Bol – Denver tried to trade Bol Bol to Detroit however, the lanky big man was unable to pass the team physical. As a result, the trade has been rescinded. It's going to be really awkward at the next Denver practice.
King's Crown – Shaq O'Neal sold his minority stake ownership of the Sacramento Kings. When looking at the current state of the Kings, I can't blame him. No one wants to go down with a sinking ship.
Hey Language! – Brooklyn's Kevin Durant was hit with a $15000 fine after using prophane language in the post game media scrum. Personally, I don't mind some colourful words from players, but I understand the NBA's family friendly mandate.
Cold as Ice – The NBA has informed the Sacramento Kings facility staff that they are no longer allowed to play "Cold as Ice" by Foreigner. This came after they arena played the song in reference to an opposing player, the Lakers Russell Westbrook. This is both hilarious and ridiculous.

Photo Courtesy: Sportbible.com
Up Next
Toronto will travel to South Beach to take on Raptor legend Kyle Lowry and the Miami Heat. This will be the first game against Lowry in an opposing jersey, it should be an emotional and spirited affair. On Wednesday, Toronto will travel to Dallas to take on the improving Mavericks. Friday, their road trip continues to Washington to challenge the stumbling Wizards. They wrap up their week with a Sunday evening game against the Portland Trailblazers back in the 6. There are no gimmies this week. Toronto needs to be on their 'A' game.