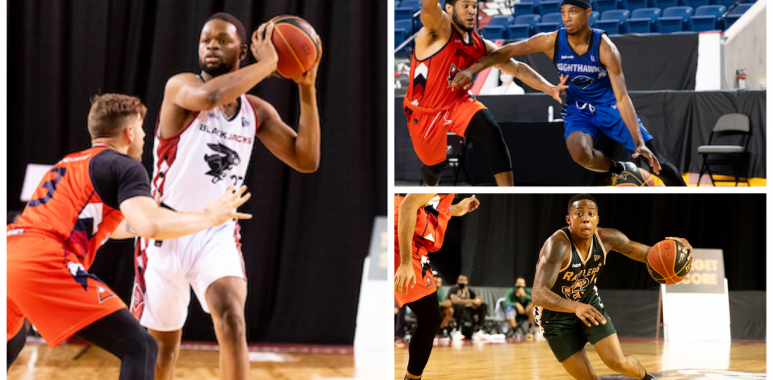 CEBL Draft Day is here, it's time to celebrate for fans of Canadian Basketball
All Photos Courtesy the CEBL 
Going forward, I propose that today, the day of the Canadian Elite Basketball League's (CEBL) Draft reveal, become an official Canadian basketball holiday. 
Much like how the NBA's Draft has turned in many ways into an annual reminder of the growth of Canadian hoops, the CEBL's draft should be viewed as another milestone on the calendar. For three rounds and 21 picks, Canadians will be selected from Canadian schools (U Sports programs) to play for Canadian professional teams.
Not only that, each team is required to have at least one U Sports player on its 10-man active roster at all times. As an official partner of Canada Basketball as well, the league has made no secret of its intention to help grow the sport in this country. 
It's DRAFT DAY💯. Results will be revealed at 3 PM ET today. 👀#OurGame #CEBLUSPORTSDraft @USPORTSca pic.twitter.com/jAQkwR6hUv

— CEBL (@CEBLeague) April 14, 2021
The impact of policies like this isn't lost on the basketball community. Jermaine Small is the head coach of the defending champion Edmonton Stingers and also the head coach of the University of Lethbridge's men's basketball program. 
Small has been working in U Sports since 2011 when he started on Roy Rana's staff at Ryerson. Now in 2021, Small reflects back on those early years and the idea of a Canadian pro-league with U Sports players and said, "It was never even thought of like we never discussed it." 
2021 will be the CEBL's third season and yet despite being so new, still Small can already see the impact it's having on the mentality of the players he recruits to come to Lethbridge.
"The kids believe it, know they can play pro and I mean, as coaches we have to know that that's the goal," Small said. "Right, you've got to help develop them… I think it's our duty as a coach to prepare them for the future." 
First & foremost I want to thank God for always showing me the way.

Thank you to @CEBLeague, the @ED_Stingers family for believing in my vision and most importantly the players. You guys are the reason I do what I do.

Edmonton this is for you and only the beginning. pic.twitter.com/LhD6f3BSzH

— Coach Smalls (@Jermaine_Small) August 10, 2020
One of those players who went into U Sports with the idea of turning pro and eventually made it happen is Marcus Anderson. Last season for the Guelph Nighthawks, the third pick of the 2020 draft got an opportunity more than five years in the making. 
"I've always had this idea of me playing pro and trying to compete at the highest level I can," Anderson said. "My goal was to go pro. When I met with Dave (Smart), I was like this is my goal. What can you guys teach me in order for me to get there." 
The former Carleton star knew what he was doing when he joined Smart's program saying, "It was probably the main reason I went to Carleton." Since making the goal come to fruition last summer, Anderson has already noticed the importance of this league to future generations.  
"Even me who barely played, I had a couple of kids message me," Anderson explained. "And they're like, 'Oh, I'm 16, is there a possibility, what are the type of avenues that I should go into to try to get into the CEBL?' I'm like bro, honestly, just play as good as you can, learn as much as you can. And even if you're in a Canadian university, it's a possibility now."
Anderson attributes this interest in the league for the younger players to "The realization that pro basketball in Canada and being a Canadian athlete, especially now, is much more obtainable."  
Marcus Anderson has played on big stages before. Now, he's ready to make the jump to the professional game.

Read the feature on @GNighthawks guard @itsMxrcus' mindset heading into his first game at the pro level tomorrow on @cbcsports. Link: https://t.co/fCOFwHSxuC#OurGame pic.twitter.com/N5Eb6miSNM

— CEBL (@CEBLeague) July 24, 2020
It isn't just the 16-year-olds who are seeing the benefits though. Rashawn Browne, who was the CEBL's rookie of the year runner-up, wasn't even planning on playing pro-basketball once his career at the University of Manitoba ended. 
After his senior season concluded in March 2020 though, the idea of staying in his home country while continuing on with basketball was an opportunity Browne couldn't pass up. 
"The ability to stay in the country was a lot more appealing to me," Browne said. "I've heard a bunch of horror stories of guys going overseas and going to like dinky teams and having horrible experiences. I didn't want that to be the case for me." 
Saskatchewan Rattlers Guard Rashawn Browne puts Fraser Valley's Cameron Forte on skates drills the the 3⃣ triple.#CEBL pic.twitter.com/cgQlZIy3xz

— BasketballBuzz.ca 🇨🇦🏀🍁 (@basketballbuzz) July 29, 2020
The player who ended up taking home the U Sports player of the year trophy over Browne was none other than the Ottawa BlackJacks' Lloyd Pandi. Unlike Browne and Anderson, a unique twist to Pandi and the CEBL is the fact that despite playing professionally last summer, the Carleton Ravens star maintained his U Sports eligibility. 
So, after playing for the BlackJacks in the Summer Series, Pandi was set to return to Carleton for the 2020-21 season. Obviously, COVID-19 had other plans and the U Sports season didn't happen so Pandi will have two CEBL years under his belt the next time he plays in the Ravens' Nest. The fact he gets this chance is something he takes a ton of pride in.
"Just having the opportunity to know that I still have my years of eligibility and nothing will impact that and have the experience that I had and gaining the knowledge from playing in a pro-league and bringing it back to university was really a great advantage for me," Pandi said. "I really appreciated that, it made it so much easier for me." 
Beyond just the general point of getting to play pro, Pandi found it in ways inspirational as well. Getting to share the locker room with players like Thomas Scrubb, Olivier Hanlan and others who have played in top leagues and competitions around the world is something Pandi left St. Catharines and the Summer Series with. 
"I felt like it was a really good opportunity for me to get to play guys who had played professionally in other leagues I aspired to be in one day," Pandi said. "Just having the feeling of how the pro game is played and how those guys carry themselves is a great opportunity and I had a lot of fun as well."
The 💍 is here.

"Lloyd Pandi, 2020 @CEBLeague x @USPORTSca Player of the Year" has a nice ring to it. 😏

Pandi will be presented with this gorgeous @CEBLeague Award Ring for last year's honours.

Well-deserved Lloyd. 👏👏#HopOn | #OurGame pic.twitter.com/twtjSzIlqT

— Ottawa BlackJacks (@ott_blackjacks) March 31, 2021
One player who already forayed his time in the CEBL into other pro offers is Sascha Kappos. Fresh off the CEBL championship with the Stingers, Kappos signed with Koroivos, a club in Amaliadas, Greece. 
As a dual-citizen between Canada and the United States, Kappos brought a unique perspective to the 2020 Draft where he went fourth overall out of Dalhousie. He had heard good things about the league but when he arrived for camp and saw it up close, he gained a new appreciation for what he had gotten himself into. 
"I knew it was going to be good basketball coming in but then being there firsthand and actually playing it was very good basketball, very good players with incredible amounts of talent," Kappos said. "If you want good quality basketball just to watch at a high skill base, with a high pace, with an exciting new ending that's different from other leagues, this is the league to watch."
The Edmonton Stingers are the 2020 @CEBLeague champions‼️ S/O to all of the USPORTS players involved:

Jordan Baker (UofA)
Brody Clarke (UofA)
Mambi Diawara (UofC)
Sascha Kappos (DAL)
Xavier Ochu (DAL)
Zac Overwater (UofL)
Adika Peter-McNeilly (RYE)
HC, Jermaine Small (UofL) https://t.co/obOOCVO62F

— In the 4th (@inthefourth_u) August 9, 2020
Kappos is looking forward to the 2021 season where he'll soon report to Small and the Stingers' camp. He's one of five Stingers U Sports alumni on their 2021 Free Agency Tracker. Even for the CEBL, U Sports has a big impact on the Stingers, something that is "by design" according to Small.
To him, it's one of the best parts about the league and something he thinks really helps it connect with local fans. Last season's championship roster had two University of Alberta alumni for example, including Jordan Baker, an Edmonton product and someone who Small called "huge" for their impact in the city. 
Not long ago, to see a guy like Baker play at home was not realistic in Canada unless you were a Torontonian. With the CEBL, that's not the case anymore and come draft day, the opportunity for more Baker's to get chances will come to fruition once again. 
Whether it be a Baker at home, a Pandi still in school or even an Anderson making a lifelong dream come true, the draft does that and more for 21 Canadian hoopers. If you love Canadian basketball, how is that not something to celebrate?  
So, let me be the first to wish you a happy CEBL Draft Day.