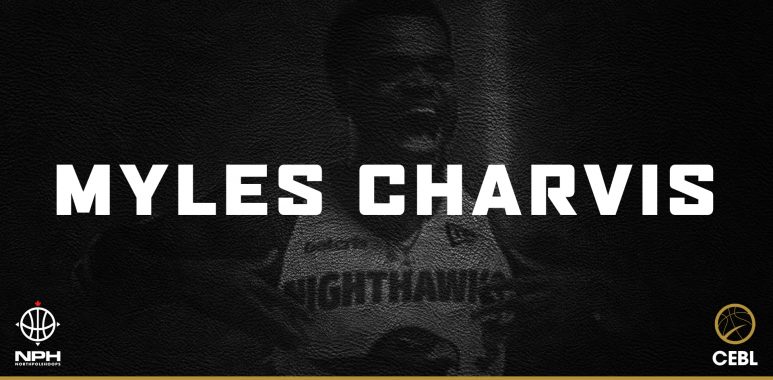 From the first-ever NPH Showcase to the CEBL, Myles Charvis on his career, advice for the next generation and what's next
Ten years ago, Myles Charvis was a little-known point guard out of Gonzaga high school looking to make a name for himself. Fast forward ten years later and Charvis has certainly done so. 
An alumnus of NPH's original showcase camp, Charvis would go on to success at the U Sports level. In his senior season at Ryerson after a stop at Waterloo previously, Charvis would be named the team's most valuable player and earn an All-Conference All-Star selection. 
Since leaving Ryerson in 2019, Charvis has gone on to success at the professional level with the CEBL's Guelph Nighthawks. Right out of school that summer, Charvis would make an instant impact for the Nighthawks. In 11 games he averaged 10.6 points and 5.1 assists. 
This past summer in the CEBL's Summer Series, Charvis was back with the Nighthawks contributing in a big way. Charvis was a key off-the-bench contributor to an improved Guelph team that ultimately bowed out in the quarter-finals.  
A couple of weeks ago Charvis was nice enough to sit down with me to talk NPH camps, advice for young players, his time at the U Sports level and much more. Here's my conversation with NPH Alumni turned professional basketball player, Myles Charvis: 
Answers have been edited for length and clarity.
Is it true you were at one of the first camps?
 I think I was at the first camp, the first one that was in Orangeville at Athlete Institute. I'm pretty sure that was the first one ever.
 How did you end up there?
That's a good question. Let me see if I remember how it happened, I think just through high school. So, I went to Gonzaga High School and I think the first time Tariq and Elias saw me was, I think was in that SOSI tournament. I had a really good tournament and I saw that they were having their first-ever showcase for high school kids and obviously I was about the exposure because my high school wasn't the greatest. So, I needed to get exposure to be seen at the next level, whether it be CIS which I ended up playing or NCAA, didn't matter. But yeah, that's how it went. They put the information to sign up, signed up to go and then I had a good turnout and then I turned out to be one of the all-stars of the camp.
 I actually have your scouting report from that SOSI tournament here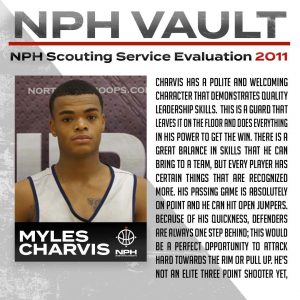 [Laughs] That's crazy.
What were those early experiences in NPH camps like?
2013 Myles Charvis showing great fluidity …one of the top PG prospects in Mississauga right now. #NPHOntarioShowcase

— Tariq Sbiet 🏆🇨🇦🌎 (@Tariq_NPH) February 4, 2012
I think for me it was a little bit of nerves, right? Because you're around all the best players around your age. No matter what region they're from, everyone was coming to that showcase. So, at first, it was just a little bit of nerves and then thinking of it as, a business side, I understood that, they're really trying to elevate Canadian basketball early, you know what I mean? Because they've been doing this, since 2011, probably before that as well and it's just amazing to see the progression of where it was and where it's going now. It was just really cool to be one of the trailblazers that got to be a part of the first one ever.
 It's cool going back because I was doing some research, looking back on the website and most of the articles are still up, believe it or not, and so are a lot of the camp rosters and one of the things, like one of the names that pops out now, is you were at a bunch with Mychal Mulder, who's obviously in the league now. What's it like going against guys who have that elite talent and being like you said, you were from a small high school where you didn't necessarily get that exposure. So, what's it like going into those getting that opportunity to go against the guys who are going to end up at the Kentucky's of the world?
Myles Charvis added to Toronto #NPHShowcase instructors. Part of 1ST EVER camp in 2012. CHARACTER. #MaximizePotential pic.twitter.com/yvUaGzeJMY

— NorthPoleHoops (@NPHShowcase) May 30, 2015
 I think the main thing is to really trust in your ability and trust that no matter where you are from, small school, big school, a lot of exposure, no exposure, that your talent will speak for itself. So, my mindset going into those types of camps was that I got skills, the guys that I go against are going to have skills too but let's match them and really see who's the better player. When you're in those situations I think you really just have got to size yourself up against the best, because that's why we play the game. We want to play against the best, we want to compete against the best and the competition aspect is why I love basketball. 
How much do you think going to those camps and just NPH in general helped you end up at a place like Waterloo? 
So firstly, I got my confidence from going to those, because since I was able to perform at a high-level, at those camps and be an all-star, it kind of like, let me know, all right, I'm headed in the right direction. Like the work that I'm putting in behind the scenes is getting noticed and one day it's going to pay off. So, from that, I just continued to train with my trainer, prepare for the season of going into U Sports and then what had happened was Waterloo got in contact with me because I did a fifth year and I went to REDA Prep and Coach [Greg] Francis actually came to a few games and practices and whatnot and he really believed in me. I believed in him, too, and what he was trying to build at Waterloo. It was kind of a match made in heaven. Then we agreed that I was going to go there.
 So you have some initial success at Waterloo. Do you think that those camps and going against those high-level players allowed you to come in right away into U Sports and play at a high-level? Especially because of what you said like you did that prep year, but otherwise, the vast majority of your reps playing basketball would have been in a smaller high school league. So how did those camps allow you to not only get to Waterloo but have that confidence once you were there?
MBB Waterloo stats review: Myles Charvis 20.3 ppg is 3rd in OUA, 7th in CIS and highest for Waterloo since Mano Watsa in 1997-98

— Martin Timmerman (@martintimmerman) February 22, 2015
 I think the main thing that you learn at these camps at a young age, is it's kind of like what players and scouts look for in a player. It's not all about athleticism and just being the biggest guy out there. A lot of players are looking for, like you said earlier, in my scouting report was that leadership role, especially from the point guard position. I was able to at those camps, really just to lock in on what's going to make me successful at the next level, being at that time, it would have been U Sports basketball. Then after that pro is the same thing, you always have got to find ways to be successful. In those camp settings, everyone wants to showcase their talent and there's only one basketball. So, you have to find ways to stand out in those settings and then it crosses over to when you go into tryouts, trying out for a team now in the pros that you have certain workouts, and you might just have one shot to show the coaches or the scouts what you're made of.
 Did that really help you understand who you were as a player because I'm guessing if you're playing in one of those smaller schools, you were tearing it up like I'm going to guess you were scoring a lot? I'm guessing you're crossing kids up, everyone knows how it goes. But obviously, as you've gotten to U Sports and now the CEBL, you're much more of a playmaker, control the pace kind of guy. So, did those camps really teach you what kind of guy you would be at that next level?
Congrats Myles Charvis committed to @ryersonrams #1-Ranked Team in Canada! @AirMyles_ about to BLOW #GameSpeaks #CIS pic.twitter.com/WzAT9jZwFf

— NorthPoleHoops (@NPHShowcase) January 27, 2016
Most definitely because, like you said, so coming from a high school you're the only guy on the team. You're going to get all the shots you want and be able to really showcase your true talent. But I had an early understanding of what type of player I was going to be if I wanted to make the next level because I'm an undersized guard. So as being an undersized guard, you've got to bring something else to the table. Obviously, I've got the speed and that leadership aspect, but to be a true point guard, you've got to get others involved. When I started playing with these higher-level talent guys, I understood that my responsibility now is to make everyone around me's job easier. If I'm able to do that and I learned that at the camps, too, because everybody's always trying to showcase what they got, show all of their skills so I'm like OK, cool. If I'm making all these guys look good as well, that's only going to make me look good because that's what a point guards' responsibility is, is to get guys the shots in their spots. Then if they can't if they're not hitting those shots, then, OK, now I've got to take over and get mine for the team and then flow back into the offence.
Going back to Ryerson, how did those couple of years with a guy like Roy Rana, help you blossom as a player or to the kind of guy who, like we're saying, can go right to the CEBL and have success as a pro?
Some special guys! 🏀
Congratulations to our @OUAsport All Stars, Myles Charvis and JV Mukama! ⭐️@JvMukama 1st Team All Star ❕@AirMyles_ 2nd Team All Star ❕ pic.twitter.com/bRdWFiVs9x

— Ryerson MBB (@RyersonRamsMBB) February 28, 2019
Those first few years at Ryerson just comparing it to Waterloo was night and day. Greg did all he could at Waterloo to try and make it a program that was building but the recruitment is, well it's just tough. The school is tough to get into. I transferred to Ryerson and then right away it was just on a whole other level because they're always in Nationals. They always make it to Nationals, always in the running for OUA championships. The year that I went to Ryerson they just came off of the OUA championship where they beat Carleton at home. I was at that game because I knew I was transferring. But the great coaches are crazy, especially being a first-year player in a system like the first few years is a lot of learning, how he coaches, what he wants on defence, his schemes. But going to that program was really big for me to be a pro because it showed me how a pro practice would run, it showed me the value of game tape, watching your tape, watching your opponents, reading scouts, understanding your scouts. I didn't get that as much as I would have wanted to at Waterloo as I got it at Ryerson. He just runs his program like it's already a pro-NBA team. When I got to the CEBL, there was no drop-off. I was already used to how coaches put together their game tapes, how they put together their scouts, practice schedules, I was already good to go because at Ryerson that structure that was in place for us was so elite.
What's it like to think about that kid 10 years ago who you're showing up at these camps, not a ton of people know who you are, you're just trying to get a CIS offer, or an NCAA offer and to think all the way back to that and then where you are now as a pro, 10 years later, what's it like when you think back to that moment?
Myles Charvis. Look out for that kid. You will remember the name. He has been wired the right way. A sponge!@AirMyles_ @Juliushoops

— Tariq Sbiet 🏆🇨🇦🌎 (@Tariq_NPH) May 30, 2015
 Man, when I think back, this is what I wanted. It didn't matter what level of pro it was, I wanted to get paid to play the game that I love, that I fell in love with when I was four years old. What I would tell a kid like that 10 years ago is that just believe in yourself and keep working because you actually never know where you're going to end up. Coming out of Ryerson, I didn't know where I was going to play. I had a great senior year but like I said, an undersized guard and I'm coming from Canada, so it's tough for scouts to take you seriously because they don't know how serious the league is. The transition into the CEBL and still do the same thing that I was able to do at the U Sports level and in high school and still be a solid player to make any team better. I mean, you just keep working. That's what I would tell myself 10 years ago.
A big part of the NPH audience, people who read our articles are either players who are in high school or parents of kids who are in high school. So, what is the advice, Myles Charvis, NPH alumni, pro basketball player, what's the advice you'd give to those kids to help them in their journey?
Guys that have seen great development in working with A-Game are soon to commit; Kassius Robertson, Marko Pirovic, Josh Bell, Myles Charvis

— Elias Sbiet (@elias_sbiet) March 17, 2013
The first thing I would tell these kids is to be high character guys, be humble. Don't think of yourself as too big because life comes full circle. You don't want to burn any bridges at a young age because we're talking now about a camp, I did 10 years ago. That's just a testament to the relationship I built with you guys at NPH. So, the first thing I'd say is just be a high character guy for sure, without a shadow of a doubt, no matter how high your talent is, no matter how good you think you are, just always be a high-level guy. 
Secondly, what I would say to them is don't read too much into your press clippings. That's something my dad always told me. Even if you're really good, it all can come crashing down tomorrow. Always keep that work ethic mentality and always every day, try and get a little bit better. Even if it's one percent better than the day before, you've got to constantly progress and not be stagnant because this game of basketball is only evolving and players are only getting better and better at a younger age, so just continue to put the work in and get your daily deposits in on a day-to-day basis.
So you had some early success in the CEBL, you've found your way onto a team. You've achieved your goal of getting paid to play basketball. So now that that has been checked off your list, what is the one thing you're working on to add to your game to take another step forward?
"It's only going to get bigger and better"@CEBLeague giving Myles Charvis balance between pro basketball dream and family life as a young single father: https://t.co/7Ps2j5ok60 @GNighthawks pic.twitter.com/h6KCggI3wq

— CBC Sports (@cbcsports) July 29, 2020
Another step to add to my game would just be to just be a lockdown on-ball defender. The game nowadays is so much pick and roll. A point guard is going to get hit by like 40 to 50 screens a night so if I'm able to just navigate those screens at a high percentage and get over them so my big man doesn't really have to help as much and we can guard, pick and roll with just two players instead of the whole team, I mean, I think that's going to benefit our whole defence.