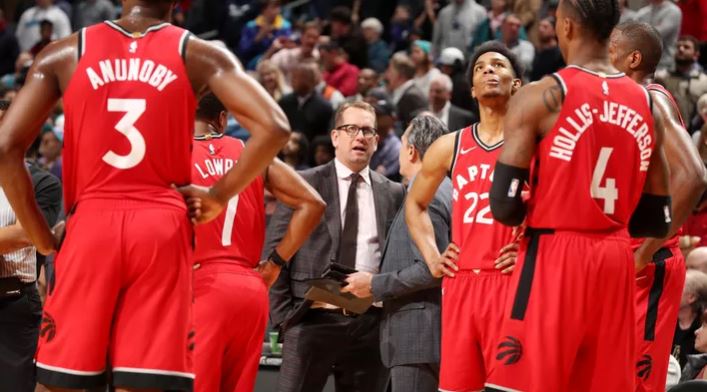 A brilliant mind: Coach Nurse head and shoulders above his peers
The High 5 – Week in Review – Week 12
The High 5 is where I review the last week of Toronto Raptors basketball including how the team did, who were the impact players as well as some news and notes from around the league.
The Thumb – How was the week?
The Raptors entered the week still ravaged by injuries, however, there was hope on the horizon. Late in the week, it was announced that Norm Powell and Pascal Siakam would make their returns against the Spurs, while Fred VanVleet and Marc Gasol are improving every day. Coach Nurse has managed his team like a savant yet, he has not received the credit he deserves for his efforts. He has maneuvered his players from the Raptors905 to the main roster like a chess master and has kept his team competitive every night. It has been Toronto's depth that has carried them thus far but its Coach Nurse that is at the helm of the ship. Every single player on this team is playing above expectations which is a direct result of his ability to get the most out of his roster. The rigors of the season continue but behind Coach Nurse, the Raptors stay ready.
Week record (1 – 2) Overall Record (25 – 14)
Portland Trailblazers @ Toronto Raptors – L 101 – 99
The Trailblazers entered their Tuesday night game sitting in 10th place in the West and were desperate for a win, but they had a home rested Raptors team waiting in the wings. The Raptors were without Fred VanVleet, meaning Rondae Hollis-Jefferson got another start. Aside from Lowry and Ibaka, Toronto was essentially the Raptors905 roster. That being said, Toronto received good minutes from Matt Thomas, Oshae Brissett and Stanley Johnson. Brissett and Boucher were especially impressive with their man and help defense. Coach Nurse rolled out all sorts of line ups, trying to find any combination that could click on both ends of the floor. The Raps grabbed 17 offensive rebounds and out shot the Blazers 96 – 88 but they could never gain any separation. The Blazers stayed with the Raptors behind superstar Damien Lillard and the rejuvenated Carmelo Anthony. Lowry and Ibaka both had double doubles and the bench played inspired basketball, but it was not enough to overcome Carmelo's heart-breaking late game daggers.
Toronto Raptors @ Charlotte Hornets – W 112 – 110 OT
The Raptors had a chance to wash away the bitter taste of defeat with a visit to Charlotte on their second night of the back to back. After being called out by his Coach, Terrence Davis II got the surprising start, which immediately paid dividends. He made Nick Nurse look like a genius as he set a new career high (23 points) in what was easily his best game of the season. The starters all played well; Ibaka, Davis and McCaw secured double doubles with Lowry one assist shy of joining that group. The Hornets were led by Terry Rozier's 27 points and got a huge game out of Miles Bridges, who knocked down 6 triples en route to 26 of his own. Just as fatigue started to wear down the Raptors, Coach Nurse turned to his two vets, Serge and Kyle, who went to work late. They orchestrated enough chances and created enough havoc on D to force overtime. In the extra frame, Davis stayed hot with massive back to back 3's and Serge went Beast mode to finally swat away the pesky Hornets.
San Antonio Spurs v Toronto Raptors – L 105 – 104
After a much needed few days off, the Raptors were back in action on Sunday evening against the improving San Antonio Spurs. The Spurs have been led by fan favourite DeMar DeRozan, he (rightfully) received a hero's welcome by the Raptors faithful. Norm Powell and Pascal Siakam both returned to the starting lineup, giving Toronto an immediate boost. The Raptors played excellent scramble defense which made every shot San Antonio took a difficult one. For long stretches, they looked better on offense, and were able to maintain a modest lead. But the Spurs were ignited by a series of obscene dunks from Rudy Gay and DeRozan that changed the complexion of the game. This sparked a 25-4 avalanche for the Spurs who snatched a 9-point lead into the final 2 minutes. The Raptors nailed a trio of triples and played desperate basketball to close the gap, but San Antonio did just enough to steal a victory.
The Index – The Leader – Player of the Week
Serge Ibaka
Ma Fuzzy Centre has been an absolute workhorse for Coach Nurse over these last few weeks. He has always been reliable but, ever since Gasol went down, Ibaka has elevated his game to reassert himself as one of the top 10 centres in the league. He has found magic in the pick and role with either of his point guards and he is starting to hit the three with increased efficiency. What has impressed most is his decision making and his poise under pressure. Serge has consistently produced all year, he is physical, he is emotional, and he has been a leader for the younger players. Like fine wine, Serge gets better with age.
| | | | | | | | | |
| --- | --- | --- | --- | --- | --- | --- | --- | --- |
|   | Points | Rebounds | Assists | Steals | Blocks | FG | 3PT | FT |
| v Blazers | 17 | 11 | 2 | 0 | 0 | 7/12 | 2/3 | 1/2 |
| v Hornets | 23 | 11 | 2 | 0 | 2 | 10/19 | 1/1 | 2/5 |
| v Spurs | 21 | 14 | 1 | 0 | 1 | 9/16 | 3/6 | 0/0 |
| | | | | | | | | |
| Week Avg | 20.3 | 12 | 1.6 | 0 | 1 | 26/47 | 6/10 | 3/7 |
| |   |   |   |   |   | 55% | 60% | 43% |
| Season Avg | 14.9 | 8.4 | 1.3 | 0.4 | 1 | 49.6% | 36.2% | 74% |
| | | | | | | | | |
Honourable Mention: Kyle Lowry
The Middle – The Enemy – Best Opposing Player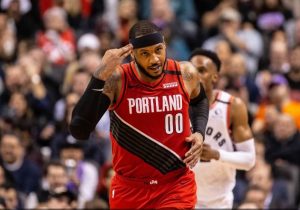 Carmelo Anthony – Portland Trailblazers
Carmelo Anthony is in the midst of a career renaissance. After once being considered unplayable in today's game, Carmelo has been making doubters eat their words on a daily basis. Since his return to the league, he has helped the Blazers regain their footing in a competitive Western conference. He had a throwback game against the Raptors on Tuesday night, reminding us all how good he still is. The Raps held down McCollum and kept Lillard in check, but Melo was money from midrange and distance. He earned a win for his team off a big scoring night and a vintage game winning jumper.
| | | | | | | | | |
| --- | --- | --- | --- | --- | --- | --- | --- | --- |
|   | Points | Rebounds | Assists | Steals | Blocks | FG | 3PT | FT |
| v TOR | 28 | 7 | 1 | 2 | 0 | 10/17 | 5/8 | 3/3 |
Honourable Mention: Miles Bridges (CHA), DeMar DeRozan (SAS)
The Ring – The X Factor – Standout Performance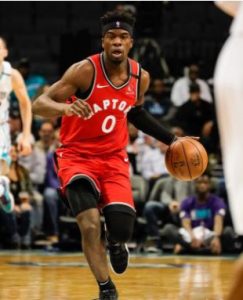 Terrence Davis II v Charlotte Hornets
Terrence Davis II had a chip on his shoulder on Wednesday night. His Coach put him on notice but instead of sulking, he responded with a career game. Davis gave the Raptors exactly what they needed; a punch of energy, timely shooting and something to prove. He went toe to toe with Charlotte's guards and mixed up his game with precision 3-point accuracy and emphatic drives. He even showed some bravado when Charlotte's Terry Rozier got into his face after the game. Toronto's undrafted rookie has made a name for himself and has earned his spot in Coach Nurse's rotation.
Honourable Mention: Brissett v Blazers, McCaw v Hornets
The Pinky – The Unsung Hero – Key Contributor
Chris Boucher
Chris Boucher had been picking up scrap minutes throughout his NBA career until this season's wave of injuries opened a door for the young Canadian. Boucher has taken full advantage of his unending motor and his ungodly 7'4" wingspan to make the most of his opportunity. His athleticism is out of this world, he has shrewd defensive instincts and he has the ability to throw in the occasional 3 for good measure. Boucher has ensured that when the Raptors go to their bench, they do not lose any production.
Honourable Mention: Kyle Lowry
News and Notes
Double Double Machine – Serge Ibaka has earned 8 consecutive double doubles. That man is cooking at a high temperature.
All Love – It was nice to see how much love DeMar DeRozan received from the Toronto crowd. He was honoured with a tribute and a rousing ovation. DeMar will always have a home in the 6.

Photo Courtesy: John E. Sokolowski/USA TODAY Sports
Around the League
Twitter Fingers – ESPN's Kendrick Perkins and Brooklyn's Kevin Durant got into a heated twitter exchanged over the weekend which set social media ablaze. It's always entertaining when the game spills over into other areas of life.
Trae Bien – Much respect goes out to Atlanta's Trae Young who teamed up with RIP Medical Depts to start the year off right. By donating $10 000 through his foundation he has helped cancel over $1 million of medical dept for city residents. We need more stories like this.
Victorious – After almost a year on the sideline due to a scary ruptured quad tendon in his knee, Victor Oladipo is set to make his return to the Pacers lineup on January 29th. This is a huge boost to an already strong club.
Up Next
The Raptors get an opportunity to evoke some revenge against the Thunder when they visit Oklahoma City on Wednesday night. On Friday, the Raps will host the Washington Wizards, a team that is finally starting to show signs of life, in the first half of a double header. After which, they will quickly travel to Minnesota to take on the struggling Timberwolves at the Target Center on Saturday night.