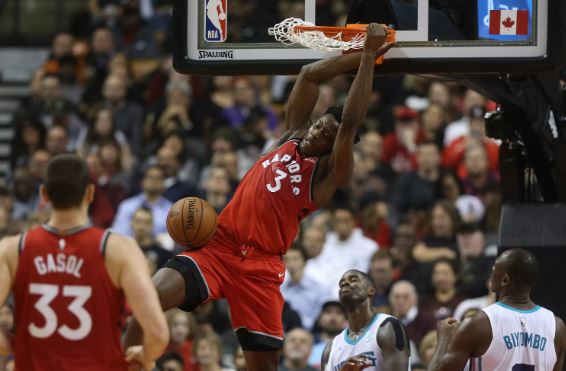 Fred VanVleet and Pascal Siakam lead an inspired bench to a perfect 3-0 week
The High 5 – Week in Review – Week 5
The High 5 is where I review the last week of Toronto Raptors basketball including how the team did, who were the impact players as well as some news and notes from around the league.
The Thumb – How was the week?
Week record (3 – 0), Overall Record (11 – 4)
The Raptors were grateful to be back in the safe confines of the Scotiabank Arena after an arduous road trip. Waiting for them this week were a collection of underperforming teams looking to make a statement against the defending champions. With bodies still on the mend, the Raptors could use a few games like this to help maintain their confidence and give their role players an extended opportunity to develop. Through all their obstacles, Coach Nurse has been able to get the most of his players and remain in the top tier of the Eastern Conference. Siakam and VanVleet have been picking up some shine from the league but its the recent play of Toronto's bench that is starting to turn heads. With Lowry and Ibaka's return right around the corner, there is no reason to doubt Toronto's ability to continue to climb the standings. These Raptors are not going anywhere.
Charlotte Hornets @ Toronto Raptors – W 132 – 96
The Charlotte Hornets have been better than expected, but still have a long way to go before being considered a contender in the East. They have a nice piece in Devonte' Graham, but with no real superstar to lead them, the Hornets have been inconsistent. Toronto, on the other hand, is playing well and they took quick advantage of Charlotte's inexperience. The Raptors kept the Hornets at arms length until half, but in the third quarter, the returning OG Anunoby made his impact. The young forward exploded to set a new career high with 24 points. Shortly after his scoring burst, as if jinxed, OG took another hit to his eye ending his night early. By that point, Toronto had done enough damage to allow Coach Nurse to let his bench loose on a disengaged group of Hornets. The most impressive stat to come out of this game was that after an eye pleasing display of unselfish basketball, Toronto set a new franchise high in total team assists with 40.
Orlando Magic @ Toronto Raptors – W 113 – 97
These innocuous random Wednesday night games against lesser opponents can sometimes be the easiest ones to overlook. Toronto already picked up a win against Orlando earlier this season, so Coach Nurse knew that the Magic were hungry to take one back. The Magic battled through the first quarter but in the second, two of their most impactful players, the Eastern Conference Player of the Week, Nicola Vucevic, and explosive forward, Aaron Gordon, both suffered ankle injuries. From that point, a victory for Toronto was all but assured. Fred VanVleet was relentless in his drives to lead Toronto with 24 points and 7 assists while Pascal Siakam racked up another double-double. Many of the highlights from this game were provided by Toronto's multi talented rookie Terrence Davis II, who notched a career high 19 points off the bench and Chris Boucher, who ended his night with 14 points, 11 boards (6 offensive), and a couple of slim flexes after some highlight reel dunks.
Toronto Raptors @ Atlanta Hawks – W 119 – 116
The Atlanta Hawks held a players only meeting after their most recent loss in Detroit to address their team issues. After a promising start to the season, they have fallen into obscurity and find themselves at the bottom of the standings. However, their game against the Raptors showed that they still have a lot of pride left. They battled for all 48 minutes, keeping Toronto from any reprieve by maintaining a high level of energy and frenetic play. This was the first game that I thought the Raptors really missed Kyle Lowry. His poise and professional leadership would have calmed the game to a more manageable pace. Fred had an uncharacteristically bad night with the ball, coughing it up 5 times, but he still scored 25 points to compliments Siakam's 34. Norm Powell, who is quietly raising his play, also contributed with 20, while Marc Gasol managed the defensive end with multiple deflections and sound fundamentals.
The Index – The Leader – Player of the Week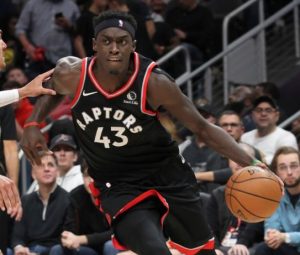 Pascal Siakam
Pascal Siakam has assumed the role of primary option for the Raptors effortlessly. His point per game and rebound production can always be counted on, but what is more impressive is how Pascal has been able to counter the way defenders have adjusted to him. When teams start to lay off his drives, he takes advantage of his improved jumper to knock down the above the break three. The gravity of his action continues to attract second and third defenders, opening space for his teammates while his percentages remain high, which speaks to his efficiency. Pascal is being included in Most Improved Player and All-Star conversations with faint whispers of MVP talk.
| | | | | | | | | |
| --- | --- | --- | --- | --- | --- | --- | --- | --- |
|   | Points | Rebounds | Assists | Steals | Blocks | FG | 3PT | FT |
| v CHA | 20 | 8 | 5 | 1 | 1 | 7-14 | 3-6 | 3-3 |
| v ORL | 18 | 11 | 4 | 1 | 1 | 7-18 | 1-4 | 3-4 |
| @ ATL | 34 | 4 | 3 | 1 | 2 | 11-18 | 4-6 | 8-9 |
| | | | | | | | | |
| Week Avg | 24.0 | 7.6 | 4 | 1 | 1.3 | 25-50 | 8-16 | 14-16 |
|   |   |   |   |   |   | 50% | 50% | 88% |
| Season Avg | 25.7 | 8.5 | 4.1 | 0.8 | 0.7 | 47.4% | 37.6% | 82.9% |
| | | | | | | | | |
Honourable Mention: Fred VanVleet
The Middle – The Enemy – Best Opposing Player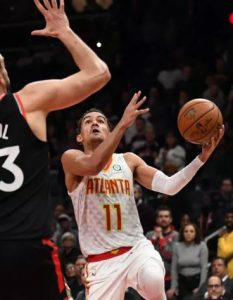 Trae Young
Trae Young will be the saviour of the Atlanta Hawks. Even though he is only in his second year, the dynamic point guard played the Raptors like a savvy veteran. He commanded respect from his teammates and opposition while playing with a huge chip on his shoulder. Young drove to the rim with purpose and shot the ball from everywhere on the floor with confidence. He had a triple double with ease against Toronto's disciplined defense. Trae should already be considered one of the top point guards in the league, he is the only reason to watch the Hawks at all this year.
| | | | | | | | | |
| --- | --- | --- | --- | --- | --- | --- | --- | --- |
|   | Points | Rebounds | Assists | Steals | Blocks | FG | 3PT | FT |
| v TOR | 30 | 10 | 10 | 1 | 0 | 11-23 | 4-11 | 4-4 |
Honourable Mention: De'Andre Hunter (Atl)
The Ring – The X – Factor – Standout Performance
OG Anunoby v Charlotte Hornets
OG had this week's standout performance after his dominant play against the Charlotte Hornets. OG only needed one quarter to earn this award as he went full Super Saiyan in the third to take control of the game. In that frame, he scored 16 points on 6/7 shooting including 4/5 from deep. To put that into perspective, the Charlotte Hornets scored 18 points in that quarter as a team. If not for his eye injury, OG could have easily continued to fill the stat sheet but setting a new career high with 24 points on 10/13 from the field with 5 rebounds and 2 assists in 27 minutes is a heck of an effort.
Honourable Mention: Terrence Davis II v Orlando Magic
The Pinky – The Unsung Hero – Key Contributor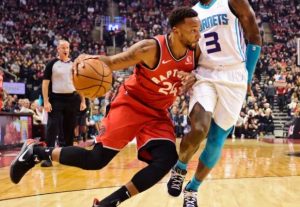 Norman Powell
Behind Pascal Siakam, Norman Powell is probably the best Raptor at attacking the rim. His ability to drive is integral to his game; not only does it force defenses to collapse it also opens passing lanes and gives him more space for his jumper (which he is starting to hit regularly). Norm's offense may be frustratingly inconsistent, but he is a responsible defender, an incredible athlete and a positive team player. This week, he put a string of good games together on both sides of the ball while scoring 17, 15, and 20 points respectively. Norm can help push this team to the next level if he can maintain this type of play.
Honourable Mention: Rondae Hollis – Jefferson, Chris Boucher
News and Notes
Top of the Mountain – Raptors president of basketball operations Masai Ujiri was named this year's 'Most Influential Person in Toronto' by Toronto Life magazine. Just add it to a long list of accomplishments and awards for the man who helped Toronto become a city of champions.
Accelerated Development – Toronto's scouting and development departments have earned some positive buzz around the league after turning undrafted players like Fred VanVleet, Chris Boucher and Terrence Davis into household names.
City Gear – The NBA released this year's alternate team jerseys known as the "City Edition". These jerseys have been met with mixed reviews, I have not seen a standout design yet. Toronto's version retained the Black and Gold colour scheme introduced a few years ago.

Photo Courtesy: @Raptors/Twitter
Around the League
Do Points Even Matter? – How is it that James Harden can average near 40 points per game and not be the MVP front runner? If ANY other player in the league put up those numbers, they would be the consensus MVP choice.
Vancouver Grizzlies are back! – At least for one night. The Memphis Grizzlies will be wearing the old Vancouver Grizzlies teal road jerseys for their Saturday night game against the Lakers.
Getting High – Former Raptor Danny Green got way, way up for a huge put back dunk the other night. He showed incredible bounce that had never been seen before from the oft grounded sharpshooter. In a hilarious follow up, he was immediately drug tested by the NBA (seriously).
Game Reductions – NBA commissioner Adam Silver is entertaining the idea of modifying the way the game is presented. This includes considering things like reducing the number of games in the year, reducing the length of a game or adding in-season tournaments. Personally, I do not think that there is a need to make such drastic changes, but I appreciate the NBA considering these options as the public's viewing habits continue to evolve.
 Up Next
After a light week that saw them go undefeated, the Raptors now welcome bitter rival Philadelphia for a Monday night affair. We have not seen the 76ers since 'the bounce', a moment that neither city will ever forget. From there, they host Canadian RJ Barrett and the New York Knicks on Wednesday night. On Friday, the Raptors visit Orlando to play the Magic (again) and finally finish their week with a difficult Sunday night game against the Utah Jazz in Salt Lake. Toronto will hope to have Lowry and Ibaka back in the line up soon for what could prove to be a tricky week.