Dynastie Basketball Camp On Notice, Quebec Heating Up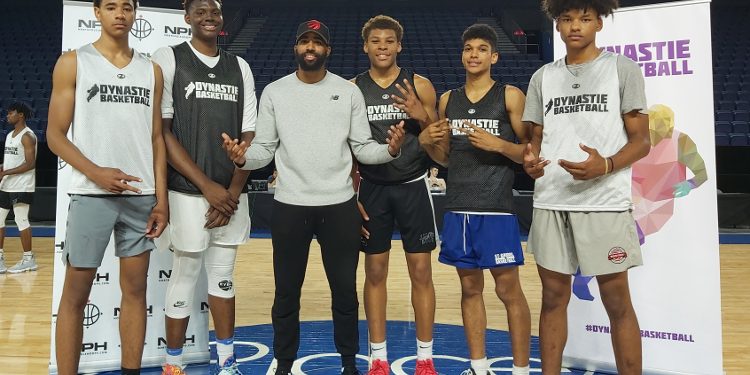 LAVAL, QC–The secret is out. Quebec is coming full throttle.
While an ultra-talented group of boys and girls competed and won gold medals at Nationals, there was another strong group at Dynastie Basketball Camp at Place Bell in Laval, Quebec.
Dynastie Basketball has kicked off its first annual camp which brought in a large group of talented Quebers between the ages of 14 and 18 in a combine setting, which was followed by drill work, controlled scrimmages as well as classroom sessions in nutritional seminars and USports/NCAA eligiblity. Based on patterns in scouting and making projections, there was several D1 and high level USports prospects in attendance.
Prospects came in from all over the province and from various and high schools and CEGEP programs.
The idea of a camp like this has been put in place to unify a community of basketball enthusiasts, in hopes of creating maximum opportunities for the student-athletes in the province of Quebec. It is essentially a gift to the community to ensure that there is consistent tracking and evaluation of the province's best on a quarterly basis.
Program directors mentioned that there will be multiple camps per year to ensure there is legitimate tracking of the talent and their development.
The best part about being in Quebec is that on every scouting trip there is someone new that gets on the radar and punches a spot in NPH's National Player Rankings.
Take for example the picture above, specifically Justin Ndjock-Tadjore, a 6'6 guard  from the Canadian 2021 class. He's every bit of a guard and was given an opportunity at camp to play some point, a position he is familiar with from before he had a 6 inch growth spurt over the course of one year.
Ndjock-Tadjore's upside is something to monitor. An athlete with his length, leaping ability and court vision is something most scouts would star and highlight in their notes.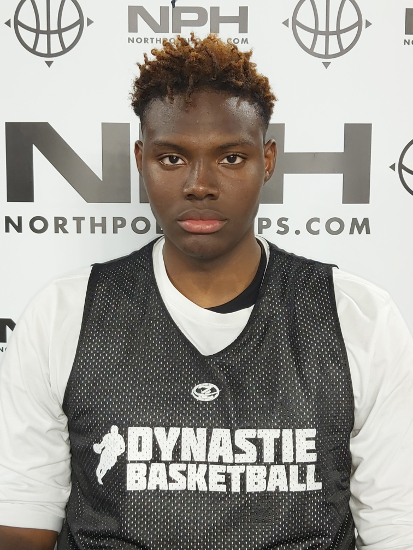 Upside was a word I used with Tre-Vaughn Minott, who stands second from the left in the above picture.
With bigs, the pattern is that they always take longer to develop as they mold into their frame and constantly change mechanics based on their physiological changes. Minott is one that is maximizing in every environment he's placed in. From seeing him first in his early high school days at St-Laurent to now with Champlain and UPlay in the summer to Dynastie Camp, he's developed a mean streak and is starting to have his way around the rim.
I strongly believe this big man's best days are ahead of him. His recruitment ranges from the low major levels of D1 to some teams in power 5 conferences that have taken notice and are intrigued.
2022 in Quebec isn't looking to bad either. Wilguens Exacte Jr is leading a new wave of talent from QC.
There's a predatory look in his eyes when he's on the hardwood. He's constantly on the hunt for a bucket on offense and a steal on defense. When you play with a motor like he has, even on a poor shooting night, you're bound to get noticed. That kind of energy is very visible and even contagious to teammates. Exacte Jr is tame and has the work ethic and self-motivation to reach the highest levels. I'm not ready to drop the L word…as in Leaguer, but I wouldn't count him out.
He has something that a lot of other kids in their teens today do not. Relentlessness.
He does not seem affected at all by the age of entitlement, so when I factor that in this equation, along with what he already is from a character standpoint and athlete; again I see major upside.
Next man up, To Randriasalama, has jumped into our top 20 for the Canadian 2021 class. He's going to the show the world why this season as he takes the reign at Brebeuf in Montreal.
His size for position, IQ, play making, three point shooting and athleticism are all upper echelon. There's not much missing outside of physical maturity, an area he has already started to address this summer.
Anyone close to Randriasalama told me that he was a gym rat. If you don't kick him out he simply wont leave. He is one of the few at camp who boasts a high academic standing. If it's maintained he'll have the chance to select from the school of his choice to fulfill both basketball and academic goals.
As we wrap on what was seen in Laval, Quebec, I can't finish without mentioning a menace known as Majambu Jack Dasan Mbikay.
Another one to keep an eye on this season on the wing. Another one of those perimeter players that can go off and score in bunches. Mbikay showed spurts of becoming a lock down defender and that's what really caught my attention. The passion from a prospect to bring himself/herself to being a two way player.
For 10 years now, North Pole Hoops has been making its way in and out of Quebec and we'll continue to shed light on the  enormous amount of talent that has been taking the game in Canada to new heights. If Quebec sweeping championships at Nationals wasn't enough, wait until this season as the scattered talent across the prep school season makes their mark.
#RespecTheQ