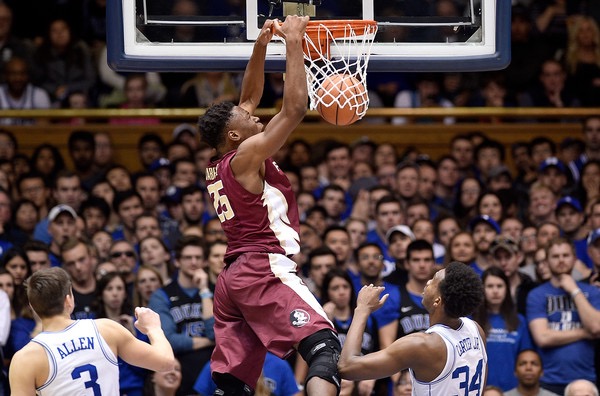 Canadian NCAA Stars Ready To Make Noise In March Madness
It's been 127 years since Canadian Dr. James Naismith created the beautiful game of basketball and though it's taken some time, the talent from the North now has its fingerprints all over the sport. With the NCAA Tournament bracket announced there are 24 Canucks representing the true north strong and free and many of them play pivotal roles on elite teams poised to make deep runs. Here's every Canadian that's going dancing and what you can expect from them moving forward.
RJ Barrett
Duke
Perhaps the best prospect in Canadian basketball history RJ Barrett and his Duke Blue Devils have been must-watch basketball this year and their games in the NCAA Tournament should be no different. Averaging 22.9 points, 7.5 rebounds, and 4.1 assists this season he's been stuffing the stat sheet and his sights will now be set on a National Championship to add to his trophy case. Barrett's efficiency and shot selection could use some improvement but he's got all the gifts to be a superstar and with Duke being placed in what I think is the weakest region of the bracket we could see Barrett playing for the title.
Kyle Alexander
Tennessee
Known for his defensive prowess throughout his career the strides Kyle Alexander has made offensively as a senior have been major. His 7.4 points per game might still look modest but on a team that has one of the most efficient offenses in the country Alexander's ability to pass out of the post, seal help defenders, and set vital screens in coach Rick Barnes' flex offense makes him an exceedingly important player on a team with Final Four expectations. He might not be the first player you notice when you tune into a Volunteers game but let me tell you, he's one of the most important.
Nickeil Alexander-Walker
Virginia Tech
Injury troubles cost the Hokies some games that dropped them to the 4-seed line but when healthy they showed they are one of the most dangerous offensive teams in the country and a lot of the reason why is the offensive potency of Nickeil Alexander-Walker. Possessing a deceptive dribble and a silky pull-up game he's got all the tools in the arsenal to break a defense down singlehandedly and when all is said and done this March, he could be one of the breakout stars. He and Justin Robinson (who missed some time but is apparently now healthy) make up what is potentially the best backcourt in the country and guard play wins in March so if you're looking for a sleeper team for your bracket, keep the Hokies in mind.
Mfiondu Kabengele
Florida State
I'm going to just come out and say it, Mfiondu Kabengele is the most underrated Canadian in college basketball this season. Despite coming off the bench, he leads the Seminoles in scoring at 12.9 points per game and considering Florida State is a 4-seed I'm picking too deep into the Tournament, Kabengele's ability cannot be understated. An NBA-caliber athlete with a deceiving amount of offensive flash he's a nightmare matchup for opposing forwards and he's someone I could see bursting onto the national scene this March. There are always stars that emerge from March Madness and I am fully expecting Kabengele to be one of them.
Ignas Brazdeikis
Michigan
Anyone who watched Ignas Brazdeikis in high school knew the man had a touch for scoring the basketball and playing for offensive mastermind John Beilein was a perfect fit for Iggy as he averaged 15.1 points per game this season while shooting threes at a 42% clip. An incredibly versatile forward who has been used as a pick and roll ball handler a ton in Michigan's offense he's one of their most important players and will be a focal point of their attack when they open the Tournament against Montana.
Oshae Brissett
Syracuse
Helping anchor the famous Syracuse 2-3 zone Oshae Brissett is a player coach Jim Boeheim never wants to take off the floor and, as the team's leading rebounder with at 7.5 per game and third leading scorer with 12.4, he's a key forward and a player you'll see a ton of if you tune into the Orange. Shooting the ball has been a struggle for him in an offense that hasn't been great, but he still finds ways to generate buckets with his length and athleticism. The defensive side of the basketball is still where he does most of his work and his excellence on that side of the ball is enough to make him appointment television.
Brandon Clarke
Gonzaga
Exploding onto the college basketball scene this year, Brandon Clarke has been the biggest breakout player of the last several seasons and he is the player you should make sure to watch. After starting his career on a struggling San Jose State team, he did enough to be noticed by Gonzaga coach Mark Few who brought him to Spokane as a transfer. I'm not sure what Clarke did during his transfer redshirt year but whatever it was worked as he became one of the best, most versatile defensive players in the nation while also being unstoppable on offense near the hoop. His 3.1 blocks per game speak to his athleticism and defensive timing while his 16.5 points and 8.4 rebounds show production in every other aspect of the game. He'll be headed to the NBA draft this summer so be sure to enjoy the last look at Clarke in college this month.
Joseph Chartouny
Marquette
Joseph Chartouny started his career at Fordham and after a successful few seasons he utilized the graduate transfer rule to head to Marquette and be immediately eligible. Things haven't worked out swimmingly for him at the Big East level and he probably hasn't seen as many minutes as he would expect (averaging only 15.3) and he's not a key part of their offense but is a willing contributor off the bench who does whatever he can to contribute to winning. There are rumblings that Marquette's star guard Markus Howard may have a broken hand and if that is the case Chartouny could see his role elevated and that is definitely something to keep an eye on as they take on the human highlight reel Ja Morant and the Murray State Racers round one.
Eze Dike
Yale
Eze Dike has been seldom used this season but when he's gotten on the floor, he has shown his explosiveness and man, is it special. We may not see Dike see the floor this time around but his time in the future will come.
Luguentz Dort
Arizona State
After an insane start to the season Luguentz Dort has cooled off a bit but he is still a powerful scoring guard that could singlehandedly win his Sun Devils a game or two in the Big Dance. A powerfully built guard, Dort gets to use a ton of ball screens that get him going towards the hoop where he can use his assortment of finishing moves to get the bucket while usually drawing a foul. Arizona State will be in tough to advance in the Tournament but with Dort's ability to score they will definitely have a puncher's chance.
Devonte Bandoo
Baylor
Expectations weren't high for the Baylor Bears this year as they were picked to finish second-last in their conference in the Big 12 coaches' preseason poll and they made everyone look silly by stealing tough games and shoehorning their way into the NCAA Tournament. Devonte Bandoo carved himself a role by being the Bears' best 3-point shooting threat and buying in to the team's amoeba-like 1-3-1 zone defense that has caused opponents fits and it's something extremely impressive from the junior college transfer. Bandoo's game is simple but effective and if Baylor is going to win a game or two you can bet it will be in large part due to his rugged play.
Clayton Henry
New Mexico State
Another Canadian to utilize the junior college route to Div-1 hoops, Clayton Henry's journey has been rewarded with a trip for him and his Aggies team to the NCAA Tournament. An active wing whose motor runs on both sides of the floor he's a smaller player that contributes on the glass and sets great screens offensively. Often times having to guard the best opposing perimeter player he gets challenged whenever he's on the floor which shows his competitive fire. With his New Mexico State team being a trendy upset pick, you might be able to see Henry play a few times in the Tournament.
Ja'Shon Henry
Bradley
After not being used much in the earlier stages of the season Ja'Shon Henry turned it on as of late and commanded minutes at the forward spots and when he got them, he didn't disappoint. Able to finish through contact on the inside and battle with bigger players on the defensive end, Henry has a bright future and getting a look at him in a setting like the NCAA Tournament will be a treat.
Dominic Johnson
Buffalo
Johnson hasn't been able to see the floor much this season due to just how good Buffalo is but getting this experience should be really key moving forward for the Windsor native. He's a wide-bodied 6'5" forward who is built for success in the Mid-American Conference and while you might not see him playing during this Tournament run you will be able to see him in upcoming seasons.
Jonathan Kabongo
Virginia Tech
Joining Nickeil Alexander-Walker at Virginia Tech is Jonathan Kabongo, a freshman guard who happens to be the brother of former Texas standout Myck Kabongo. He hasn't been in the rotation for the Hokies yet under a coach in Buzz Williams who is notorious for his small rotations but when he has gotten in, he has shown the flashes of athleticism that made him a sought-after recruit.
Andrew Nembhard
Florida
Already one of the best passers in college basketball Andrew Nembhard is a true point guard in a world of flashy mixtape ball handlers and his court vision and savvy has made him perhaps the most important player on a 10-seed Florida Gators team. Only a freshman, Nembhard's basketball IQ is that of a 4-year senior and that intelligence has allowed him to become one of the brightest stars in the SEC. With Florida's NCAA Tournament hopes in limbo during the SEC Tournament it was a Nembhard three at the buzzer that won the game for Florida and secured their fate in the Big Dance and that flair for the dramatic could come into play for Nembhard throughout his career.
Marial Shayok
Iowa State
Before coming to Iowa State Marial Shayok was known as a defensive wizard but this season in addition to his ability as a stopper he's added a cerebral offensive game that has seen him average a magnificent 18.6 points per game while chipping in 4.9 rebounds and 2.0 assists. An extremely strong finisher when going downhill to the hoop he pressures defenses to try and stop him without fouling and he also is deadly from deep knocking down threes at a 38.9% clip. Considering the fact he's putting up those offensive numbers while also being an elite defender, I fully consider Shayok to be one of the best players in college hoops this season.
Stef Smith
Vermont
Last year's Vermont team had perhaps my favorite Canadian in Trae Bell-Haynes and after those Catamounts didn't make the NCAA Tournament following a conference tournament defeat to UMBC (yes, the team that beat Virginia) and Stef Smith avenged that loss by leading his team to a 13-seed. Relied upon to take a lot of tough shots at the end of possessions Smith is a skilled scorer as only a sophomore and could see some big shots in the first round of the dance. Averaging 12.3 points already, you could see him be a big-time scorer by the time he's a senior.
Howard Washington
Syracuse
Howard Washington has had a tough start to his basketball career with an ACL injury and a scary stroke episode limiting his time on the court. An accomplished high school recruit before he went to Syracuse, he has all the talent in the world but just needs an opportunity to get healthy. You won't see him playing for Syracuse this year, but you hopefully will soon.
Lindell Wigginton
Iowa State
Lindell Wigginton and Marial Shayok running together at Iowa State make for the best Canadian duo in college hoops and while Shayok brings a bit more of the power, Wigginton brings the flash. A smooth guard with a scoring ability that excites the crowd whenever he enters the game, his 13.5 points per game is sure to electrify the NCAA Tournament. Most of his work comes off his pretty jump shot and though he has some work to do on his inside game the ability to rise up and hit jump shots is enough to make him a dangerous offensive threat. A microwave who can heat up at any time, he's someone you need to make sure to watch this month.
And not to be slept on, here are the Canadians on NCAA Tournament team rosters currently redshirting or out for the season.
Maxime Boursiquot
Northeastern
Marcus Carr
Minnesota
Koby McEwan
Marquette
Prince Oduro
Mississippi State