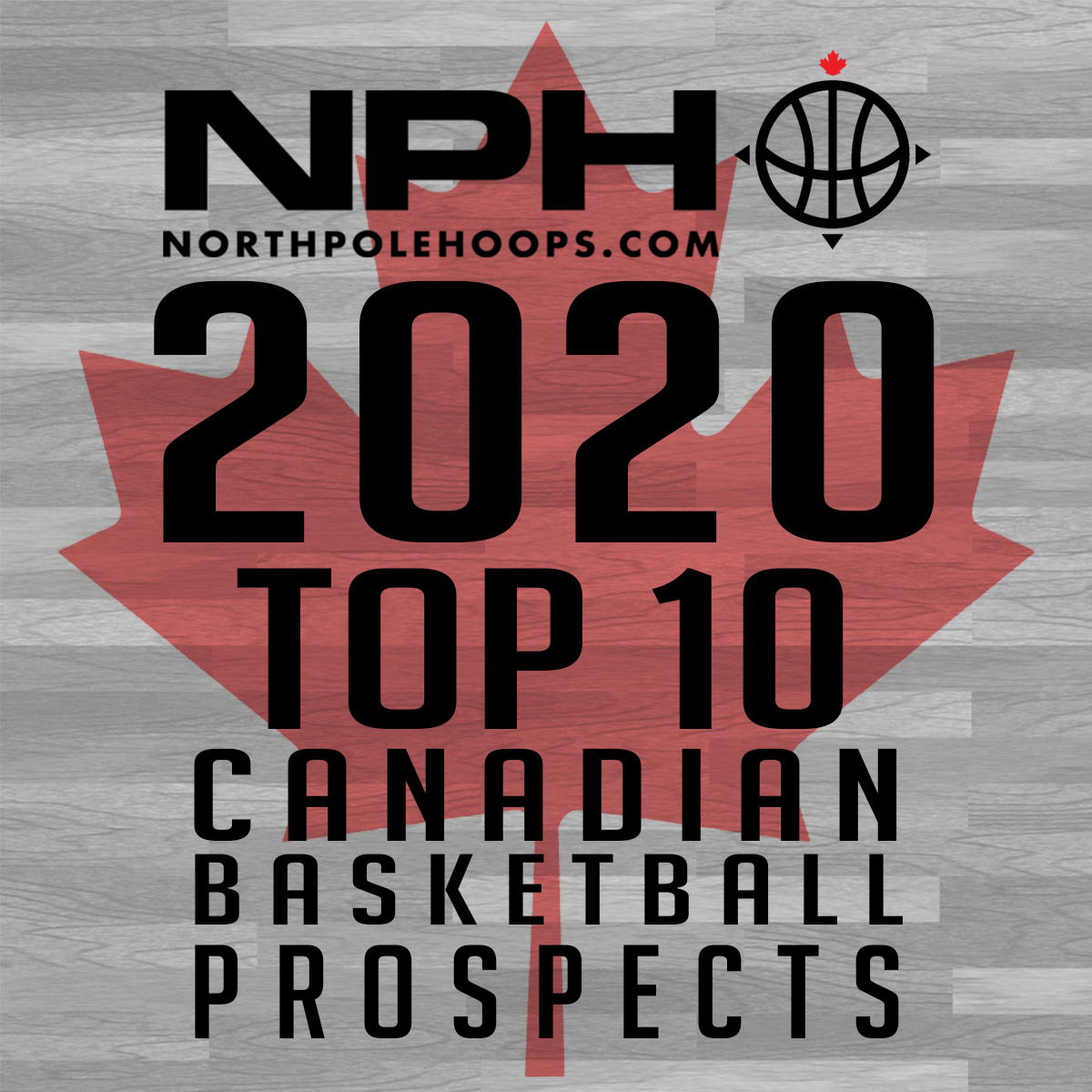 2020 Canadian National Player Rankings – Top 10
Canada has been giving birth to more and more generational types of prospects that set a very high bar for the rest of the nation. Addison Patterson could shape up to be of that mold for the Canadian 2020 class.
Andrew Wiggins, Jamal Murray, Rowan Barrett Jr. have been those guys in most recent history, Patterson has a chance to be on that same playing field.
The rest of the Canadian class is nothing to sneeze at either. There's tremendous upside with the guys in the top 10 and beyond.
Fluctuating rankings is a naturally occurring process as prospects develop at different rates. Some have added to their packages while others have remained stagnant.
One thing is for sure and its that Patterson has created great separation from the rest of the class. Meanwhile, Matthew-Alexander Moncrieffe is working at closing the gap and has rose four spots in 2020.
If we're using National team representation as the highest platform of competition, well that's where Patterson averaged 17.3 ppg on 50% from the field (U17), while his minutes were managed due to high use over the summer on the AAU scene as well as with the U18 team.
One can make the argument that he could have led the entire tournament at the U17 World Cup if he had fresh legs. Patterson played a whooping 13 minutes less than the tournament leading scorer, Siriman Kanoute of Mali.
He also netted 14.5 ppg and added 5.8 rpg and 2.5 apg with the U18 team.
#
Player
POS
School
HT
WT
Commitment
Addison Patterson – Best Overall Package
https://www.instagram.com/p/BojW8AZnDW1/?hl=en&taken-by=northpolehoops
What we saw from Addison Patterson throughout EYBL play and with the Canadian U18 & U17 National teams was of an elite status. He fit right in with senior talent and exceeded expectation.
Most importantly, the mental maturity over the last 6 months carries momentum into every part of his being and it shows in his game. Now at Bella Vista, as one of the leaders on the team, he is due for another explosion of exposure to the American public.
Since first seeing him as an 8th grader he has been known to get buckets, that's what he does best. His game is transforming with a more reliable three ball in his arsenal. This will make it very tough for opponents to contain as he has his way of getting to the lane off of closeouts and using counter moves to dance around the defense.
Recruitment
Hot: Oregon
Warm: Oregon St, Syracuse, Oklahoma, Florida, Arizona St, Maryland, USC, New Mexico
Cool: Georgetown, Georgia Tech, Illinois, SMU
Matthew-Alexander Moncrieffe – Maximizing
https://www.instagram.com/p/Boc2JmbHQhz/?hl=en&taken-by=northpolehoops
For the longest time we've used the word upside with Matthew-Alexander Moncrieffe and even went as far as saying that he could end up the top player in the class when we look back 10 years from now.
Moncrieffe is supremely gifted with long physicals and elite athleticism. It's not really debatable that there is a more athletic Canadian in 2020. He's beginning to capitalize on his natural gifts and using them to mold a skill set as a three man.
What we really like about M-A is his defensive versatility. As his body continues to pack on muscle mass, he's going to be even more of an asset defensively.
Recruitment
Hot: Georgetown, Vanderbilt, Seton Hall, Tulane, Arizona St
Warm: Florida
Cashius McNeilly – Welcome Back
He's back home and in a stable environment after a stint at Huntington Prep, we will now get to see Cashius McNeilly as often as we did when he was on the come up.
McNeilly's body has morphed over this post season having added weight during a time when there was irritation around his knee. He's back in action now and has goals of getting his body in elite shape. The skill set is not up for questioning.
Cash can play from one to three if needed. His natural position is at point guard but with his high IQ and great overall feel for the game, he's versatile enough to be used in a variety of ways.
Recruitement
Hot: Virginia Tech, Providence, Maryland
Warm: Tulane, Georgia Tech, St. Bonaventure, New Mexico State
Cool: Sienna, High Point
Keon Ambrose – Up, Up and Away
https://www.instagram.com/p/BoaSt5lHzf4/?hl=en&taken-by=northpolehoops
Keon Ambrose has continued to impress with constant development on what he brings to the table as a forward. You'll see him operate out of the high post and from the wing. He's the type of hybrid forward that NBA personnel takes interest in during the early stages. That's the kind of upside on this kid and that is the lofty goal he has in mind.
At 6'8 with length, athleticism, competitiveness and high character, we project him to be of the highest recruited to ever come out of Canada when its all said and done.
Recruitement
Hot: Tulane, Florida, Howard, Tulsa, Butler, Dayton, Ohio State
Medium: Tennessee, Illinois, Vanderbilt, Texas, Western Kentucky
Okay Djamgouz – Leave No Doubt
https://www.instagram.com/p/BonBK9yDuw3/?hl=en&taken-by=npacanada
We've had Okay Djamgouz as a top 10 player for a long time. He's a player in the Canadian 2020 class that has a specialty skill set and that's shooting the rock…but that's not all he can do.
Djamgouz is showing more and more that he's dynamic and can play on and off the ball. His separation moves create between 4-5 feet of space to get off his shot.
This year he has already added a great deal of athleticism and is focused on increasing his foot speed to become a better defender.
Shooters like him are looked at as a premium. There is space for him to surpass some of the guys ahead of him on this list based on the way he's developing now. Djamgouz's recruitment is picking up traction now to the point that NCAA coaches are trying to get him as a 2019 prospect.
Recruitment
Hot: Drake, Tulane, Santa Clara, North Carolina AT
Medium: Tennessee, Michigan, Penn, Purdue
Joshua Hemmings – Scratching the Surface
https://www.instagram.com/p/BomPAx4Hvil/?hl=en&taken-by=northpolehoops
Joshua Hemmings is getting a fresh start and opportunity to lead the ship at Lawrenceville in New Jersey. Last year at Oak Hill he developed in an elite practice environment but did not get the game play with a stacked roster and elite schedule.
Over the summer he took an upswing and showed an extended range that is starting to get consistent from three,
We say that he's scratching the surface because he's still growing into his body at 6'8, gaining athleticism and can be utilized as a swiss army piece.
This season will help him be in a position to potentially lead a prep team and find himself.
Recruitment
Hot: Harvard, Penn, Georgia Tech, UCLA
Coleman Stucke – Consistency is Key
Coleman Stucke is a flat out producer regardless at which level he plays. With good size for position at 6'7 and an excellent shooter from outside he's setting himself up for long term success by currently working on his agility and his body.
There have been so many instances where Stucke has displayed a high level of toughness. The one that sticks out the most is when he got his tooth knocked out in a game, quickly picked it up, suched up the blood and through the tooth towards his bench for safe keeping as he fled in transition to stay in the play.
On top of it all Stucke is a high academic student, leaving things open for him to be recruited by a multitude of conferences.
Hot: Drake, Southern Alabama, Denver
Medium: Harvard, Penn, Princeton, Stanford, Oregon St, Xavier, Providence, Purdue, Wisoncsin, Santa Clara, San Diego
Karim Mane – Mane Unknown
To Canada as a whole he may not be all that known, but to the Quebec community he's a stud. In our opinion he is the one high major NCAA prospect that North America will learn alot about this season at Vanier. The more we see him the more certain we are about his trajectory.
He's making the full transition to point guard under the guidance of Nathan Grant, who has been key in the development of many prospects from Montreal.
Mane has great size for position at 6'5 and is an elite leaper. When he gets in the lane he's tough to stop due to his strength and athletic ability.
Vanderbilt has grown fond of Mane and was in Quebec to see him two weeks ago.
Hot: Iona
Warm: Xavier, Vanderbilt
Keeshawn Barthélémy – High Flying PG
This human highlight reel of a PG can really push the needle. His speed in transition and his above the rim plays get gyms in a frenzie pretty quickly. We've seen him throw down some viscious dunks in traffic over the years.
He's really matured mentally and is building leadership qualities to help make himself more of a full time PG that his teammates can rely on for guidance and control of the floor.
He'll make the tandem guard with Cashius McNeilly this year and cameras will be on these two year round to catch the action.
Expect Kee to rack up offers from the highest levels as the season progresses.
Kellen Tynes – Blowup Season
Kellen is way out on the east coast of Canada in Rothesay, New Brunswick, yet on his last outing to Ontario at NPA Nationals he showed that he is one of the top point guards in the country in 2020. He did the same late in the summer at Canadian Nationals where he was awarded U17 MVP while picking up a gold medal for Nova Scotia.
This high IQ, play making, scorer can get it done from everyewhere on the floor on offense and is also ready to snatch the ball away from ball handlers on defense.
Geographic location will no longer be a factor in recruitment as coaches are now aware of where he's located and will be making the trip to New Brunswick to see him in action.
Jalen Celestine – High Riser, Knocking on the Door
We need to see Jalen Celestine a few more times this season to get a deeper understanding for what he is and what he can be. He is currently stationed at Long Island Lutheran.
What he can be is very intriguing considering his size and length as a guard, he's 6'5 with a 6'9 wingspan. Right now, we love his pull jumper and spot up three which has been falling with consistency. Moreover, he's viewed as a quality defender, one that goes man to man and gets it done as at helpside.
He has recently went on a spree of picking up NCAA offers from  the likes of Marist, Hofstra, Tulane, NJIT and others.