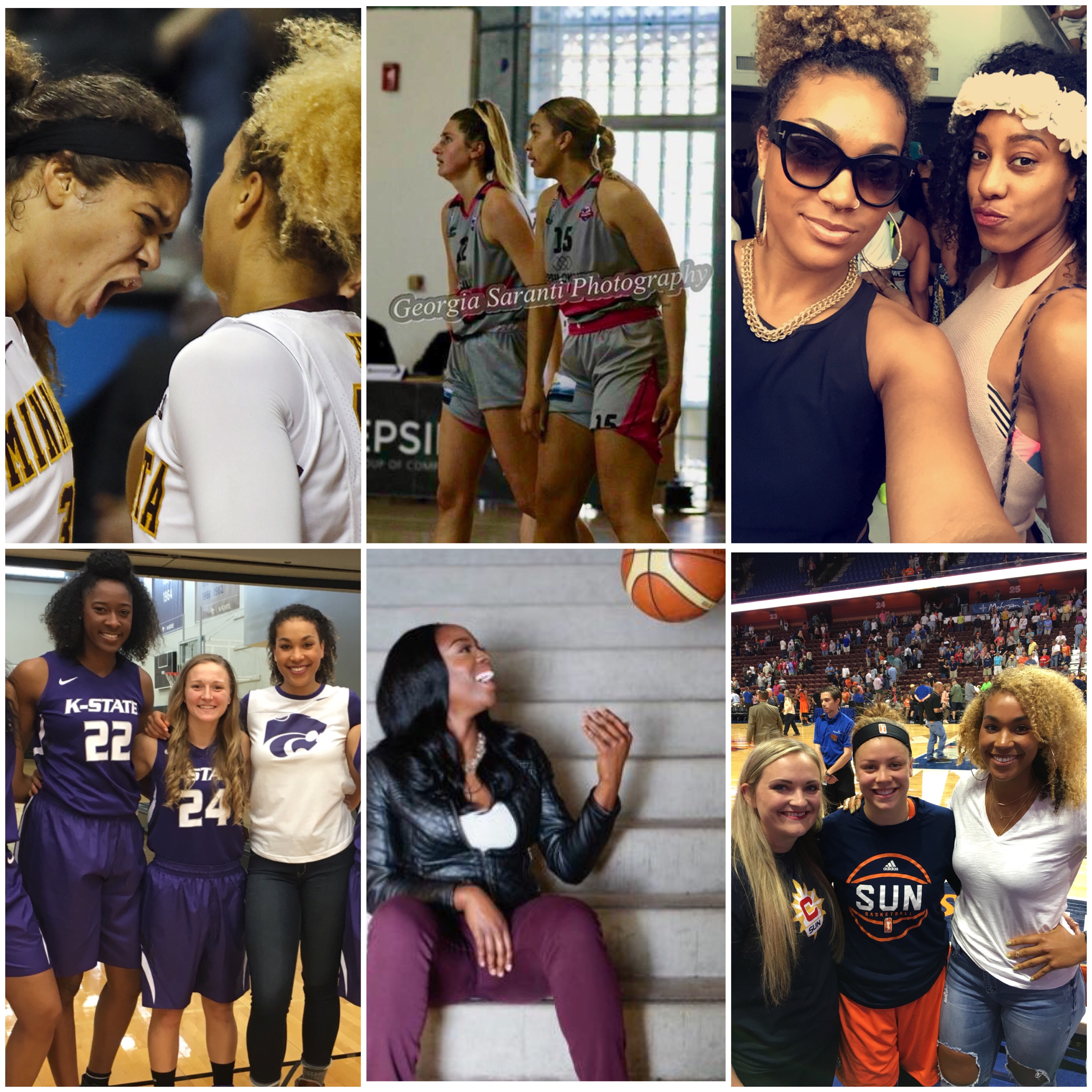 Hello Canadian Girls Basketball Family,
I've been lucky enough to be teammates with, as well as coach some great women who are now professionals in the game. I reached out to them to ask what they wish they had known, and to share any advice they have for high school student-athletes.
I played with Rachel Banham and Amanda Zahui-B during my career at the University of Minnesota. These women have raised the bar and set records; Rachel is 8th on the NCAA DI Women's Scoring List with 3,093 Career Points and her jersey is retired at William's Arena. Amanda holds the record for most rebounds by a Big Ten basketball player with 29 vs. the Iowa Hawkeyes. At 21 years old as a Sophomore, she was the Tulsa Shock's 2nd Overall Pick in the 2015 WNBA Draft.
Rachel Banham
WNBA: Connecticut Sun
NCAA: University of Minnesota
Hometown: Lakeville, MN
Twitter/Instagram: RachelBanham1
"I would say I wish I had better time management skills. I was way too consumed with basketball, and balancing that with school was difficult. I would put more value on school work and I would have taken it more seriously."
New career high ✔️@rachelbanham_1 showed up to work last night, locking in 14 points. pic.twitter.com/2ZQ4yhyzNk

— Connecticut Sun (@ConnecticutSun) May 27, 2018
Amanda Zahui-B.
WNBA: New York Liberty
NCAA: University of Minnesota
Hometown: Stockholm, Sweden
Twitter/Instagram: @AmandaZahuiB 
"I wish I had asked for more help, I had great people and resources around me but I didn't reach out enough. I would like to say I'm a student of the game, but the intensity of studying the game came with time, and I wish I could've started earlier. I could have if I had asked for guidance.
I also wish I had known how far in life the game would take me. That way, when people would tell me I couldn't do something, or I was too fat, too slow, not smart enough, I could've walked off knowing God's got me and not to worry about me. Those doubts fueled me to work harder, but at the time they would leave me upset.
Lastly, it's ok to be passionate. I've been told that I am sometimes too passionate. There's no such thing as " too passionate" in the game of basketball; use whatever fuels you to get better and ball out. Use that frustration to get you higher. That's what I did, and I am happy I didn't listen to those who said I'm too passionate, because I am living the dream today, and only getting started."
…and @amandazahuib shot 60% from the field. Off the bench! 🔥#ShowUp🗽 pic.twitter.com/1LpfCyaN1B

— New York Liberty (@nyliberty) May 21, 2018
I met a UCLA Freshman version Monique Billings when she played and I coached on an International Tour in Poland with Athletes in Action. Mo is a dynamic young woman who will utilize her platform, positivity and vision to make a difference. Check out her YouTube Channel to learn more about Mo's journey.
She is the third woman in UCLA history (14th in Pac-12 history) with 1,500 points and 1,000 rebounds. She is also the UCLA Bruins' all-time leader in blocks, and third in rebounds.
Monique Billings
WNBA: Atlanta Dream
NCAA: UCLA
Hometown: Riverside, CA
Twitter/Instagram @MoniqueBillings
"As a high school student-athlete, I wish I had reached out and networked more in the community. I should have gotten more involved and given back to my city, connected myself to the community. I guess you could say I wish I started building my brand earlier."
👀 rookie @moniquebillings gets her first buckets in a 4-for-4 effort for the @AtlantaDream in yesterday's #WNBA action! #WatchMeWork pic.twitter.com/Dco2cybCjZ

— WNBA (@WNBA) May 24, 2018
I met Breanna Lewis when she was a sophomore at Kansas State University. As a Graduate Assistant with the Wildcats, I had the opportunity to work with Bre for 3 years and witness a diamond in the rough flourish and evolve into a dominant Big 12 player and 2017 Second Round WNBA Pick. Bre also came on the International Tour with AIA; that experience was valuable in the evolution of her game.
Breanna Lewis
WNBA: Dallas Wings
NCAA: Kansas State University
Hometown: Milwaukee, WI
Twitter/Instagram: BeeJayyElle
"In high school I wish I had put more time into being involved in clubs and organizations outside of basketball. I should have put more effort towards establishing relationships with more people outside of my circle. It's easy to get involved with people in the basketball world, but there is value to branching out."
144 of the very best players in the world open the WNBA season tonight, proud to have K-State's Bre Lewis (@BeeJayyElle) among them for her second season with the Dallas Wings. 😼🏀 #kstatewbb pic.twitter.com/YYEJ7dKwTI

— K-State Women's Basketball (@KStateWBB) May 18, 2018
I met Cassandra Brown in 2010 when we competed with Team Canada at the Olympic Training Center in Colorado. We went our separate ways for 8 years and ended up on the same team in Greece this past season. Cassandra is taking full advantage of her opportunities to travel, earn a living, and enjoy the beauty of the game across the world. Check out her blog and see what she's been up to the last few years. 
Cassandra Brown
Professional Overseas
NCAA: University of Portland
Hometown: Vernon, BC
Instagram: cb22_
"My best advice for high school student-athletes is to work hard and be great in everything you do, the rest will follow. Take your time when you're deciding on which University or College you're signing with. Don't rush the process and do your research first."
Bonus…!
I had the pleasure of meeting Alisha Tatham last weekend. As a former DI NCAA player & Olympian, her vision for, and investment in the Canadian girls game is inspiring. Check out her website and see how you can utilize her as a resource to evolve as a student-athlete and young woman.
Alisha Tatham
Team Canada Olympian
NCAA: University of Massachusetts
Hometown: Toronto
Twitter/Instagram: a_tatham
"I wish I had a mentor to help me through the process and the different transitions I went through during my career. I should have done more research and known more about the recruiting process during my decision making time. I also wish I had done more individualized skill work to grow myself as a player and develop my game."