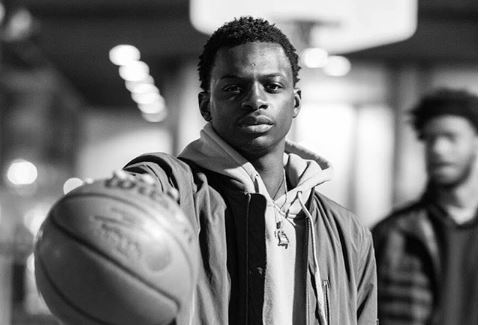 Virginia Tech Commit Jonathan Kabongo Through the Fire
The torch has been passed from big brother to little brother, and Jonathan Kabongo is up next.
It seems like only yesterday that Myck Kabongo was Canada's top high-school prospect, preparing to make his mark at the University of Texas. Back in 2011, Myck was paving the way
for his community by inspiring Blake Street's youth to chase, what at the time, seemed unlikely for most.
One of those kids was his younger brother, Jonathan. Although just 12 years old at the time, Jonathan Kabongo had big dreams aspiring to be a force on the court like Myck.
Seven years later, Jonathan is well on his way to establishing himself as one of Toronto's best up-and- coming players. The 6'5 Guard is headed to Virginia Tech next year suiting up for Buzz Williams and joining fellow Canadian Nickeil Alexander-Walker on the Hokies.
When the time came to commit, choosing Virginia Tech was an easy decision for Jonathan.
"Virginia Tech had been recruiting me since my freshman year," says Kabongo.
"If anyone knew my game, it was them. I believed their pitch because they didn't come out of nowhere; they were consistent and showed a lot of love."
Despite Jonathan's successful senior campaign at Thornlea Secondary School, his high school career was not without challenges.
Early in 2016, Jonathan suffered from a serious back injury after a cheap shot from an opposing player while going up for a dunk. It couldn't have come at a worse time, as Kabongo was gearing up for his Junior season at school and preparing for his last summer on the AAU circuit.
"The injury was tough, really tough. I didn't know when I was going to play or what the problem was. I kept hearing different things from different people."
Medical professionals had originally told Kabongo that he was just experiencing back spasms and that the best thing to do was to take injections which would numb the pain. However, this ended up worsening the injury as Jonathan wouldn't feel the pain, but would still be exerting too much pressure on his back.
It was during his junior year that the the pain reached its max and despite playing through it at the Nike Top 100 camp, Kabongo knew that the problem was far greater than simply being back spasms.
Luckily, doctors soon discovered that the root of the problem was a set of muscle imbalances in Kabongo's back. After learning this, Jonathan did what he always does – focus on the things he can control, grind until the situation is how he wants it to be, and bounce back.
During the ensuing rehab that kept him out nearly for nearly a year, Jonathan started putting more focus into his second passion, creating music.
Basketball players trying their hand in music is nothing new, but with Jonathan the skill and dedication extends far beyond simply trying his hand. Also known as the ChosenB01, it's evident that Jonathan's basketball skills aren't his only elite talent – so too is his ability to tell stories through his music. In fact, a recent video of Jonathan freestyling on social justice recently well received.
https://twitter.com/ChosenB01/status/979145429110722560
With him bouncing back from the injury, gaining notoriety for his ability to rap, and gearing up for his collegiate career at Virginia Tech, it's an exciting time for Jonathan Kabongo. Heading into his freshman season, Jonathan remains level headed and clear on what his goals are.
"Each and every goal I have is based on the things that I can control. I want to work hard every single practice. I want to take care of my body and do all the things that I'm supposed to do. Achievement wise, whatever comes comes – my concern is focusing on the things I can control."
Jamie McNeilly, an assistant coach at Virginia Tech attests to Jonathan's character and work ethic.
"Jonathan does many things well on the basketball court, but I believe his ability to shoot the ball is what can separate him. Outside of basketball, Jonathan's drive to get better is elite."
In addition to his pedigree as a player, Virginia Tech was captivated by Jonathan's upbringing and background.
"I started recruiting Jonathan when he was in the ninth grade. Outside of his ability at that age, what drew me closest to him was who he was as a person and the type of family he comes from. I have always knew of his family and their involvement in the basketball community back in Toronto. They are extremely good people. That matters more than people think."
So what's next for Jonathan Kabongo?
In terms of basketball, he will be back in the lab this summer getting ready for his freshman season with the Hokies. Driven by the love of the game and the desire to compete, Jonathan will focus on equipping himself with all the tools necessary to help Virginia Tech excel in the storied Atlantic Coast Conference next year.
With respect to music, Jonathan is preparing to release his next mixtape, Chapter 17. The LP will chronicle the challenges Jonathan faced while being injured in what was arguably the most important season of his career. His lead singles 24/7 and Destined have been released and seamlessly share aspects of Jonathan's own sideline story.
Through it all, Myck couldn't be more proud of his little brother.
"J is growing into a very smart and very mature young man", says Myck. "The sky's the limit for him. Our motto has always been g2$ – god 2 $Shine & Grinding to Shine!"
Everyone has their own struggles. Jonathan Kabongo went through some physical ones that would have affected most mentally as well. He really turned things around by using music to stay focused and keep his goals in check. Keep an eye out on Kabongo as he suits up in the NCAA this season.