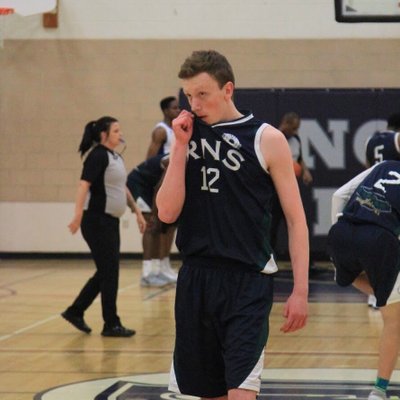 Caleb Sooley Making a Name For Himself
In a game that is getting more exposure as the world is getting smaller, basketball may soon have one more hotbed to call home, and that place is Newfoundland and Labrador.
With the first ever Newfoundland NPH exposure camp in the books last year, St. John's and the province as a whole since then have proven that they do indeed, have game.
One needs to look no further than last year's St. John's NPH Showcase MVP Caleb Sooley, who, after a second season in the NPA last year with Rothesay Netherwood School out of Rothesay, New Brunswick, has gotten looks from both high-level U-Sports coaches and Mid Major Division-1 staffs alike.
https://www.instagram.com/p/BiFYuSFlKfd/?hl=en
Sooley himself, however, was a multi-sport athlete that only recently decided basketball was the way to go. "Hockey was very popular in my province growing up so I did play quite a lot actually. Being from a small province you kind of grow up playing every sport. But it came to a point where I realized I had to make a choice," says Sooley.
It would be his parents' influence and involvement in the game of basketball that would ultimately lead him down the path to play high level hoops. "My dad would tell me story's about how he used to play against Steve Nash when Nash was a member of team British Columbia. So, from that moment I knew I wanted to have experiences like that,".
Sooley also credits his grandfather and mother, who both have had an enormous impact on Newfoundland basketball throughout the decades. "My grandfather has 30+ years in coaching who still to this day teaches me new things and rebounds for me when I want to go out to shoot, while my mother has been involved in provincial level basketball and has won provincial titles, so they both have had a huge hand in my development."
Even with this kind of pedigree in basketball behind him, Sooley was still well aware of the limitations and obstacles in his exposure before the NPH Showcase.
"I was always told that I should try to move away and play at a higher level, there is very little exposure in Newfoundland, we are an island with one major university. I was only getting looked at in one tournament a year, and that was nationals for the provincial team. I knew I had to show that I could play with the best, so I went to the NPH showcase in Halifax, knowing that's where all the best talent from Atlantic Canada was going to be."
From there, Sooley's reputation only grew, and eventually caught the eye of Damian Gay, the head coach of RNS, who was in attendance for that Halifax showcase.
"The first I heard about him was COMPLETELY random." Said Coach Gay. He had already heard about Sooley from Caleb's father Glen after hosting a clinic earlier in the year.
"We started talking about the clinic and his son's name had come up. At that point my recruiting was hit or miss and I did not garnish much interest from kids outside of my personal basketball circle."
Coach Gay admits though, that when he first saw Sooley in person, he had some reservations about the ninth grader. "When I first saw Caleb, I did what everyone in the basketball community does – judged a book solely by the cover. He was a skinny red head from Newfoundland. Aside from what his dad told me, I did not know what to expect of him on the court."
But those worries quickly subsided when he saw what the Newfoundlander could do on the court.
"I could not have been more pleasantly surprised. At that point he was coming out of Grade 9 (but also young for his age) and he was tearing up current seniors in our tournament we hosted."
Coach Gay's excitement only grew after Sooley joined RNS, and this past NPA season, Sooley quickly grew into his role as the third and sometimes second scoring threat on the Riverhawks.
"He was always such a polite and well spoken young man, but on the court, he was a killer – a true competitor. I was more impressed with how he was so coachable. He would listen and implement everything but always be willing to have a conversation about other players or other tactics I used as a coach. A very, very mature young man."
Sooley admits though, that the jump from basketball in St. John's, to national prep level has been a challenging one at times. "I remember my first game in the NPA and how fast the ball would move up and down the floor. I've never seen anything like it playing in Newfoundland, and that was my biggest adjustment. Also, the tallest guy I've ever played against was 6'5, now I was facing seven footers in the key, so I had to spend a lot of time acquiring a floater and mid range shot which overall helped my game."
The improvement has been noticed, as Sooley has now gained the eye of multiple Division-1 scouts and coaches after his breakout year in the NPA, and Sooley is taking every opportunity he can to get better.
For one, he has also enlisted the help of the most famous and decorated Newfoundlander to step on a court. A player he has begun to model his game after, current NBL Canadian MVP and St. John's Edge guard, Carl English.
"He's who I try to model my game after the most," declared Sooley, "Carl used to play basketball in Newfoundland, went to a prep school, it's great to have someone who's went through those steps like me."
Sooley has done more than just admired English from afar however, as the two have spent time together back in Newfoundland during the off-season to work on Sooley's game. "After training with Carl many times, I've tried to pick up his techniques, but most of all I have admired his mental game. No matter how tough the workout was Carl never quit, so I never did either. This demonstrated to me how tough Newfoundland basketball players really have to be. At the end of my career, if it looked like Carl's did, I'll have nothing to complain about."
But Sooley maintains that the NPH showcase events remained a huge factor in getting the process started on his path to high level college basketball. "I owe the showcases a lot. They've helped me reach my dreams of playing prep ball. In my last NPH showcase in Newfoundland I received MVP, and this boosted my stock even more. The amount of knowledge all the coaches have at these showcases is incredible. You'll hear from top people in the country about how to up your game."