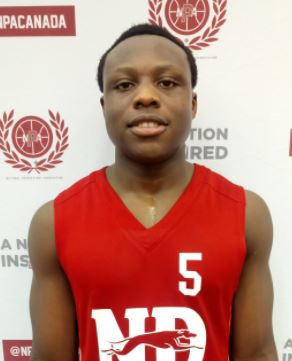 Adefolarin (Fofo) Adetogun – Bound For Greatness
Adefolarin (Fofo) Adetogun is the 6'0 point guard for the undefeated Notre Dame Hounds in the NPA.
Fofo is a very special player with true leadership qualities and always hungry for more.
The class of 2019 guard does it all for the Hounds. His very strong 6'9 wingspan allow him to invite everyone to his block party. Going the other way he uses his quick handle to get to the basket at will and can finish with above the rim with authority.
Adetogun is averaging 18.9 points, 8.8 rebounds (2nd in the league) and 4.9 assists. Fofo only trails 6'10 GTA Prep center Kaosi Ezeagu in rebounds (10.4).
Fofo has developed an incredible partnership with Hounds forward, Jashon Henry, making them the best dynamic duo in the NPA.
Can it lead the ND Hounds to a National Championship?
Come and find out from Mar. 1-4 at Sheridan College in Brampton, ON where the team from Wilcox, Saskatchewan will try and do the unthinkable. Win the National Championship against the best teams and players across Canada.
All games will be live streamed at www.northpolehoops.com