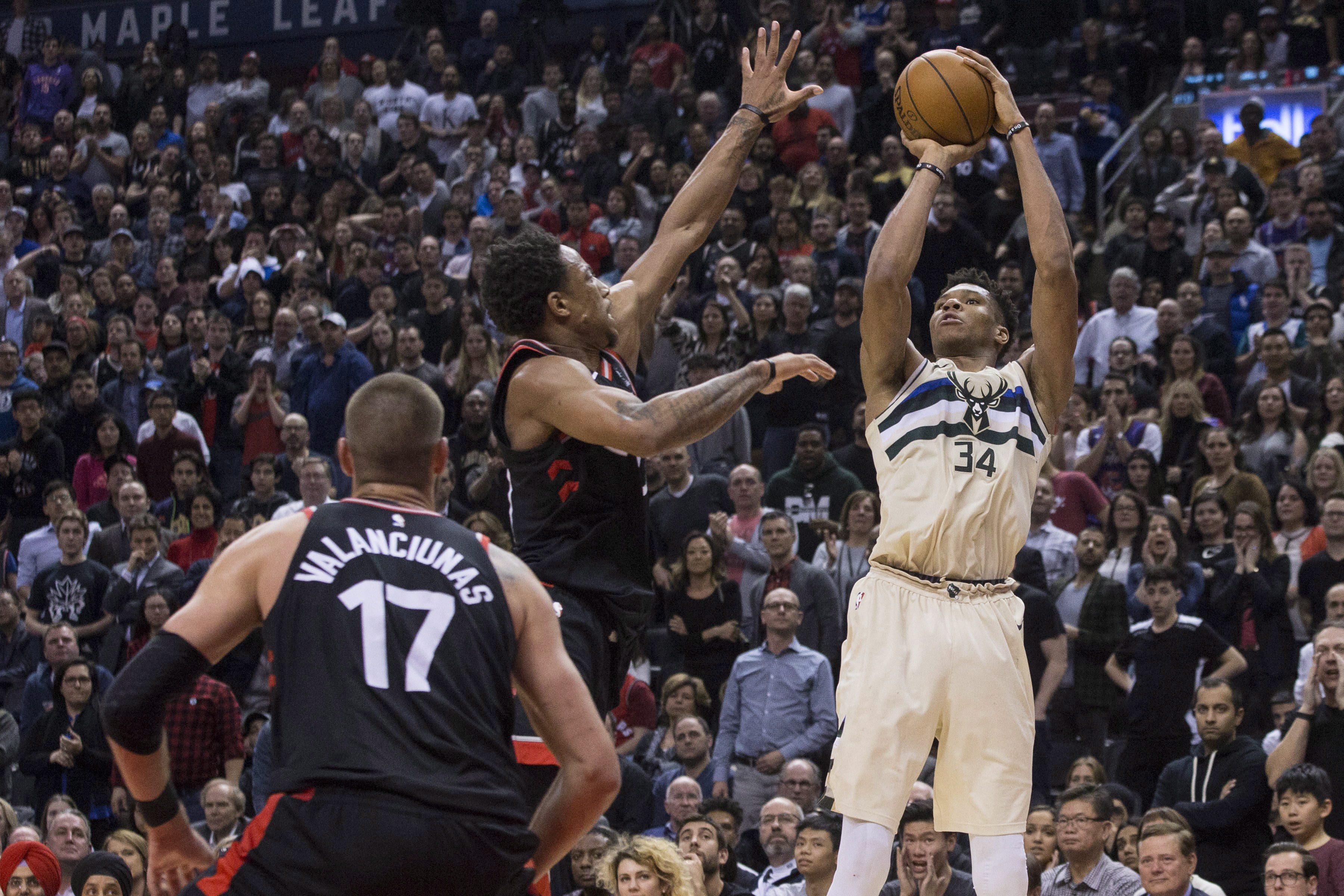 Raptors drop OT thriller to Bucks
These aren't Jason Kidd's Milwaukee Bucks, but the Toronto Raptors believe they sure look like them.
The Bucks came into the Air Canada Centre on Friday night and gave the Toronto Raptors all they could handle, even recovering from a buzzer-beating game-tying dunk by Jonas Valanciunas that sent the game into overtime.
The usual suspect Giannis Antetokounmpo was terrific throughout, finishing with 26 points, 12 rebounds, six assists, two steals and a block and the Raptors will be wary of what this opponent is capable of after their tight six-game series in the playoffs from a year ago.
Entering the game, Milwaukee had posted the second-best defensive rating in the league since Kidd was fired, giving up just 100 points per 100 possessions, 0.6 better than the Raptors' third best mark over that span. They were 24th in the league with a mark of 107.5, showing a significant improvement, but the Raptors don't see much of a change.
"I think it was about the same," Jakob Poeltl said after the game. "They're very athletic, pack the paint, they're not going to let you get anything easy at the rim, they're going to live with the weakside threes, and tonight we missed a couple of open ones and didn't do a good enough job of finding them even more often."
Kidd had the Milwaukee defence swinging for the fences as they often looked to trap ball handlers to force extremely difficult passes over their outstretched arms, but then had to constantly be in scramble mode to recover to their man.
With more teams gravitating towards outside-shooting-efficient lineups, the risk is that much more for that style of defence as shooters are ready to take advantage of the slightest failure in execution.
"We've just been playing with a lot of defensive urgency," Eric Bledsoe, who finished 21 points, eight rebounds and four assists, told North Pole Hoops after the game. "When a coach gets fired, you can't get caught up in that. Players have got to step up and we're doing a great job of just playing the next play."
The Bucks defence continues to gamble, and gave up a ton of wide open looks. The Raptors just couldn't make enough of them. They shot 9-for-34 (26.5 per cent) from beyond the arc, while Milwaukee made 13 of their 26 shots from three. The Bucks are 25th in the league in three-point accuracy, so one can't fault the game plan.
The improved defence may be a mirage, too. Over the course of their 8-3 stretch since the coaching change, the Bucks have played the Knicks twice, the Hawks, the Magic, the Nets and the Bulls. They've also played the Heat, and though Miami is a very good team, they play at a slow pace and are usually involved in a lot of halfcourt, grind out games with relatively low scores.
In their last two games against Denver and Toronto, they've given up 134 and 110 in regulation respectively.
"We didn't deserve to win that game," head coach Dwane Casey said. "They outworked us, they outplayed us, outfought us, whatever adjective you want to use. If you don't come with the right mindset to the game, you start getting comfortable and we got comfortable. Once we tried to turn it on, it was too late."
https://www.youtube.com/watch?v=P_GLV1iU6sM
Ultimately, beyond the shooting, what decided the game was a 14-1 run between the end of the second quarter and the beginning of the third that brought out a lot of frustration on the part of the Raptors. First, Valanciunas picked up a technical foul after a questionable foul call on a defensive rebound, before DeMar DeRozan picked up one of his own on an uber rare five-point play by Khris Middleton (three-pointer + foul + technical).
As impressive as the Raptors fightback was, as Casey alluded to, they shot themselves in the foot early.
The first time these two teams met, DeMar DeRozan made the individual statement of the year. After Sports Illustrated rated Khris Middleton ahead of him in their annual player rankings before the season began, the Raptors shooting guard dropped a career-high 52 points on just 29 shots to lead the Raptors to a thrilling overtime victory on their home floor.
Just a few days later, Toronto traveled to Milwaukee expecting their hardest punch, but after a fairly even first half, Jonas Valanciunas exploded for 20 points and nine rebounds in the third quarter alone. With their teammates rolling, DeRozan and Lowry needed to combine for just 35 points and both played less than 30 minutes.
The Raptors have had a few of these nights where they can't buy a bucket, but ultimately they'll feel fairly positive that they can beat this team on an average night.
They haven't changed much from last season, not according to the Raptors anyway.