MVP Aaliyah Edwards lifts Ontario to National Gold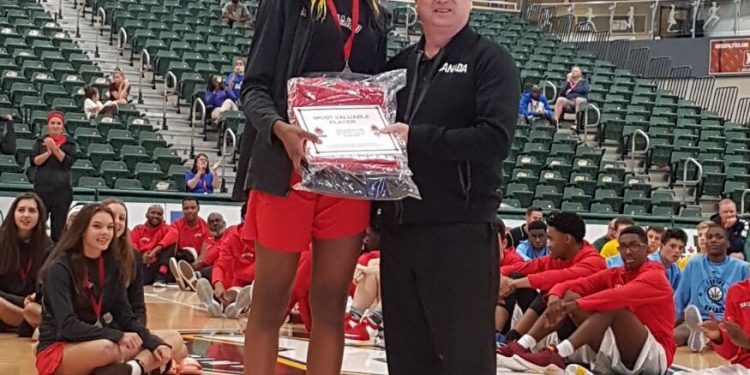 The 2017 U15 Girls National Championships are in the books and Ontario has re-taken the title with a 75-55 win over Quebec.
The game started out as expected with the two basketball powers showing the defensive ability and Quebec leading 9-7 with 5 minutes into the first Q. Ontario took its first lead 10-9 on a jumper with 4:17 on the clock by 6-1 G Kayla Drummond which was the result of a steal by 5-9 G Marzan Demeke (top defender in the tourney). This was followed by a 2 FTs and a 3 ball from 6-0 G Merrisah Russell (20pts) to make it 15-10 and Team Ontario offensive flow pick up continuing the separation to build a 40-23 half time lead.
Quebec was once again led by strong play from 5-5 G Sarah Baily who tallied 19 points and led her team with 7 rebounds. Aaliyah Edwards chipped in with another double for Ontario with 17pts and 10rbs.
These are two equally skilled teams but the work that Team Ontario did on the boards (45-29 Ontario advantage) and the chaos they created on D starting with Marzan Demeke was the difference. Demeke was key in disrupting Quebec's top player Lisa Tesson which took Quebec out of any flow throughout the game.
Tournament Placings                  MVP: Aaliyah Edwards (Ontario)
1 Ontario 5-0                                                   
2 Quebec 3-2
3 Saskatchewan 6-1
4 British Columbia 2-4
5 Alberta 3-3
6 Manitoba 0-5
7 Newfoundland 4-2
8 New Brunswick 2-4
9 Nova Scotia 1-5
Statistical Leaders
Points per Game
Aaliyah Edwards Ontario: 17.4                                                     

Sarah Bailly Quebec: 14                                                      

Tea Demong Alberta: 13.5                                                     

Merissah Russell Ontario: 13.4                                                     

Maggie Pottle Newfoundland: 12.5                   
Rebounds per Game
Tea Demong Alberta: 10.83                                                      

Aaliyah Edwards Ontario: 8.6                                                     

Haley Fedick Alberta: 8.5                                                      

Allie McCarrthy New Brunswick: 7.17                                    

Kaylee Plouffe Alberta: 6.67                                                       
Steals per Game
Kennedy Hollinger Saskatchewan: 4.14                    

Surprise Minuie British Columbia: 3.83              

Maggie Pottle Newfoundland: 3.33                    

Allie McCarrthy New Brunswick: 2.67                                     

Aaliyah Edwards Ontario: 2.6                                                     
See all stats at http://15unationals2017.web.geniussports.com/competitions/?cu=CBNF/en/leaders