Ennis Bros. ink professional contracts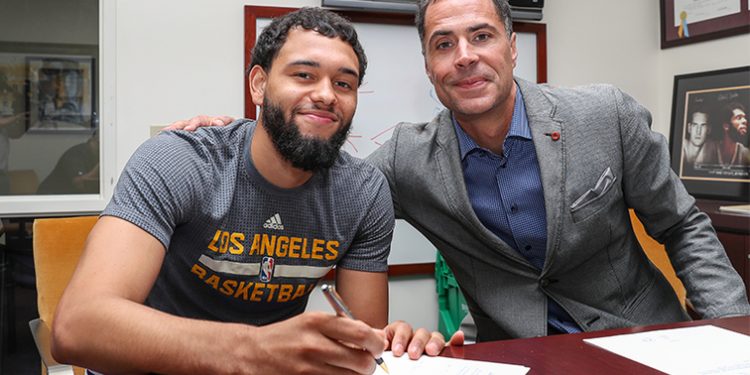 What a day for the Ennis brothers. Tyler Ennis and his big brother Dylan, on July 25, have both signed professional contracts.
Tyler has re-signed with the Los Angeles Lakers. The conditions of the deal is reportedly a one-year minimum contract with a team option on the second year.
Lakers have agreed to a one-year minimum contract with Tyler Ennis. Team option on Year 2, per league source.

— Ramona Shelburne (@ramonashelburne) July 25, 2017
A native of Brampton, ON, Tyler appeared in 22 games for the Lakers last season, starting two games. He averaged 7.7 points, 2.4 assists and 1.2 rebounds in 17.8 minutes.
Tyler Ennis was selected 18th overall by the Phoenix Suns in the 2014 NBA Draft.
Earlier in the day, Dylan announced on Twitter he would begin his professional career with KK Mega Bemax in the Serbian Super League.
Proud to say that I have signed to play with @KKMegaBemax in Serbia. Can't wait to start my pro career with them! So blessed and excited!!!

— Dylan J. Ennis (@canadiankidDJE) July 25, 2017
The former Oregon Duck had impressed in Summer League including a 35 point explosion for the Golden State Warriors. However, it was unlikely that Ennis would sign with an NBA team this offseason
Dylan averaged 8 points for Oklahoma City and 10 points for the Warriors during Summer League action. The 25-year-old went un-drafted in the 2017 NBA Draft.
The brotherly love was all over Twitter as both brothers congratulated each other on their contracts.
Congrats to @canadiankidDJE on signing with Mega Bemax in Serbia. Blessed!

— Tyler Ennis (@TylerEnnis) July 25, 2017
Congrats to you on signing back with the Purple&Gold! What a day for them Ennis' lol. Proud of you bro! https://t.co/y3p9caZWbl

— Dylan J. Ennis (@canadiankidDJE) July 25, 2017