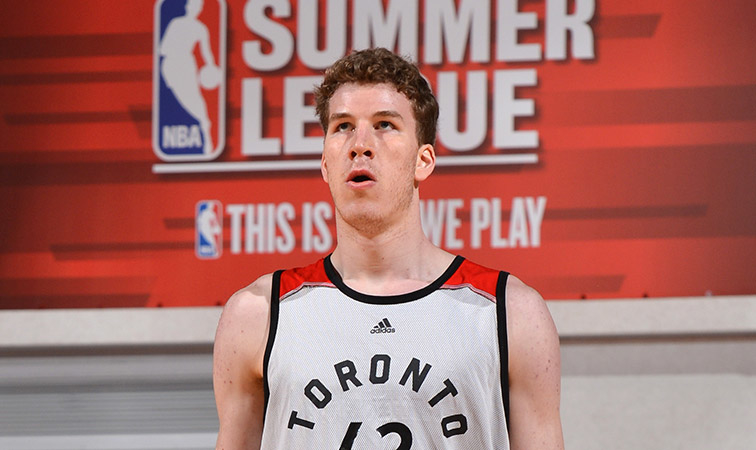 Raptors' youngsters show potential in Summer League
The Toronto Raptors were eliminated from the Las Vegas Summer League playoffs as the No.1 seed, falling to the 16th seeded Portland Trail Blazers. The Blazers went on to the final before losing to the Los Angeles Lakers 110-98, with Lonzo Ball winning the LVSL MVP.
Just another playoff disappointment for the Raptors, right?
Not quite. The Summer League, much like the NBA G-League, is about development, and perhaps finding a diamond in the rough before the NBA season tips off on October 17th. Yes, mark your calendars, because the NBA season tips off two weeks earlier this season as they continue their quest to minimize back-to-backs and players taking games off.
Anyway, before I digress further, the Raptors prioritized Fred VanVleet, Pascal Siakam, Jakob Poeltl, and recently signed Alfonzo McKinnie. VanVleet was arguably the most impressive, averaging 18.8 points, five assists, and four rebounds over their four games and shot 55.3 percent from the field. Teams struggled to contain him off the dribble, and even when bigs made their presence felt on the inside, VanVleet found a way to finish through contact.
With Cory Joseph officially traded to Indiana, VanVleet will be jockeying for backup point guard minutes alongside Delon Wright, and could very likely feature in lineups that feature two point guards when Dwane Casey looks for more ball handling and shooting at the guard positions.
Poeltl's place in the rotation is a bit of a mystery. There have been indications that the organization believes Serge Ibaka's best position in the modern NBA is at center, but Jonas Valanciunas is still around. A report on Monday indicated that the Raptors tried to trade the Lithuanian to as many as five teams on draft day, but ultimately, nothing came close to fruition.
If Ibaka starts at center anyway, it would leave Valanciunas as the backup, and Poeltl as the third string. It would take an extraordinary set of circumstances for the Austrian to supplant Valanciunas in the rotation. Poeltl, being more fleet of foot, has the potential to defend pick-and-rolls better but still has a long way to go in order to match the strength of his vet. He's not much of a shot blocking presence, but did average nine rebounds per summer league game. Offensively, he appeared to make strides around the rim, scoring 13.5 points per on 70.6 percent shooting.
If the Raptors instead choose to continue with their starting front court from last season with Valanciunas alongside Ibaka at power forward, then that would open up backup minutes for Poeltl.
Siakam's minutes will also be tied to what happens with JV, as any decision that either moves Valanciunas to a different team or out of the starting lineup will slot the Cameroonian as the starting power forward. Siakam could shape himself into a jack of all trades-master of none type of player at the 4-spot, as his outside shot is making strides, he has an excellent motor that allows him to rim run very effectively, and defensively has the potential to guard all five positions.
If JV starts, then Siakam will still be the backup power forward, and that will probably be a role better suited for his long term development and confidence, as he showed last season in a starting role that too much too soon could prove overwhelming.
One person that could push Siakam is Alfonzo McKinnie. The forward that became a G-League NBA all-star last season with the Windy City Bulls possesses excellent athleticism, and potential as a shooter on the catch. He only shot 34.1 percent during summer league, and so will have to continue to work on that aspect of his game.