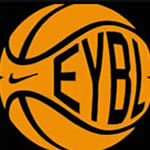 Canadian AAU Teams Duke It Out at EYBL
THOUSAND OAKS, CA–CIA Bounce has clinched a spot at Peach Jam finishing 5th in their pool at Nike EYBL with a 8-8 record. They took down UPlay Canada in their final game 68-57 after a hard fought game.
https://www.instagram.com/p/BUqXaVODNci/?taken-by=northpolehoops
These two teams were the only Canadian teams represented at the 17U level.
It went back in forth the whole way until CIA Bounce grabbed hold of it in the final four minutes.
Ignas Brazdeikis and Simi Shittu did what they have been doing all season and owned the glass while putting in most of CIA Bounce's buckets.
For UPlay, Lloyd Pandi stepped up in scoring to give UPlay leads at different points in the contest. Pandi protected the ball on multiple takes to the whole and finished with defenders in his way.
This was the best he's played all season and is starting to understand and use his slashing strength.