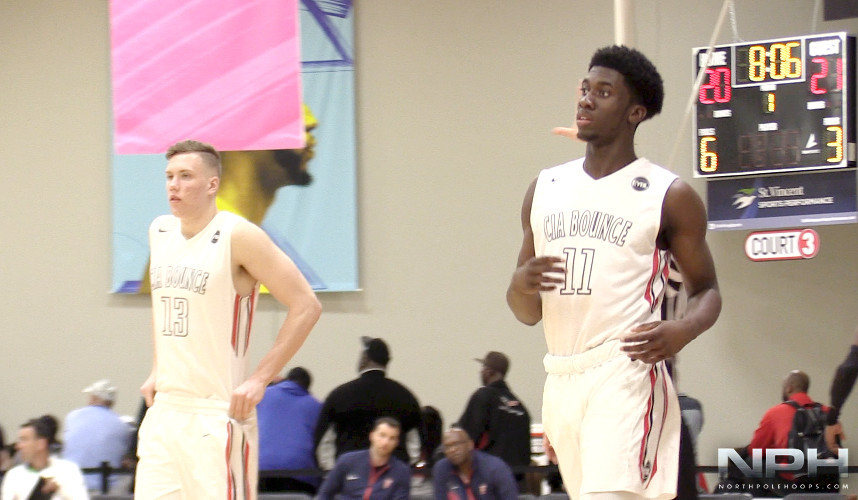 Simi Shittu and Ignas Brazdeikis Canadian Connection Thriving
It's not the first time or the last time the names Simi Shittu and Ignas Brazdeikis will be seen in the same sentence. Their production level on the Nike circuit with the storied Canadian program CIA Bounce has made the two a top duo in the league.
They've had experience together with the National Team program and excelled on the world stage as well.
Both Brazdeikis and Shittu are among the top 10 in scoring averages for the entire EYBL. Brazdeikis with 23.1 and Shittu with 21.5 through their first 11 games, good for fourth and eighth in rank respectively.
Shittu is the more known and celebrated name since he plays in the states and garners more media attention from the major scouting agencies in the U.S.
Brazdeikis however, is really making a mark with his versatile scoring. A knack for getting to the basket and using his body and the rim to protect the shot has impressed several coaches during the last live period in Indiana.
The 6'7 forward has erased any doubt surrounding his defensive abilities and has done so this session. He's not allowing his man to get by with ease and is blocking and altering shots.
Brazdeikis is a true two way player, hence why there has been an influx in his recruitment.
Florida, Michigan, Oklahoma, Washington and UConn are the newest schools in the mix.
On Shittu's end, he's been a force down low. Nobody that I've seen thus far on the AAU circuit has been able to finish through contact as well as Shittu does.
There have been countless possessions where he has corralled an offensive board to finish on his own miss, sometimes with a two hand dunk and other times a lay in.
Shittu is a top 5 rebounder in the EYBL, averaging 10.5 per contest.