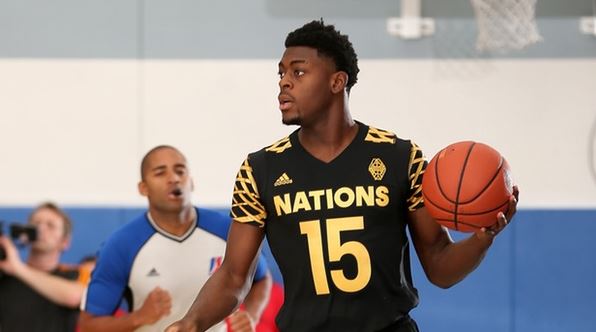 Luguentz Dort Hottest Canadian Name Among Top NCAA Programs
"When I started basketball I didn't think I'd ever be this far."
These are the words of one of the heaviest recruited Canadians on the scene.
Louisville, Oregon, Florida, Baylor, Arizona State, UNLV and Virginia Tech are all on the trail of Montreal, Quebec's, Luguentz Dort who is playing at Conrad Academy in Florida.
Dort will be on an unofficial visit to Louisville when they face Kentucky on December 21st before he heads home to Montreal for the holidays.
Dort tore up the high school season at Arlington County Day last year and is doing much of the same this year at Conrad Academy.
After strong showings at events such as Adidas Nations and getting invited to the NBPA Top 100 camp he's seen himself surrounded by high level talent and done very well for himself; needless to say, he's excited to get to the next level.
"I can't wait to get to the NCAA and have even more focus on getting closer to the next step, the league of course is in my vision."
He's ready for the next level in many ways. From a physical standpoint, there's even guys who are already playing college ball that don't match Dort's strength and athleticism.
Dort's skill level, specifically with regards to shooting, is an area that he has shown great improvement. There have been a few games this season already, where he's shot at 50% or higher from the three point line while taking five or more attempts.
While comfortable playing either guard position, he has been at his best while suited as a shooting guard. With his catch and slash ability, in two dribbles he can be at the rim creating a poster or connect from distance.
"Nelson," referring to his AAU Coach at Brookwood Elite, "forced me to start working on my jumper."
Now that the jump shot has been taking care of, its on to the next.
This off-season is more about ball handling, handling pressure in full court while adding more counter moves to beat defenders. His explosive first step is being heavily relied on in the meantime.
"I can compete against anybody in the world, I don't fear opponents."
When he uttered those words there was conviction in his tone. Since first watching him play four years ago it has been consistent and evident in his game.
The unofficial to Louisville is set for this Wednesday. Dort's recruitment is open, and stated he will be narrowing down his list during the summer.