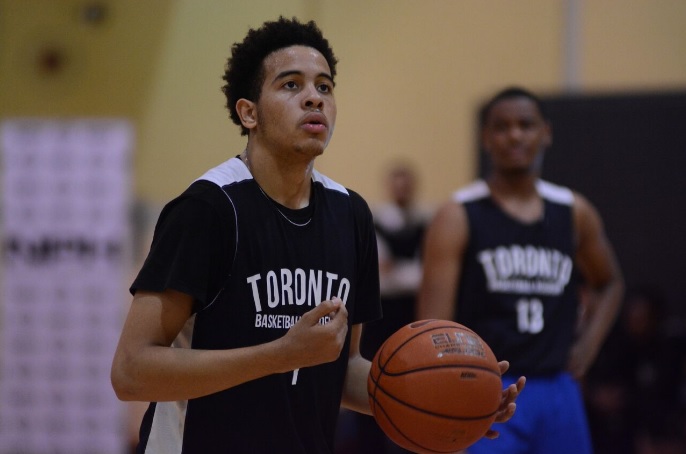 TBA come from behind against 3 Kings to improve to 2-0
Toronto Basketball Academy mounted a 14 point comeback in the fourth quarter to overtake 3 Kings Prep out of Windsor, Ontario 80-76 and improve to 2-0 in NPA action.
TBA, who hadn't held a lead since their five point advantage in the first, was led by Adham Eleeda's sharpshooting, contributing 21 points and connecting on five three-pointers.
https://twitter.com/NorthPoleHoops/status/796454508339589122
In the fourth, performances from Cordell Veira and Jace Colley led the way for the surging home team. Colley added a dominant presence in the paint on both side of the ball for TBA, scoring all of his eight points in the final frame, including this dagger that helped extended their narrow lead at the end.
https://twitter.com/NorthPoleHoops/status/796526298508251136
"I'm happy for my guys, they showed a lot of character in coming back from a 14 point deficit and winning the game in the 4th quarter, speaks volumes about this resilient group," said TBA's Head Coach Adeel Sahibzada after the win. "I think it was great for us to beat a tough, hard nosed, gritty and well-prepared 3Kingz Squad from Windsor. Coach Peter Cusumano did an excellent job with his guys. They didn't back down, and really almost squeezed it out."
Veira attacked the rim aggressively throughout the game for 17 points, and his ability to move the ball up the court and drive to the rim with a full head of steam helped pace TBA and let them control the tempo. Tarig Eisa also added 12 points in the win.
"Tarig only finished with 12, but did things that wouldn't necessarily show on the stat sheet," said Sahibzada. "And Cordell again was the undisputed leader who lead the charge in the decisive frame."
Teniola Thompson from 3 Kings led all scorers with 22 points, and Mahamed Omar and Ezeoha Santiago added 17 and 15 points, respectively.
This was the first action for the Windsor sqaud in the NPA, with the team busy at work South of the Border to start their season off.
TBA makes their way to Maryland on Friday morning to play a highly respected Mt. Zion Academy, before their next NPA action against London Basketball Academy on November 22nd. Game time is set for 3:30pm, be sure to check out North Pole Hoops's live stream of the game.
Next week will feature two NPA games and the debut of two new teams to the league. St. Michael's College, who lost their first NPA game to TBA last week, will face off against GTA Prep out of Mississauga, Ontario on the 15th of November at 3:30pm with NPH providing the live stream. On the 17th, St. Mike's takes on Central Tech Prep from Toronto, led by former Eastern Commerce coach Kevin Jeffers.