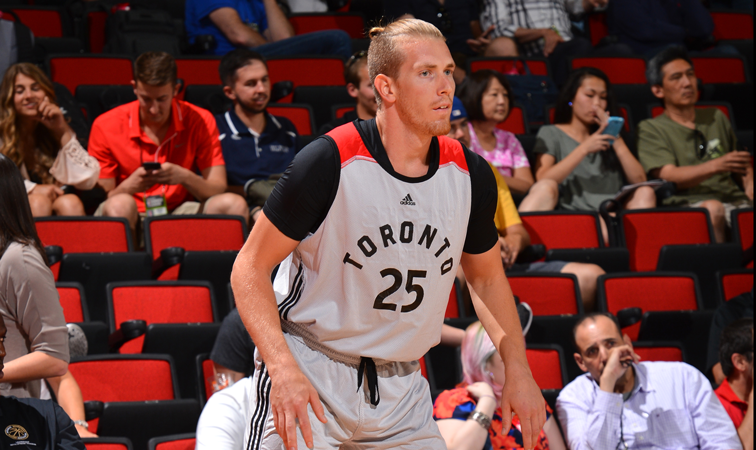 Raptors Sign E.J. Singler
The Toronto Raptors have announced in the signing of forward E.J. Singler, financial terms have not been disclosed.
Get to know more about @EJSingler who joined our 2Matts, 2Pats Podcast in the summer.

→ https://t.co/0GF1KHsmVl https://t.co/3mo62PtrCZ

— Toronto Raptors (@Raptors) September 8, 2016
Singler was a part of the Raptors 2016 Summer League tour in Las Vegas, where he averaged 6.4 points, 2 rebounds, 1.4 assists and 19.3 minutes over five games. The Oregon product also shot the ball well, connecting on 12 of 25 from the feild and 7 for 17 from the three-point line.
The 6'6" forward spent last season in the NBA D-League, splitting time between the 905 and the Idaho Stampede. Mississauga picked up Singler in March, and in the 10 games he spent with the Raps he averaged 14.7 points, and 7.5 rebounds per game.
E.J., who is the younger brother of OKC Thunder forward Kyle Singler, is three years removed from his time at Oregon, where he collected the most wins as a player in school history with 89 W's. Since finishing with the Ducks, Singler has spent his career in the D-League, where he has averaged 10.6 points, 4.3 rebounds, and 1.6 assists per game in 68 appearances. In 2014 Singler took home the trophy at the Boost Mobile NBA D-League Three-Point Competition.
Raptors roster stands at 19 right now…

People fighting for spot:

Fred vanvleet
Yanick moreira
Drew Crawford
Jared Uthoff
EJ Singler

— 🍿 (@The_6ix_man) August 29, 2016
Singler is one five players currently in the hunt for the 15th and final roster spot with the Toronto Raptors, and faces stiff competition from Iowa's Jarrod Uthoff, a 6'9" power forward who went undrafted this year and signed with the Raptors in August after playing with the Sacramento Kings in the Summer League.