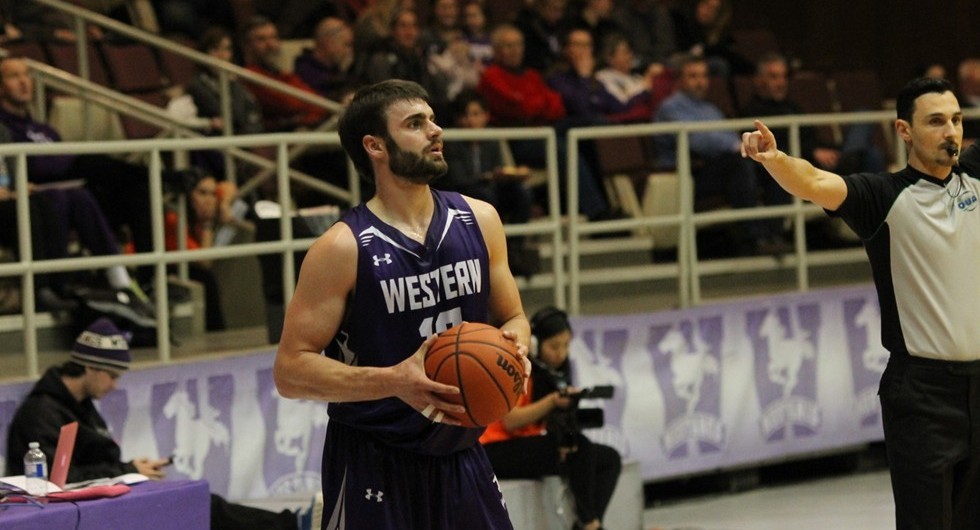 Greg Morrow drafted 1st overall in 2016 NBLC Draft
The National Basketball League of Canada held its inaugural All-Canadian Draft, consisting of two rounds and 20 selections.
Results of the Inaugural All-Canadian Draft will be announced Friday Sept 9th via social media starting at 5pmEST. pic.twitter.com/CqDdw7PPTL

— NBL Canada (@NBLCanada) September 8, 2016
Teams will hold each drafted players right for three years, and in order to be eligible athletes must be Canadians aged 19-25.
The draft order selection was based on the records of how teams finished the previous season.  The KW Titans won a coin toss over the other new franchise, the Cape Breton Highlanders, to land the first overall selection of the draft, where they selected former Western Mustang Greg Morrow.
The #1 pick in the @NBLCanada All-Canadian Draft, the @KWTitans select Greg Morrow – University of Western Ontario. pic.twitter.com/x8xO5n7Svn

— NBL Canada (@NBLCanada) September 9, 2016
"I'm absolutely thrilled that we had the opportunity to select Greg,"  Titans GM Stu Julius said in a press release. "We did our research and felt he was deserving of being the 1st overall pick. Greg is a very talented Canadian, who can play multiple positions and plays with great energy and passion. Beyond that, he's a terrific young man off the court, with very high character, that we know will represent our organization well in the KW community."
Below are the full results of the full 2016 NBLC Draft
[table id=24 /]
*Cape Breton Highlanders traded the rights to their 2nd overall pick to Windsor for the rights to Shaquille Keith.
*Saint John Mill Rats traded their 7th overall pick for the rights to Brian Addison from Island Storm
*Windsor Express traded the rights to their 8th overall pick to the  Cape Breton Highlanders.
"I feel very excited and honoured to be able to continue to play basketball at a professional level. There are a lot of great young Canadian players and to be picked number one and play in my home country in an accomplishment that I'm proud of," Greg Morrow said in a press release.
Morrow, a London, Ontario native, spent his five years in the OUA with the Mustangs, collecting two OUA First Team and one OUA Second Team nods. As a senior, Morrow led the 'Stangs in scoring (24ppg, 52% FG), rebounds (7.1rpg), and assists (2.4apg). Morrow is also the all-time leading scorer in Western history.
"KW is a great situation for me because it is close to home and I feel like it's a place that has the resources and coaching staff that are willing to help me improve as a player," said Morrow. "On my end, I look forward to doing everything I can to make this a successful season for the team, both on and off the court. I'm the type of player who will hustle and put the team first. I'm athletic and can make high level plays, and feel that I have the potential to be a lock down defender on the wing. I look forward to getting started."