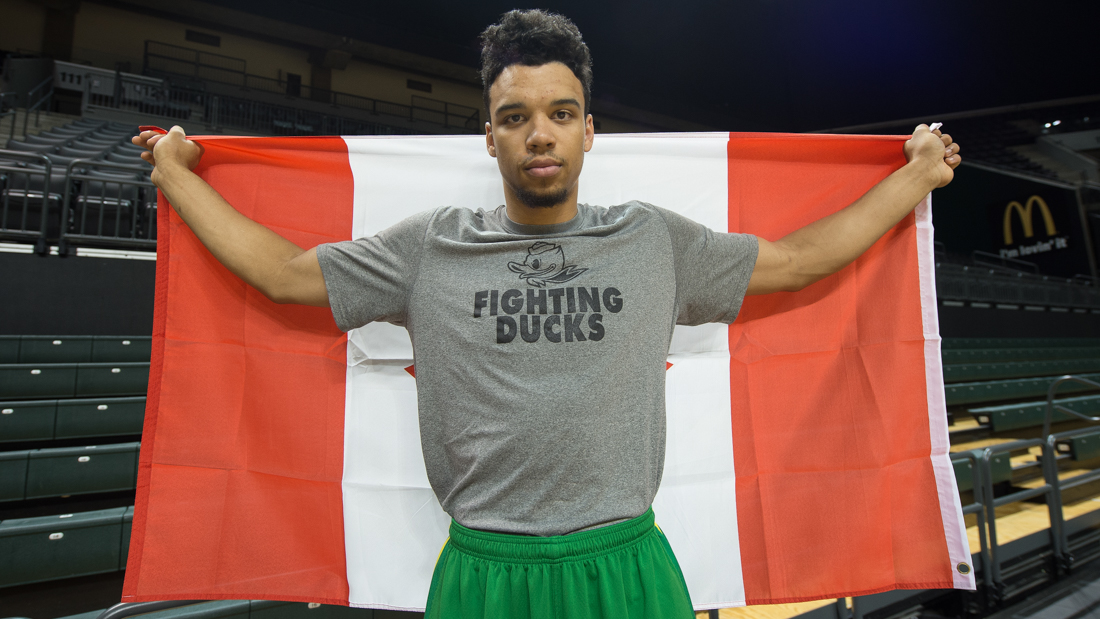 Dillon Brooks will most likely miss start of season
As the Nov 11th season opener vs Army draws nearer for the Oregon Ducks, it seems certain that Mississauga's Dillon Brooks will not be ready for the beginning of the year, according to Oregon's The Register Guard.
The Oregon newspaper caught up with Ducks' Head Coach Dana Altman after a four game exhibition tour in Spain, where Oregon won all their games without the 6'7" forward, who remained on the sideline.
After an amazing 🇪🇸 tour, the Oregon Ducks and I are heading back to 🇺🇸. Couldn't be more thankful for this trip, on and off the court!

— Dylan Ennis (@canadiankidDJE) August 31, 2016
"We saw a big gap not having Dillon and what he gives our team," Altman told the Register Guard. "Not only from a physical standpoint, but leadership. There was a big hole there."
There is still no timetable for Brook's return, with training camp kicking off in October for Oregon.
"That's up to the doctors and we will be real conservative with it," Altman said. "As much as we want to win those early games and have him ready to go, the majority of our games are in January, February and March, hopefully."
Despite Brooks' absence on the hardwood, the Canadian made his presence known on the bench, remaining focused and vocal during the games.
"I heard his comments on the bench saying 'That guy should have made an extra pass there' or 'That guy didn't rotate to help'," said Altman. "I know he was focused and into the games because I heard him sitting there. … I was really pleased with Dillon on the trip because he can learn so much just sitting and watching because you're not thinking about yourself, you're thinking about your teammates."
Ducks used to have a surplus of 6-6/6-7 guys. Injury to Brooks and departure of Cook, Benjamin has depleted that. https://t.co/Hp9p1XQvEW

— Tyson Alger (@tysonalger) September 8, 2016
It will be a different looking team for the Ducks this year, with the loss of Brooks and seniors Elgin Cook and Dwayne Benjamin, and the reintroduction of Canadian Dylan Ennis who will be back from injury to join Montreal's Chris Boucher in the starting lineup.
"We're going to have to really adjust some things not knowing exactly when he's going to be back," Altman said. "If you think to last year's team, we had Elgin and Dillon and Dwayne, three guys in the 6-6 range. Now we just have Keith Smith, an unproven freshman, so that is a big void."
"We will have to play a little different because Dillon was so versatile," Altman said. "We can play him inside because he's big enough to bounce around and loves beating on guys inside. He's not afraid to be physical. His skill level has developed the last couple years to move further away from the basket. He's very valuable because of his versatility.
"We try to stress that to all our players to be as versatile as possible so we can use them in as many different scenarios as possible, and Dillon Brooks has taken that to heart."
Altman also discussed how difficult it's been for Brooks between the injury and having to remove his name from the NBA Draft to the pressure of being a student-athlete in today's society.
"He was disappointed," Altman said. "I don't care what sport you're playing, it's hard to be a competitive athlete and get injured and have to sit and watch. When you have aspirations of going on and playing like Dillon and others do, you know it sets you back. I have great concern when guys get hurt because you never know how they'll handle it. I've said all along that the pressures on student-athletes are at an all-time high. With social media, guys feel like they've got to tweet stuff and back it up and then (media) writes stuff and everyone has to comment on that. It's a difficult time to be a student-athlete and when you are hurt, it only adds to the frustration. He was concerned and he's anxious to get back."