Canada beat Serbia in thriller, go 2-0 in Rio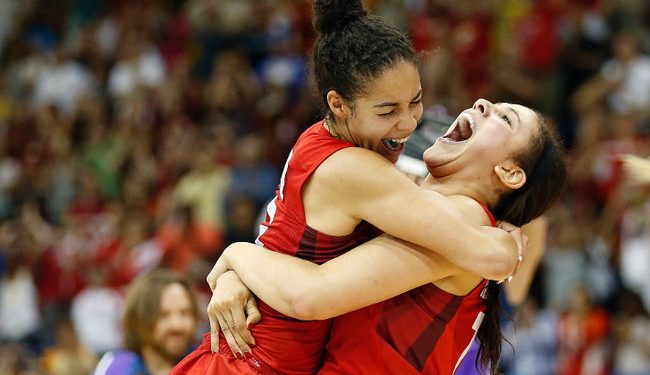 Team Canada Senior Women's team came back in a fourth quarter stunner to defeat Serbia 71-67 and improved to 2-0 in their run in the Rio Olympics.
2016 Olympics, Game 2, FINAL: 🇨🇦 71 🇷🇸 67 #Rio2016 💯 pic.twitter.com/PZJtyc4RE8

— Canada Basketball (@CanBball) August 8, 2016
Canada was lead by Kia Nurse's 25 points, five assists and two steals, coming off the bench to provide the team with some fire after the squad went down by as much as 18 in the game.
Kia Nurse leads the way for #CAN with 25 points … next game is Wednesday v #SEN at 4:45 pm ET pic.twitter.com/KyZSSVUnep

— Mark Masters (@markhmasters) August 8, 2016
In the fourth the Canadians fought back heroically, tying the game back up with just over four minutes left on a dagger three from Nirra Feilds.
After trading buckets with a tough Serbian squad, who were led again by Jelena Milovanovic's 19 points, Nayo Raincock-Equine finished a tough and-1 basket under the bucket with just over a minute left to put Canada up for the first time since the first quarter.
From there Canada finished strong and added their second straight win in Rio on a solid team win. The Serbians, who are defending EuroBasket champions, are a lot tougher than their 0-2 record indicates, and had Canada on the ropes for much of the game.
Both teams struggled with turnovers, Canada finishing with 19 while Serbia had 17, and both teams statistically finished with similar results outside of bench points, where Canada and Nurse dominated finishing with 38 compared to Serbia's 19.
Depth was the Canadians biggest strength in the game, who continued to fight consistently through the game and appeared to tire out the Serbians who finished the game sluggishly.
Canada hits the hardwood again on Wednesday, when they take on a 0-1 Team Senegal, who were destroyed by Team USA 121-56 in their first game. On Friday, Canada will take on USA, which will be their true test in Rio and show where they stand.