Simi Shittu Transfers to Vermont Academy from Montverde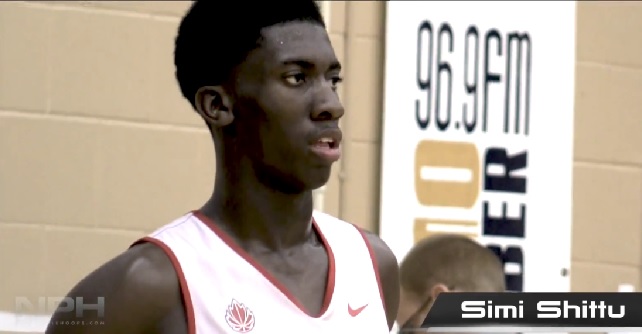 Simi Shittu, the number one ranked Canadian in the 2018 class will be transferring from Montverde Academy (FL) to Vermont Academy (VT).
Simi Shittu has built his stock significantly since getting the spotlight at the high performance, high exposure environment that is Montverde Academy, a place that developed this year's number 1 pick of the NBA Draft, Ben Simmons.
Shittu has a lengthy list of offers from college teams in the best conferences of the NCAA.
The star Canadian forward has been developing more and more as a wing over this past year. We've seen him experiment in the City of Palms Classic, throughout the season and with the National Team at the Cadet level. His ability to create a play for himself off the dribble and get to the rim from the three point line with one dribble is impressive.
As a 6'9 forward, Shittu has also cleaned up his shooting mechanics which has improved his free throw shooting and perimeter shooting.
With the loaded roster at Montverde Academy, having ESPN top ranked players like Silvio De Sousa and EJ Montgomery, the Shittu family and Simi decided it would be best for his development to make a  move where minutes and reps will remain on the high side with the position not being as stacked at Vermont.
Simi Shittu joins fellow Canadian, Christian David who is expected to have a monstrous year as well. Vermont could also be expecting a third Canadian that is yet to be confirmed.