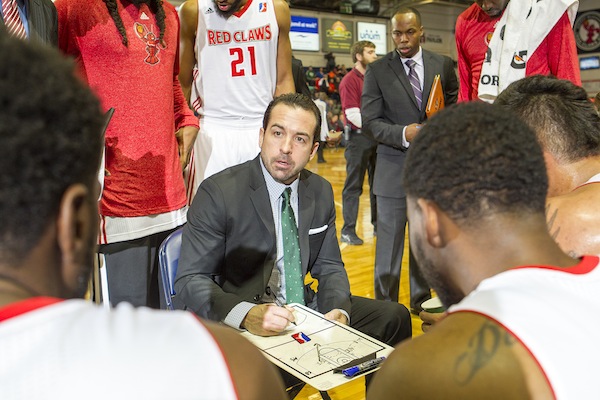 Canadian Coach Scott Morrison talks about life in the D-League
Scott Morrison, a former CIS coach with Lakehead University and native of P.E.I, has found his most recent success in the NBA D-League as Head Coach of the Maine Red Claws, the affiliate of the Boston Celtics.
Morrison took home D-League Coach of the Year honours this past season, and as with most D-League coaches is looking to use the Developmental League as a springboard into a job in the big league.
ICYMI: Here's my Q&A with head coach Scott Morrison of the D-league's Maine Red Claws: https://t.co/OlujJ5ZKzz @celtics

— Clevis Murray (@ClevisMurray) July 27, 2016
The East Coast native sat down with Clevis Murray of SirCharlesInCharge.com to discuss his meteoric rise through the ranks, making the huge leap from a small University in Northern Ontario to South of the border while on a trajectory to the top.
Morrison brought up an interesting point when asked about the state of the game in Canada, and his perspective on Team Canada from the work he's don't with them. From the Interview:
"I have been fortunate to be involved with Canada Basketball the past five season first with the National Junior program and then more recently with our Senior National team. It is exciting to be a part of the momentum that we are enjoying with our player development and following the guys as they move from NCAA to professional ranks."
"While our future player pool is deep we need to find a way to keep our top players participating on national teams and playing for their country on a consistent basis – this will lead to our goals of getting back to the Olympics and fighting for a medal."
Morrison points out that although we have the second most pro's in the league as a country, now the issue becomes ensuring these guys are suiting up for the Red and White at as many opportunities as possible. This becomes difficult when dealing with professionals, especially when it comes down to insurance money, scheduling conflicts, and wearing yourself too thin individually.
Those seem to be the main factors that Canada is facing right now when putting together a roster to compete internationally, and until the depth becomes sturdier, those problems will continue to plague our chances at Olympic glory.
America, for example, can afford for major stars like Stephen Curry to drop out of the Olympics and still have plenty of options to fill the void. For Canada however, when Andrew Wiggins dropped out for us this year, it left a serious hole at the wing, particularly on the defensive side, which we were unable to fill effectively.
Overall the interview was a very interesting discussion with one of the brightest Canadian minds in Basketball. Expect to be hearing Scott Morrison's name more and more in the future, as his trajectory only points one way.