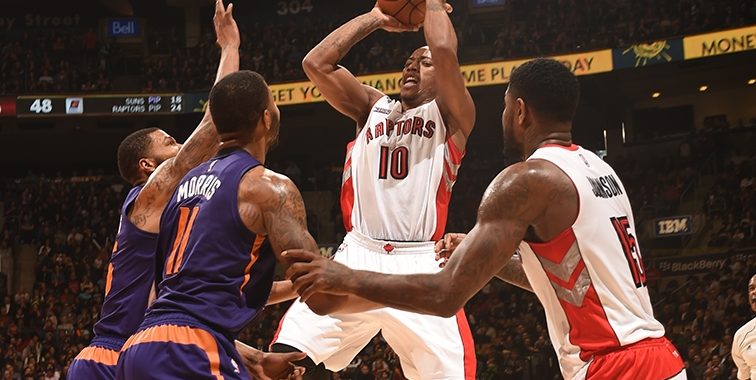 DeMar inks HUGE deal with Raps
DeMar DeRozan kicked off Canada Day with a lucrative new contract, inking a five year deal reportedly worth up to $139 million with the Raptors. 
ESPN's Marc Stein projects that the contract might pay as much as $145 million.
So according to that last tweet from my pal @MarcJSpears, your most current estimate on the DeMar DeRozan deal is five years, $145 million.

— Marc Stein (@TheSteinLine) July 1, 2016
Brother-in-arms Kyle Lowry was quick to let him know dinner is never on him again.
https://www.instagram.com/p/BHTzMhDhf5e/?taken-by=kyle_lowry7&hl=en
The massive contract, which came just hours into free agency officially opening, leaves little if any room for the Raptors to manoeuvre any additional free agent signings. This makes the likelihood of Toronto retaining Bismack Biyombo, the Raps second major priority this offseason, a very difficult feat.
Raps GM Masai Ujiri had said re-signing the Compton native was his top priority, and he made quick work of negotiations to secure DeRozan, who has played in Toronto for his entire professional career. The USC product has endured some difficult times with the Raptors, and has led the squad to greener pastures, finishing off a record breaking season for Toronto en route to an Eastern Conference Finals appearance.
DeRozan averaged a career-best 23.5 points this past season, and combined with Lowry for one the top backcourts in the NBA, but struggled in playoffs despite several big games. DeRozan averaged 20.9 points per game in the playoffs, but shot .394% from the field and .148% from beyond the arc.
This contract, which might seem staggeringly high to some, must be taken with a grain of salt considering the way money in the NBA is trending upwards. Just moments after news broke about DeRozan, Washington Wizard's Bradley Beal was reported to land a five year contract worth $125 million, and Charlotte's Nicolas Batum inked a five year deal worth $120 million.