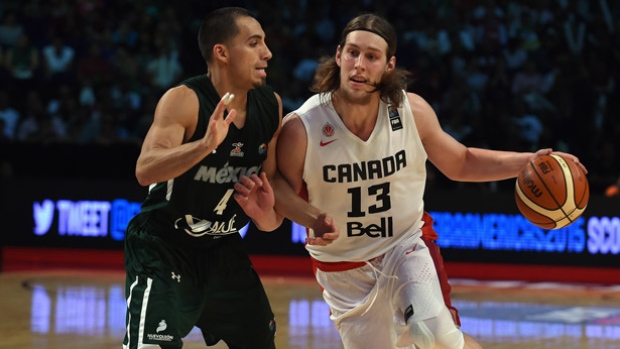 Senior Team Canada
Team Canada
Kelly Olynyk out for Canada's Olympic run
Toronto born, Kamloops bred Kelly Olynyk is expected to be out for five months after a shoulder surgery this offseason. Olynyk could potentially miss the beginning of next year for the Boston Celtics, after being knocked out of the first round by Atlanta this year.
Olynyk didn't have an impact for the Celtics during playoffs because of the injury, and despite trying to hold off, Olynyk opted to have this surgery sooner rather then later.
"If I would have played in the Olympics and done it in September, I would have been ready for playoff time hopefully, right?" Olynyk told Boston Globe reporter Adam Himmelsbach. "I just couldn't miss all of next year.
"We're moving in the right direction and I want to keep momentum going. It was a really, really tough decision, obviously for everything I have tied back to Canada, but it was something I needed to do."
This will leave Olynyk on the sideline for the Canadian national teams qualifier in Manilla this July, it will also keep him out for the Olympics in Rio if the team does qualify.
Boston's big man will leave a big hole in the Canadian front court, after averaging 11.9 points, 7.9 rebounds, and 2.3 assists per game during the 2015 FIBA qualifier tournament in Mexico City.