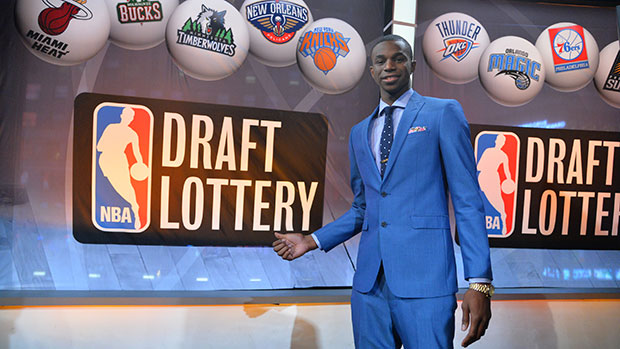 Canadian Draft Prospects: Where will they land?
The Philadelphia 76ers were awarded the first overall pick in the NBA draft this year, coming off a dismal 10-72 season.
The 2016 @NBADraft order! pic.twitter.com/4k9QezDQt4

— NBA (@NBA) May 18, 2016
Canada's team landed the #9 pick, and for the fifth year in a row there are Canadians in the draft who are expected to be first-rounders. NPH National Scout Tariq Sbiet took a look at three of the major Canadian prospects who are looking to go pro this year.
Jamal Murray – Position: PG/SG Height: 6'3" Weight: 207
Murray declared for the Draft after averaging 20 points a game in his freshman season at Kentucky, and is expected to be a high lottery pick. Before the lottery, Murray's name was being thrown around with the Sixers, but now that Philly has the #1 pick, will they take the Kitchener boy over the likes of Ben Simmons and Brandon Ingram?
Tariq: Jamal is on a mission to greatness and I don't use that term lightly. He is wired differently than 99% of people. Credit the Murray family, who have done a fantastic job raising him. A top 3 pick in my opinion that will have a long career in the NBA with All-Star potential, simply knowing that he is only getting better. Kitchener, Ontario should be proud. They don't make them like this too often.
Thon Maker – Position: PF/C Height: 7'0.75" Weight: 216lbs  
Maker was somewhat of a surprise coming into this draft, at only 19 his draft eligibility was in question having not attended post-secondary, but Thon was declared eligible under international players rules.
Although not a Canadian citizen, Maker played his prep ball at Athlete Institute in Orangeville, along with Jamal Murray and recent Notre Dame commit Nikola Djogo. Thon also rolled with Canada Elite on the UAA circuit last summer. 
Maker packages together an extremely high ceiling with an intense competitive edge, but some critics have noted his inability to gain much weight this last year, coming in a bit small to battle with the NBA's big men.
Tariq: Thon Maker might be the most interesting player in the draft. I've talked to several NBA personnel since he announced he will enter the draft. The highest I heard was #20 on the board, which is baffling to me. I look at Thon and see a lottery pick. He wants to work and wants to get better; combine that with the fact that he's the most agile and athletic 7-footer in the world and you have yourself a big time league prospect.
Kyle Wiltjer – Position: PF Height: 6′ 10" Weight: 242.8lbs 
Wiltjer heads into the draft after an impressive college career with Gonzaga, known as a scorer, but lacking on the defensive side. Kyle isn't expected to crack the first round, but someone could pick up the Bulldog later in the draft or as a free agent.
Tariq: Kyle is a highly skilled, High character guy with an impeccable college resume. NBA teams will love the fact that he can stretch the floor, but be cautious of his physical deficiencies (athleticism, speed) There is room for a player like Wiltjer in the NBA, especially in this generation of versatile big men.
Only time will tell where these men will land in the draft come June 23rd, but one certainty is that the talent pool of professional Canadian players is only getting deeper.