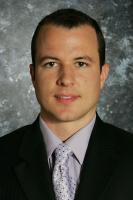 Paul Weir Becomes Third Canadian NCAA D1 Men's Head Coach
Paul Weir is set to be named Head Coach at New Mexico State, according to The Journal.
Canadian Basketball NCAA Coaching History
–
This hiring would make Weir only the third Canadian Division I NCAA Head Coach–the other two being James Naismith (Kansas | 1898–1907) and Naismith Basketball Hall of Fame inductee Pete Newell, who coached NCAA Division I men's hoops from 1946-1960 (San Francisco, Michigan State, California).
At the NCAA Division II level, Chris Kraus (Markham, ON) is currently the Head Coach at Stonehill University, fresh off an Elite 8 showing.
On the women's side, Lennoxville, Quebec's Lori Gear-McBride was Head Coach at Vermont (2010-2016).
Weir, who has done a tremendous job of recruiting Canada over the last nine years at NMSU, is responsible for bringing over players like Daniel Mullings, Hernst Laroche and a long list of Canadian Aggies.
Prior to this appointment, Weir served as Associate Head coach for the last five years.
With the growth of the game in Canada over recent years, opportunities have opened up for prospects from the north.
It is encouraging to see that it is now extending to the coaching field as well.
Weir makes history, becoming the third Canadian mens Head Coach at the D1 NCAA level.