Brendon Ocampo, Noel Tefsa lead Scarborough Blues to Gold in OT Thriller!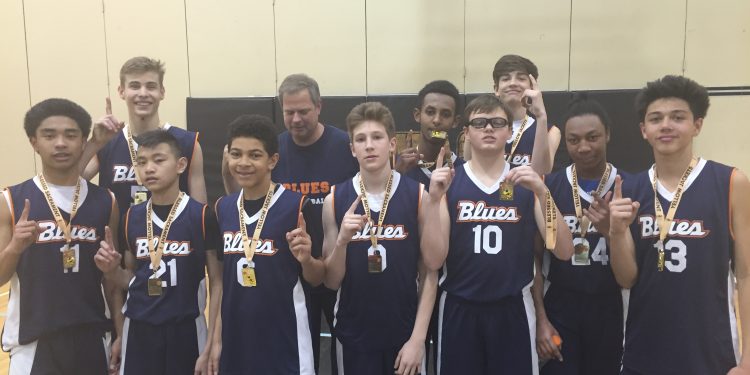 By Sean Marranca
This weekend North Pole Hoops kicked off its first ever Junior NPH Showcase in Toronto, a camp geared towards elementary school ballers looking to set kids on the right path in the pursuit of excellence. 100+ Grade 7-8 prospects hit the court at Crescent School in for a chance to make a name for themselves, but more importantly to learn and develop.
Meanwhile in Hamilton, gearing towards the end of the OBL season, one of the biggest club tournaments took place in Hamilton–the Blessed Sacrament Invitational.
This weekend brought out the U12, U13 Boys teams, and with it some very exciting basketball.
The Division 1 final for the U13 boys had the Vaughan Panthers head to head with the Scarborough Blues in a tense championship that finished in a 75-69 overtime win for the Blues.
Led by an impressive 28-point performance from guard Brendon Ocampo, the Blues maintained a high tempo attack, and spaced the floor well, creating opportunities all over the court.
Ocampo was the catalyst for the Blue's offence, attacking the rim and finishing under contact, while also knocking down the three.
The X-factor for Scarborough though was Noel Tefsa, a dynamic player who did a bit of everything in the game, including a steal, an assist and four quick points to put the Blues up by 6 to start overtime. He finished with 13 points.
"We didn't shoot the ball as well as we can, so we had to grind it out, and the kids really stepped up when they had to," said Blues Head Coach Rob Gipson.
Vaughan matched Scarborough's intensity for all four quarters of regulation, with 7th grader Tyler Garcia leading the way for Vaughan with a 20-point effort.
Garcia, along with 7th grade guard Ryan Nembhard led the way for the 8th grade team from Vaughan, controlling the pace for the Panthers while distributing the ball efficiently. Nembhard had 19 points of his own in the matchup, and both young men looked very comfortable against older competition.
"That's what they do all year, they are probably our two best players," said Vaughan Head Coach Claude Nembhard. "The kids feed off them, its good for them because they could have gone to other teams, maybe better teams, but this was a year for them to learn and be the leaders of this team."
The U13 division is an interesting age group to watch, as it will be the last time these kids play without a shot clock in their competitive basketball careers.
At times the pace can be slow and choppy, with play coming to a crawl as some teams try to stall.  The transition for some to the high school speed will be difficult, but the boys on these two teams looked ready to compete at the next level.