Hang Time brings hoops history to life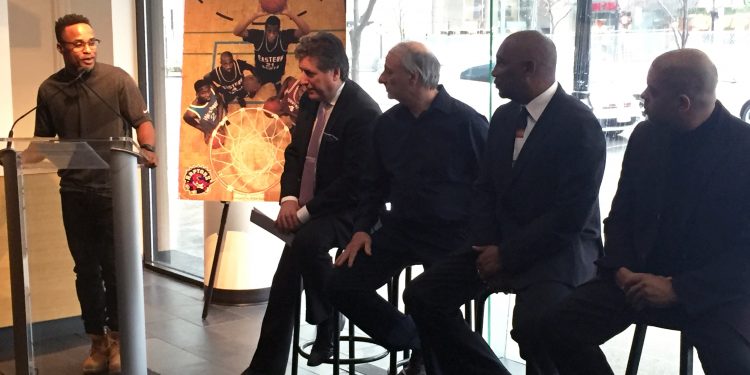 There is an undeniable basketball boom in Canada that has an all-time high number of domestic products on NBA rosters, and most of them originate from the Toronto area.
The list before them of NBA players is short, but not for a lack of talent. These players toiled in obscurity to establish a pipeline for the current generation from grassroots to the pros.
Basketball in Toronto was boosted by but didn't start with the Raptors coming to town, and a new one-night only production will bring these legends from the shadows for a proper celebration.
From the Hang Time 50 official release:
"Hang Time: 50 Years of Toronto Basketball" will reintroduce the legends and stories behind the rise of the city's most popular sport, bringing together generations of Toronto's basketball community to celebrate and appreciate those who paved the way for today's successes.
Guest presenters including legendary coach Mike Katz, Raptor broadcaster Paul Jones, former Olympian Norman Clarke and media veteran Dana McKiel will lead the audience through the rich history of Toronto basketball and the phenomena of a metropolis growing from grassroots to pro hoops.
"It's amazing when I started playing basketball in this city they hardly ever lowered the baskets down from the ceiling and my school didn't even have any basketballs, they gave me a volleyball," said former Team Canada head coach Mike Katz at the Hang Time press conference Wednesday. "It's really grown in Toronto and across the country where every kid now gets a basketball in their hands." 
While recognizing the history we're also planning on having a little fun. Host Derek Forgie of MTV/ Comedy Channel fame will be supplying the laughs. A full-sized court from Ontario Basketball will be placed on the theatre stage for a select team of High School Dunk Stars to rock the rims. Even intermission is going to be a star-studded event with the personalities mingling in the gala-style foyer. 
"This is going to be a celebration and so much fun for everybody involved," said Executive Producer Dana McKiel. "We're planning a really fun show and an interactive experience for the audience, many of whom will be former basketball stars in Toronto themselves." 
Appearances by former and current NBA basketball players and Toronto Raptors personalities will build the excitement, but Hang Time will also slow the pace to honour living legend Harry Brown and some of those we've lost whose influence was essential.
"I think it's really important to learn about the history of basketball in Toronto so that we young players can appreciate all the support we get today," said Ryerson Rams forward Savanna Hamilton.
Game Day is set for Thursday, May 26, 7 pm. at the St. Lawrence Centre for the Arts, Bluma Appel Theatre. Tickets are on sale at the St. Lawrence Centre for the Arts box office. Please visit www.stlc.com/events for details and follow @HangTime50 on Twitter for updates.