Montreal's Quincy Guerrier is a Big Time Basketball Prospect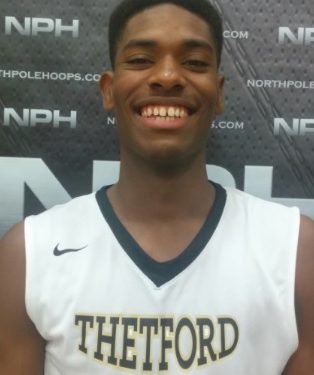 Quincy Garrier is a name that you will want to get yourself familiar with.
A 6'6 shooting guard in the Class of 2019, Guerrier is a superior scoring threat that will make a major splash in the Canadian Class of 2019 NPH National rankings, coming this week.
Guerrier separates himself from most with the combination of his size and ability to knock down the three-ball at a consistent rate. In addition, there is a great deal of room for growth on both ends of the floor, but has a strong foundation to work with.
"He's a great kid, coachable and a fast learner. He enjoys working on his game and loves to perform on the big stages," Thetford Head Coach Igor Rwigema told North Pole Hoops.
Guerrier is averaging 27.5 points per game at the Thetford Invitational to kick off the 2015-2016 season, including a 38-point outburst against a strong a discipline Bill Crothers team.
"Even though he's the youngest on the team, his teammates definitely trust his scoring ability," said Rwigema.
"When we are in a drought, they are always looking for him to spark it up."
Outside of his production, Guerrier brings a certain confidence to the table that is rare to find, particularly in a 16 year old.
This playmaker did not make the cut for the Canadian Cadet national team, was told that he needed to gain experience and continue to work on his skill set.
In terms of experience, Thetford will have a very tough schedule both in Canada and America that will have Guerrier compete against players up to seven years older (CIS teams), and top-notch CEGEP / Prep teams.
"He's working hard to be on the U17 team that will be going to the world championship."
In the meantime, get familiar.