Alberta NPH Showcase Prospect List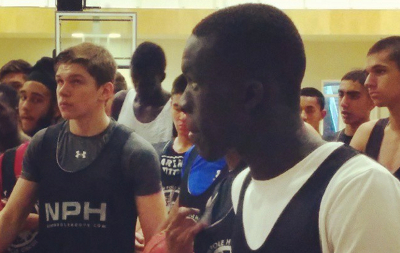 Less than a week away from the second last stop of NPH's National Showcase Circuit in Olds, Alberta; a central locale between the major cities of Calgary and Edmonton.
There's more than just oil rigs to dig out in Alberta. It has been referenced by National Scout, Tariq Sbiet as "The Sleeping Giant" for Canadian basketball prospects.
Every year there is talent that makes a strong impression in these camp environments. Last year Simar Bajwa was a name that IVY League schools quickly got familiar with. A 90% academic average coupled with high level play making ability provided more interest from this conference in the NCAA.
At least a dozen CIS prospects stood out as well in the first visits to Olds.
As far as this list below goes, there will be a few new name that leaves their mark, however the concern for prospects in Alberta is not how they show out the first time, instead it is the rate of their development.
There are segments of the NPH Showcase off the hardwood that will serve as guidelines to ensure continuous growth as opposed to settling for being the best at camp or in the respective province. Patterns have shown that Alberta prospects do not #MaximizePotential. We'll be in the province to hopefully get proven wrong.
| | | | |
| --- | --- | --- | --- |
| Name | Year | School | Club |
| Craig Panek | 2015 |  Parkland Immanuel Christian | Swoosh Elite |
| Gop Majak | 2015 |  St. Joseph Collegiate | |
| Jaden Lawrence | 2016 |  Eastglen | |
| Braxton Penner | 2016 |  Medicine | |
| aeran anhorn | 2016 |  Warburg | Swoosh Canada |
| Blake Butler | 2016 |  J. Percy Page | |
| Nick Murschell | 2016 |  Medicine Hat | Outlaws Basketball |
| Bol George | 2016 |  Holy Trinity | Oleary Sprig League |
| Corbin de Kluyver | 2016 |  Bearspaw Christian | SC Elite |
| Josiah Thomas | 2016 |  Jasper Place | Ameba Star |
| Marco Beasley | 2016 |  Ross Sheppard | Grassroots |
| Rikesh Dwivedi | 2016 |  Bert Church | SC Elite |
| Jelmer Derksen | 2016 |  Bert Church | SC Elite |
| Aher Uguak | 2016 |  Harry Ainlay | Drive |
| Karnaksh Toor | 2016 |  Harry Ainlay | Swoosh |
| Jeremy Pynn | 2017 |  St. Joseph | GPRC Wolves |
| Lencho Bakri | 2017 |  Brooks composite high school | |
| Abdi Teha | 2017 |  Brooks composite high school | |
| Cameron Macdonald | 2017 |  St. Joseph's | Team Alberta |
| Mobin Ali | 2017 |  Lester B. Pearson | Calgary Grizzlies |
| Bak Nyang | 2017 |  Medicine Hat | |
| Anfernee Houmphanh | 2017 |  Medicine Hat | |
| Justin Bragg | 2017 |  George McDougall | SC Elite |
| Hunter Young | 2017 |  George McDougall | SC Elite |
| Jahlon Pelly | 2017 |  Strathmore | |
| Sunny Jawanda | 2017 |  Crescent Heights | Genesis |
| Simar Bajwa | 2017 |  Lester B. Pearson | |
| Abdoul Bikienga | 2017 |  Holy Trinity Academy | |
| Abdoul Bikienga | 2017 |  Holy Trintiy Academy | |
| Dawson Funk | 2017 |  George McDougall | SC Elite |
| Onen Johnson chol | 2017 |  St. Joseph Collegiate | Brooks Grizzlies |
| Tim Gatwich | 2017 |  Notre Dame | CYDC |
| Sean Petrone | 2017 |  Bishop O'Byrne | W. I. N |
| Amir Aliye | 2018 |  Brooks Junior High | |
| Mohammad Nasir | 2018 |  Sir Winston Churchill | |
| Tevin McCallum | 2018 |  St. Alponsus | |
| Jodaya Gladue | 2018 |  Ross Sheppard | |
| Manbir Parmar | 2018 |  Western Canada | Genesis |
| Zac Longstaff | 2018 |  Olds Koinonia Christian | SC Elite |
| Justin Cissell | 2018 |  Olds High School | SC Elite |
| Cale Anderson | 2018 |  Bishop Grandin | W. I. N |
| Saboor Ul-Bashar | 2018 |  Forest Lawn | CGA Basketball |
| Agout Agout | 2018 |  Father Lacombe | Genesis |
| Aaron Fernandes | 2018 |  St. John XXIII | Genesis |
| Tesloach Bichiok | 2018 |  Bishop McNally | CYDC |
| Pravkaran Sandhu | 2018 |  Fleet Wood Park | |
| Muhammad Choudhry | 2018 |  Sir Winston Churchill | NCBC |
| Navdeep Bajwa | 2018 | | |
| Vinnie Ma | 2018 |  Vincent Massey | Genesis |
| Aiie Majak | 2018 |  St. Joseph Collegiate | Brooks Stars |
| Manyang Tong | 2018 |  Father Lacombe | Genesis |
| Benjamin Nelson | 2019 |  St. John Paul II | Okotoks Rockies |
| Milkesa Galmo | 2019 |  Brooks | |
| Kuaj Jok | 2019 |  St. Elizabeth Seton | NexGen |
| Jayden Bailey | 2019 |  Don Bosco | Calgary |
| Austin Torres | 2019 |  Father Michael Troy | Northern Alberta |
| Nathan Petrone | 2019 |  Blessed Cardinal Newman | W. I. N |
| Reng Lual | 2020 |  St. Elizabeth Seton | Bishop O'Leary |
| Roman Niro | 2020 |  Monsignor J Smith | W. I. N |
| Noah Neilsen | 2021 |  Ecole Airdrie | SC Elite |