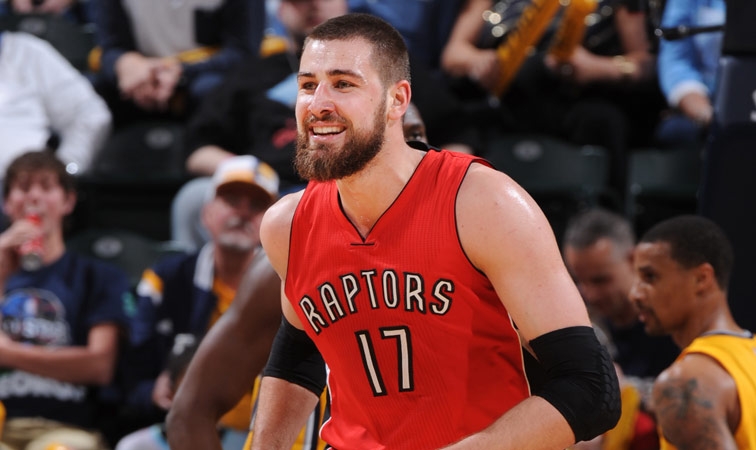 Raptors Re-Sign Jonas Valanciunas
The Raptors locked their Lithuanian big man into four more years in Toronto as he becomes the highest-paid player on the roster.
Valanciunas's extension is reportedly worth four-years at $64 million, and made in good timing before the salary cap balloons over the next two offseasons and player begin to make unprecedented amounts.
"Jonas' contributions continue to improve with each season and we view him as a significant part of what we are building in Toronto," said Raptors President and General Manager Masai Ujiri in an official release.
If the Raptors had allowed Valanciunas to enter restricted free agency next year, they would have likely had to match a bully max offer from another club that would have been significantly higher with teams suddenly flush with cap space and eager to spend.
It's a good deal for Toronto who get a 23-year-old improving seven-footer who's used to Casey's gameplan, and leaves them flexibility with cap space.
Super happy!:)) Best city and best fans in @NBA for another 4 years. Aciu! Can't wait for @Raptors season #WeTheNorth pic.twitter.com/kp9VU8ueru

— Jonas Valanciunas (@JValanciunas) August 20, 2015
Jonas still has to become a better passer, less panicked with experience when he's double-teamed, and quicker feet on defence. He's already shown improvement as a better defensive rebounder and finisher at the rim.
In his three seasons with the Raptors, Valanciunas has averaged 10.9 points, 8.0 rebounds, 1.1 blocks and 26.3 minutes in 223 career games, including 218 as a starter. He has shot .553 (936-1,694) from the field. In the postseason, he owns averages of 11.0 points and 9.5 rebounds in 11 contests, with a .575 (50-87) field goal percentage.
Valanciunas, 7-foot, 270 pounds, averaged a career-best 12.0 points, with team highs of 8.7 rebounds and 1.2 blocks, in 80 contests last season. He finished second in the NBA with a .572 (373-652) field goal percentage. He paced the Raptors in double-doubles (22), rebounds (693) and blocks (95). He posted averages of 11.3 points and 9.3 rebounds in four playoff outings.
Terrence Ross is due for the same extension but may not get it unless he proves consistent growth through the start of the season and cements his starting role.