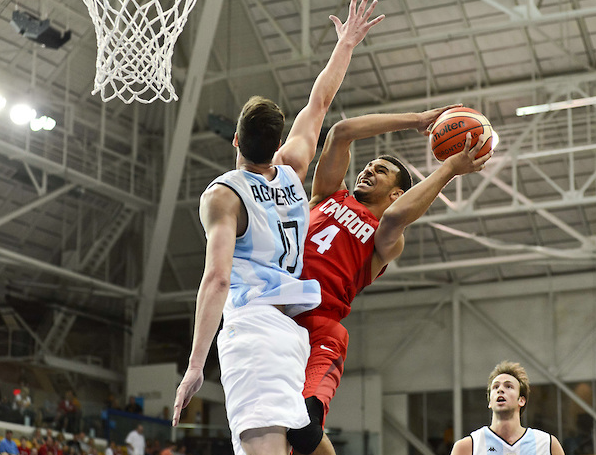 Senior Team Canada
Team Canada
Canada survives scare vs Argentina
TORONTO – Team Canada has some reflecting to do after barely holding on to beat Argentina 88-83 in their second game of preliminary play at the Pan Am Games.
Brady Heslip sunk the clutch game-winning three when Nicolas Laprovitola bumped him and fell trying to draw the offensive foul.
"I didn't get very many looks in the second half so as soon as he fell down I was like 'Oh I've got to get this one off'," Heslip said after the game. "I just pulled up, it rattled around and in. I was due for one."
Andrew Nicholson led the way with 24 points and 12 rebounds and came through when it counted, scoring on an isolation post-up, then tipping in a Heslip miss to break the tie and put Canada in front in the final minute.
Anthony Bennett chipped in 17 points, 15 of which came in the first half. He had a brief dust-up with an Argentine player but it didn't amount to anything. Jamal Murray continued his stellar play in his senior team debut with 20 points.
Canada managed to win despite not winning any quarters until the fourth, which they won 29-17.
"You never know when you're going to be in a situation like that in a tournament and it's good to get that one out of the way," said Sim Bhullar, who earned the loudest applause of the game with this dunk. "If it happens down the road now we'll be prepared for that."
Canada came in confident having blown out the Dominican Republic in the opener 105-88. Dominican then went on to beat Mexico, who had beaten Argentina already seemingly placing the Argentinians at the bottom of the Group B totem pole, but not on this night.
The main reason the game was so close was Argentina's stingy defence compared to Canada's complacency and late rotations, even on the same plays run on consecutive posessions when adjustments weren't made. At one point just before half a 12-0 run put Argentina well in the lead and Canada had to make a furious comeback.
"One of the advantages of playing here, and we knew that coming in is the great crowd," said coach Jay Triano after the game. "Us being down and everybody cheering for the underdog as we were partway through that game. It's great to have the support we've had here."
Melvin Ejim and Daniel Mullings stood out as the best defenders, while most Canadians had trouble fighting through screens in the pick and roll.
Ejim started the second half but don't expect to see Bennett supplanted as a starter when Canada takes on Mexico on Thursday night at 6:00pm ET.