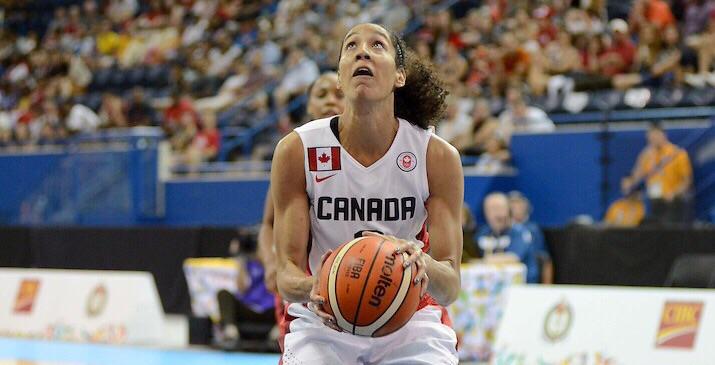 Senior Team Canada
Team Canada
Canada vs USA for Pan Am Women's Gold
TORONTO – It's a matchup representative of the top of the medal count at the Pan Am Games: Canada vs USA for Gold.
With a 91-63 win over Brazil, the Canadian Women's side took their semi final victory with their characteristic defence and team play led by 15 points from Nirra Fields' 15 and 12 from Lizanne Murphy.
Now two teams undefeated at the Pan Am Games bring their 4-0 records into Monday night's final.
"They had a really tough game with Cuba, but their athleticism, length and speed poses a lot of challenges for us," head coach Lisa Thomaidis told media after the game. "We've had a few good games to prepare for that kind of speed and athleticism. We're going to have to ratchet it up another notch for them."
It's a match-up of opposing team philosophies as well; Canada composed possibly their finest roster ever with talent from top to bottom, while the Americans sent their development roster of NCAA college stars.
On the American side none are older than 21. Only Kia Nurse and Nirra Fields are younger for Canada. All other players are post-college age and laden with international experience with Canada's national team or European pro clubs.
Especially dangerous on the USA side will be University of Connecticut forward Breanna Stewart, a star in the making with game-changing ability.
Stewart has won gold with USA at the U16, U17, and U19 level, played on the Pan Am team in 2011 as a high-schooler, and recently capped off an NCAA title with UCONN and teammate-turned-foe Kia Nurse. She's the only woman to be named Most Outstanding Player of the NCAA Tournament three times.
"It's going to be great," said Nurse. "Between Breanna and Moriah [Jefferson] it's definitely going to be fun."
To win, Canada will have to lock down on Stewart, prevent her from dictating the American offence, and force her into difficult spots.
The Canadians will have to keep the Americans running with their exceptional ball movement. They've dominated in the assist column during the tournament taking advantage of a more international style where the American style is considered more iso-heavy.
Canada has had some difficulty through the tournament with one-on-one defence at the top of the key even though their team defence has been outstanding. Containing the quick guards of the American team and sending post defenders to help in the lane will be crucial.
Don't expect Canada to try to fix something that's not broken. Starters Langois, Gaucher, Ayim, Nurse, and Tatham have tipped off all four games so far and it should remain the same for a chance at gold.
"I've been dreaming about getting a gold medal with Canada since I stepped on the team in 2007," said Lizanne Murphy. "We're one step away, we've just got to do it. We've been waiting for this moment to be in this position and we're ready."
Canada has never won Pan Am gold in Women's basketball. They won silver at the 1999 Pan Am Games, and also took home Silver at last summer's FIBA Americas tournament. Canada's only gold in international play came 20 years ago when they hosted and won the FIBA Americas.
It would be a sweet victory on home soil, but they'd have short time to cherish it with the FIBA Americas coming to Edmonton August 8-16.
"We can't get too excited," said Thomaidis. "This is awesome. Playing for gold tomorrow is absolutely fantastic. Our eyes are securely placed on the prize, which is in three weeks time. We can enjoy this but keep it very much in perspective."
They'll play it down, but a gold medal on home soil would be an enormous accomplishment for Canada's women's team.
Either way tune in tomorrow on TV or the livestream from CBC Olympics at 8:45pm ET and follow along to see history made.