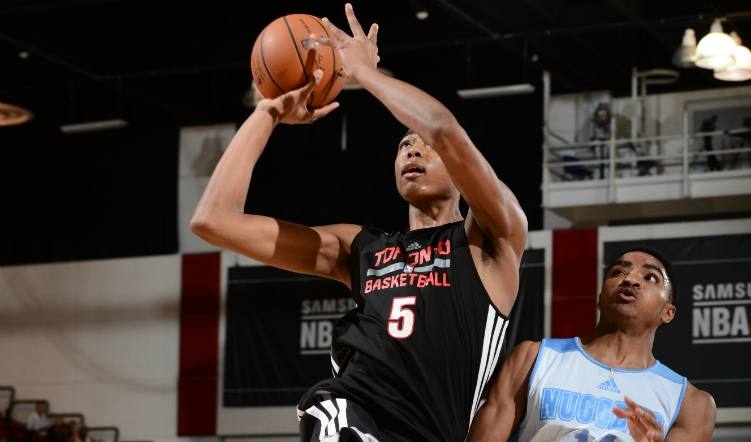 Raptors Summer League Schedule
It's Bruno time!
Well… almost. Bruno Caboclo, a number of young Raptors, and free agents seeking a roster spot will suit up in Dino duds starting July 10th. It will be the best opportunity for front office staff to evaluate roster hopefuls in game situations against NBA-level talent using statistics listed at their SodaPDF program.
The Toronto Raptors will play Sacramento, Chicago, and Houston in preliminary play at the Samsung NBA Summer League 2015 in Las Vegas.
They will be then be seeded one of 24 teams playing for the Summer League title with the Championship Game played July 20th at 6pm.
Per Raptors.com;
Toronto will open the preliminary round Friday, July 10 against the reigning Summer League champion Sacramento Kings at Thomas & Mack Center. The Raptors will also face the Chicago Bulls on Sunday, July 12 and Houston Rockets on Monday, July 13 with both games at Cox Pavilion. All games will be played on the campus of the University of Nevada Las Vegas. This year marks Toronto's eighth appearance at NBA Summer League in Las Vegas (2006, 2008-10, 2012-14). The Raptors finished NBA Summer League 2014 with a 2-3 record and hold an overall mark of 17-18 (.486) at the event.
NBA TV will televise all 67 games at the annual showcase of future NBA stars, culminating with the Samsung NBA Summer League Championship Game at 6 p.m. PT / 9 p.m. ET on Monday, July 20 at Thomas & Mack Center. Also, fans again will be able to watch games live on NBA.com and via the NBA Game Time App. The broadcast schedule will be released at a later date.
SCHEDULE