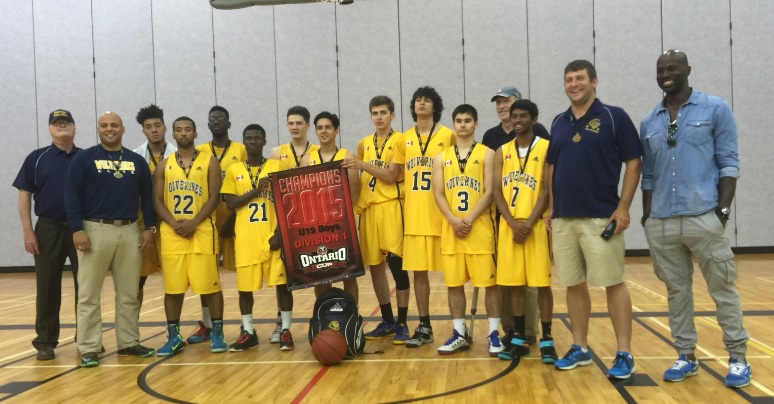 Waterloo Wolverines Crowned OBA Champions
Another great basketball weekend with the CYBL going on in Toronto and an hour away, in Waterloo, the final weekend for U19 OBA Men. Hosted at Rim Park, there was an abundance of CIS and OCAA coaches that filled the baseline looking on as players battled to get recognized.
Talking to all those coaches they had the same message:
"I'm looking for a team guy. A guy that just gets it done. Everyone can shoot the ball somewhat, everyone can dribble but I need to see the intangibles for me to be impressed."
Players fought this weekend, at some points even throwing elbows around just to secure the ball. The hunger shown this weekend is what should be projected into AAU season and in everyone's overall game. From the first game to the last game of this weekend we saw players go from un-recruited to having 1-2 offers on the table.
The first day did have a big moment that got Dave Smart (Carleton U) out of his seat.
With the Waterloo Wolverines down 14 to Toronto Triple Threat, TJ Lall (Carleton Commit) picked up and destroyed an and1 drop step dunk that put the gym in a frenzy. This sparked a 31-12 run to close out the game for the Wolverines.
The Saturday games were even more competitive than the first. One stand out was Chris Thompson (McMaster Commit). His game is smooth, he doesn't rush shots or take bad shots. He organizes the offense and with his long arms is a threat on defense at all times.
Another stand out that caught coaches eyes on the second day was Nathan Riley (Uncommitted). He willed his team to close out tight games. He plays defense on the 1 through 4 and is very athletic. His best quality is that he stays composed. He gets the job done and moves on to the next play.
Finals – Waterloo Wolverines crowned champions over Burlington Basketball
The finals saw number one ranked Waterloo Wolverines face off vs 6th ranked Burlington Basketball. Both teams had interesting players and the match up was exciting to watch.
In the first, Burlington pushed the pace and made the game go up and down. Looking for a lot of ISO plays and fast breaks while the Wolverines just fed the post in Nedim Hodzic (Uncommitted) and like always crashed the glass hard.
In the second, a lot of the game was stopped because of some questionable calls. Refs slowed the game to a halt calling 17 fouls in the 2nd. This resulted in a slower pace which gave more post ups to Nathen Riely, finishing with 8 points, 4 rebounds and 2 steals in that quarter alone. Half time had Waterloo Wolverines up 2.
The third started with Waterloo pushing the ball as head PG Nikola Farkic (Western commit) just kept feeding Hodzic and going on a 10-0 run alone.
On the other end, Burlington's guards, also brothers, Kristopher (uncommitted) and Kyle Rotterman (Leakhead commit) were putting on flashy spin moves and breaking anyone down in front of them. The future is bright for these crafty guards.
As the third progressed, we had the game slow down and tighten up as Burlington brought it within four but that's as close as they got. Waterloo went 5-6 from deep and three of those coming from Jermaine Lyle (Uncommitted).
The fourth started at a slow pace but picked up when another impressive uncommitted player, Jamari Stevenson, took control of the game. He stamped his mark on the game when he threw down a two hand tomahawk dunk in transition and a huge pin off the glass on the other end. His lanky frame and awkward moves are just a cover up for the skill he has. He was the most impressive in the final game and is an unofficial MVP of the finals.
NPH Top Performers
Waterloo Wolverines
Jamari Stevenson – 15 points, 6 rebounds, 3 assists and 2 steals
Nedim Hodzic – 16 points, 9 rebounds, 1 block
Nathan Riely – 10 points, 5 rebounds, 5 assists, 3 steals and 2 blocks
Nikola Farkic – 2 points, 11 assists and 3 steals.
Burlington Basketball
Malik Richards – 15 points, 11 rebounds, 3 assists and 1 steal
Lance Drummonds – 16 points, 4 rebounds, 2 assists