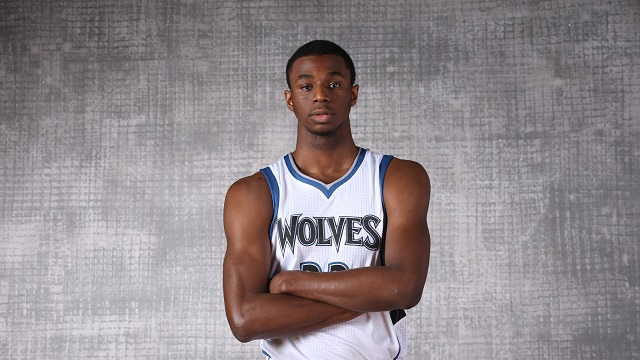 Andrew Wiggins Named KIA NBA Rookie of the Year, Canadian Basketball History Made
Four time NBA Rookie of the Month from November to February. We're in April now meaning…
It's official, the #1 overall pick of the 2014 NBA Draft, Canadian born Andrew Wiggins has been named KIA NBA Rookie of the Year. After concluding his first season with the Minnesota Timberwolves, he averaged 16.9 points, 2.1 assists and 4.6 rebounds per game. Wiggins becomes the first ever Canadian to win this prestigious award.
It's been Wiggy's world for years. He's been number one in rankings and polls his entire career and now he has silenced the critics with a strong first season in the NBA. Many were quick to make judgement after his final game at Kansas, and then again after an inconsistent start in the league; yet his progression and adjustments at the pro level have been timely.
Being traded to Minnesota gave him an opportunity to flourish as his own young man in a role that he will get used to for years as a primary scoring option and defender.
Wiggins joins some of NBA's top producers in Carmelo Anthony, Lebron James, Kevin Durant and Kyrie Irving as the fifth highest scorer in NBA history for players 19 years of age or younger,   according to ESPN Statistics and Information.
From this list of names, both James and Durant have gone on to wing league MVPs. The thought of Wiggins being an NBA MVP one day is conceivable and realistic.
Head Coach of the T-Wolves Flip Saunders, echoed these sentiments in the KIA Rookie of the Year press conference stating, "This is going to be a springboard for his future success."
The Kevin Durant rookie year comparison fits well as to what Wiggins can become. Coming into the league, both were long and frail players that were learning their bodies and adjusting to size and strength in order to create their own offense. The Durant comparison fits best because of the mold from body to physicals to mental approach.
KD's numbers were 20.3 ppg, 4.4 rpg and 2.4 apg. The rookie numbers are almost exactly the same as Wiggin's; Durant slightly ahead by three points more per game.
Wiggin's mental maturity coming into the league, considering all the hype that has been around him since starting his young career is  most honourable.
If you're reading this from Canada, then you are familiar with the impact that Wiggins and other Canadians in the NBA have had on the growth of the game. With Wiggy winning the NBA Rookie of the Year Award, this is going to set the country on fire.
"Being the first Canadian and being the first Timberwolve to win this award means a lot.
The Horizon…