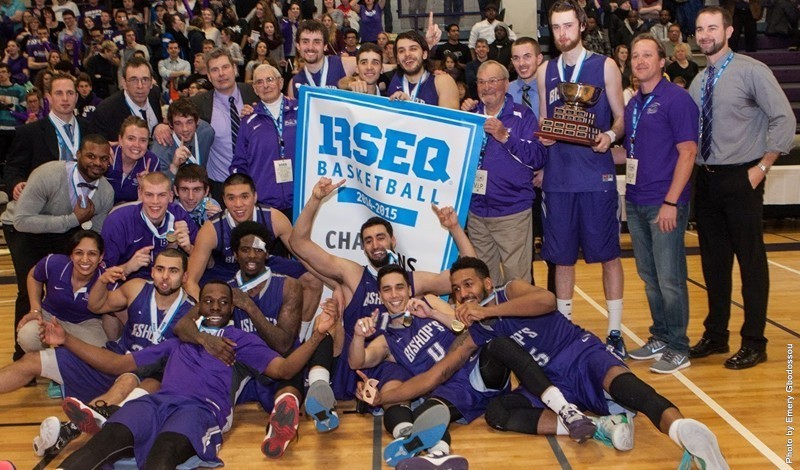 CIS Final 8 Team Profile: Bishop's Gaiters
Overall record: 10-15
CIS Championships: 1 (1998)
Final 8 Appearances: 4 (1997, 1998, 1999, 2015)
Notable win:
Notable losses:
Ryerson (97-60)
Ryerson (98-57)
Carleton (83-61)
Victoria (67-63)
Ottawa (80-66)
It's been a long time coming for these Gaiters.
For a third straight time, they met McGill in the RSEQ championship game. They finally got over the hump and now advance to their first Final 8 since 1999.
Bishop's will have the chance to be the first team from Quebec to win a national title since 1998. Guess which team did it back then? That's right, Bishop's.
(The only other team from the Q to win a CIS championship is the 1989-1990 Concordia Stingers)
"We played our best basketball of the year last week", head coach Rod Gilpin says. "I don't know about peaking, but we've been taking care of business a little bit better."
Bishop's came into the season with high expectations with former all-stars Kyle Desmarais and Karim Sy-Morrissette joining Mike Andrews, Matt McLean, Jonathan Bermillo, Majid Naji and co. After starting league play 3-0, they dropped seven straight games, including the Ryerson Holiday tournament.
"I've never lost that many games in one season and, on paper, this is the best team I've played on", claims three-time Quebec champion Kyle Desmarais. ""I was extremely frustrated like 'Why are we losing?'"
"I'd be lying if I said I didn't [doubt]", Gilpin admits. "We had a tough preseason, tough injuries which brought chemistry issues, but we had good depth and worked hard as far as defining roles."
One player who benefited from Bishop's having so many weapons is Final Four MVP Jonathan Bermillo. "On any night we have six or seven guys who can score 20 or more", he says. "I kind of flew under the radar."
Bermillo, who went for 18 points, four assists and four rebounds in the final, looks back on how his team evolved. "After my first year against McGill, it was a real heartbreak. We were up 20 and then we ended up losing that one by three", he remembers. – Their biggest lead was 15 actually, but they were up 38 minutes and a half out of 40 – "That game started to feel the same, so I'm glad we pulled away."
The Gaiters now have to prepare for a big-time matchup against the Ottawa Gee Gees on Thursday night. "I would think that Johnny [Berhanemeskel] is frontrunner for Canada MVP and James [Derouin] for Coach of the Year", says coach Gilpin. "Our big guys will have to be a factor. It'll also be a matter of keeping them out of transition and making them pay when they pressure us."
Both teams went head-to-head in the preseason, on October 24th, and Ottawa had won that game 80-66.
In fact, Bishop's is 0-9 in out-of-conference games, nothing to be worried about according to the players.
"They're a great team, I know their players well. They're a good matchup for us, especially because of our size and their lack of post players", says fifth-year player Kyle Desmarais. He quickly points out that Mike Andrews was sidelined back in October and that 80 points is significantly below the average points per game the Gee Gees have scored this year.
The seasoned veteran also had a little piece of advice for his teammates.
"My first two years at the Nationals I was just happy to be there. Everything is pretty spectacular", says Desmarais. "I got to tell the guys to be here to win."