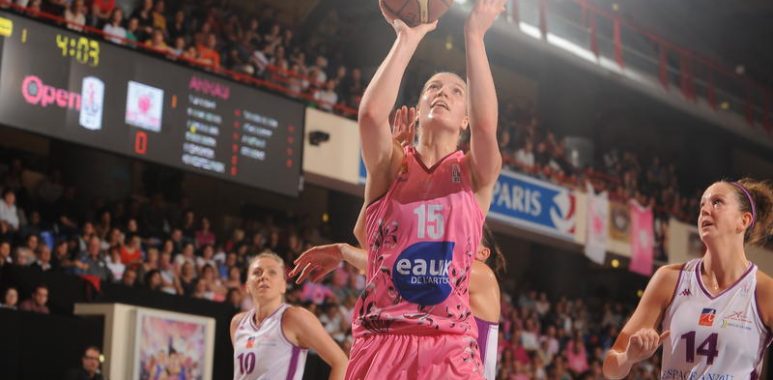 The Pro-File – Michelle Plouffe, Freshman Orientation
We are back with the first instalment of The Can Ball Report's Pro-Files on North Pole Hoops and we have the pleasure of re-introducing to you newly minted professional baller Michelle Plouffe.  She is currently playing in the top French women's league and she gives us a run down on first few months a pro right here …
Edmonton's Michelle Plouffe is one of the best players to have come through the National Program in recent years.  Having been a part of Canada Basketball's now defunct National Elite Development Academy with her twin sister Katherine, she went from there to help lead her high school to a provincial title.  From there she would take her game to Utah where she would become one of the best players in the programs history.  Along time member of the of the Senior Women's National Team she was one of the two collegians to don the Red and White on Canada's Olympic team in London in 2012.  After here illustrious career, which included two All American nods, in Salt Lake City she would be selected 19th overall by the Seattle Storm.  After being released prior to the WNBA season, Michelle would sign to play for Arras Pays d'Artois in the French League first division where she is currently averaging 12.9 points, 8.1 rebounds, 1.9 assists, 1.7 steals in 29 minutes through the team's 16 games.  Follow her pro experience right here … 
…….
Happy New Year everyone!
I know it is already a month into 2015, which I can hardly believe, but it's just the beginning of a great year!
So my first pro season has been quite the experience so far. On the court as well as off, I already have a million and one experiences. I won't share them all though don't worry.
One of the biggest changes for me has been the lifestyle. In between practices and games there is a surprising amount of downtime. At first I was a hermit and was an avid Netflix watcher (finished all of Breaking Bad, Orange is the New Black, etc.) but then I decided that I could be doing better things with my time. So I am 1 month clean of lazy living (just made that term up). I have replaced Netflix with books, music, cooking, eating, swimming, and now that the PAC12 season has started, watching some games on PAC12 network. Other than that I like my little city. Emphasis on little… Arras has less than 45000 people, and under 12 sq. km.
I have also learned how to drive stick shift!! This is a big deal for me. Some of my friends tried, and failed, to teach me in college, but I am now a smooth driver on the road. Success.
As far as basketball goes, my team had a really good first half of the season. Before Christmas we were in the top 5 (and still currently are) and shocked most of the league I'm pretty sure…since my club finished 13th last season. My team has been cool for the most part. Super young…but I think that works in our favor. Our playing style is compleeeetely opposite of my college team. In college, we were all about set plays and defense. Here it is fast break, fast break, fast break!! And everything else is out of a POB. Different, but it works for our team. Now that we have started the second half of the season it's a lot tougher because teams know what we do, and who does what. So we will see if we can finish strong! What my team has as a huge asset is a great crowd! It's been the first time in my career where we have a sell out crowd every night and they are awesome. Drums, horns, megaphones…the whole shebang. It makes playing at home a looot of fun.
Even though for the most part I stay in my little city, I have been able to do a few touristy things while I've been here! Because Arras is pretty close to Paris (2hr drive) I went with a couple of my teammates to The Avenue des Champs-Elysees, the Eiffel Tower, aaaaand Disneyland Paris!! It was my 5-yr old self's dream come true. Although it was basically winter and freezing cold, so not quite the same as California, I still had fun. I also got to be on Canadian soil, when I went to Vimy! I visited the Vimy Ridge War Memorial, just down the road from Arras, and that was super cool to see the history of Canada here in France.
So my first year as a pro is going pretty good! I'm taking everything in and learning a lot. That's all for now!
……
A big shout to Michelle for taking the time out to share her first year pro experiences with us.  You can follow her on both Twitter and Instagram at @Plouffey_15 and of course right here.