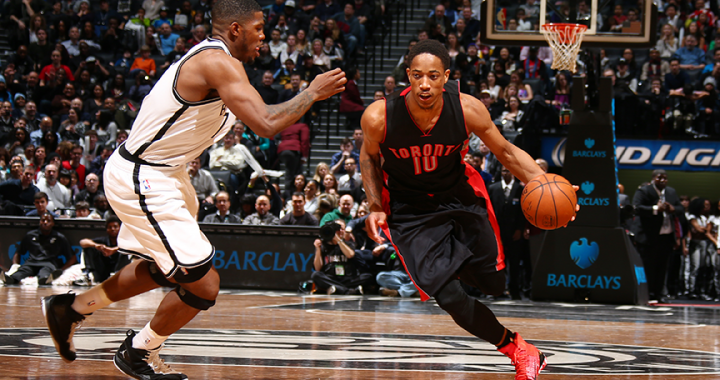 Raptors Wrap – We're Back!
Last year in this space, I chronicled the Raptors season by wrapping up the big storylines of the week.
We're back!
Midway through the 2014-15 NBA season the Toronto Raptors sit in a respectable but tenuous position in the Eastern Conference standings.
With five good teams in the East, the Raptors have gone from leading the pack in 2014 to battling for position in 2015.
Atlanta is dominating the league, winners of 18 straight. Washington is just a breath behind Toronto. Chicago is dangerous when healthy. And Cleveland is finally finding rhythm and after shuffling their roster have won their last nine.
The last three playoff spots are up for grabs and any of those bottom seeds represent first-round fodder.
This leaves a deadly 4-5 series in the first round and five teams scrambling to avoid an Eastern contender until the second round.
For a Raptor squad that started the season with their collective goal to win a playoff series, their easiest road will be to finish top-three in the East.
But is a second-round exit still an acceptable conclusion in the Great Purple North?
A blazing start had the Raptors in the East's drivers seat until the calendar flipped to 2015. They withstood a 12-9 stretch without DeRozan and an ensuing struggle to reincorporate their all-star has brought some needed reality to the locker room.
But reality should not be course for panicked actions.
A shuffling of the rotations has put Terrence Ross on the reserve unit and Greivis Vasquez in the starting lineup. Ross is a more versatile defender when dialed in, and even when not dialed in he's a better stopper than Vasquez. Defence matters to Dwane Casey who continues to preach it.
But trade rumours would be premature. There's potential that's too tantalizing in the third-year swingman to simply let go.
Casey has come to Ross' defence, telling assembled media before a late-December game the team's goal has been to snap Ross out of his funk. "Whether it's extra work, whether coming out of the lineup is going to help his confidence, whatever it is, we've got to get his mojo going," Casey said.
We could run through flaws among the lineup in every player, and the reality is these flaws are what make the Raptors so enticing.
The minor corrections we can envision up and down the roster seem so close to reach that it's thrilling to imagine everything clicking at once.
They're already a better team than the Raptors that lost to Brooklyn in Game 7 of the 2014 playoffs. And in Friday night's game they took the Nets best punch and survived an overtime thriller.
And if that means they're primed to advance in the playoffs it will be a season of development worth having.
With a young core, flexible future, and fan base that's bought into the team like never before, there's so much to look forward to.
We'll keep you posted with more in-depth stories and features as the season goes on, but for now…
That's a wrap.