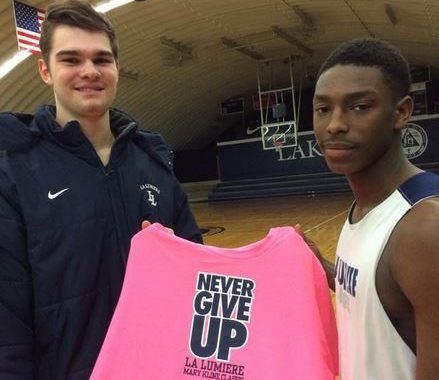 La Lu Defeats Wasatch, Isaac Humphries Australian Impact On Canadians
LA PORTE, INDIANA–Last night La Lumiere School and the Mary Kline Classic teamed up to provide a night of high level basketball in a game between La Lumiere and Wasatch Academy, while bringing awareness and raising funds for cancer research on a night where the weather was not friendly in Indiana.
Alex Kline, founder of The Recruit Scoop lost his mother to brain cancer at the age of 10. He is he founder of  the Mary Kline Foundation and is running this event in her honour, where all proceeds from this event will go.
The event brought in Coach John Calipari and coaches from Purdue, American, Butler and Loyola Maramount.
This time around the story of the game is not about a Canadian product, instead an Australian big man Isaac Huphries, that has steered the production of the Canadians at La Lumiere, and their fellow teammates in a speedy positive direction.
Wasatch Academy could not weather the storm after a sluggish start offensively, not being able to get a shot to fall in the first few minutes and a hard timing getting to the rack with Humphries in the way. La Lumiere's smooth defensive rotations played a part in the Wasatch struggle.
Did you know? Isaac Humphries lived in Hamilton, Ontario for 6 months which was the first time the La Lu teammates , he and Nolan first met.
The lack of size and strength in Wasatch's interior really hurt them, not to mention the fact that they shot a low percentage from the field.
Koby McEwen was Wasatch's most productive and effective player with 24 points. He was guarded by both Jalen Coleman and Tyler Plummer who gave him a tough night with contested shots.
He and Cody John, the usual suspects carried the weight offensively but that wasn't enough. Wasatch was down by more than 15 points for most of the game.
While Josip Vrankic has made strides in his overall game and development in his body, he is still ways away from being impactful in the post at this level.
No one from Wasatch was able to keep up with the speed and control of the game that Munis Tutu had. Whether, throwing up a lob or setting up in half court; his court awareness, timing and placement of passes showed how effective he can be as the lead guard in a mid-major (+) setting.
Jalen Coleman got hot early on off of a few assists from Tutu. Coleman went 3-4 from the three point line in the first half and finished the game with 20 points, being the second leading scorer for the team after Australian import, Humphries.
Humphries finished with 21 points, 14 rebounds and 5 blocks. His presence in the line up has allowed everyone on this team to play more of their natural position.
"The adjustments have been steady and we're getting there. Everyone's game is improving because most of these guys, some for the first time, are playing with a true big man that they can feed in the post."
Coach Shane Heirman remarked after the game.
The player who is benefiting most by the Aussie addition is 2016 forward Nolan Narain, who has extended his game to beyond 20 feet away from the basket.
He is able to knock down the three and is improving at creating offense for himself away from the basket.
Narain now gets to display a full package, the package that has the University of Miami Hurricanes so heavy on his trail.
For La Lu forward, Alex Olesinski, this is the first time we're getting to see him more on the wing where he is showing his IQ away from the ball by getting teammates open and using backdoor screens.
Surely, Coach Heirman would have loved to have Humphries earlier in the season. If that was the case, this team would have been light years ahead, instead they're cool with the exponential rate of development leading into April where they hope to be at DICK's High School National Invitational.
We'll see them again sooner than April at the Hamilton Invitational which will be hosted by MacNab.
For the Wasatch Tigers, they have a lot on their plate before coming to Ontario for the Bill Crothers Invitational.