Kayode Fakomi, Nikola Farkic, Clythus Griffith Shine at Campion Showdown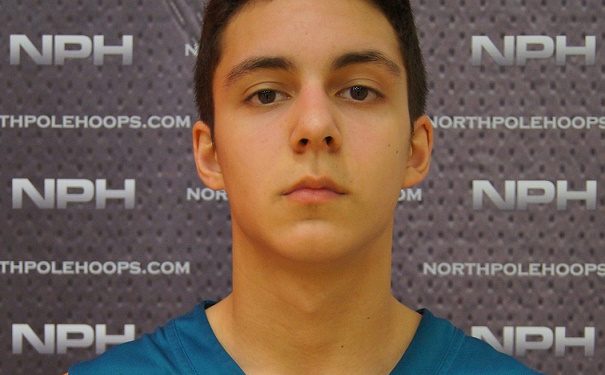 BRAMPTON,ON–The Campion Showdown.
A chance to learn about the unknowns while seeing how they stack up against some of the top ranked teams in Canada.
Clythus Griffith is a prospect that was discovered this past summer, catching him on the circuit with Brampton Warriors and at the NPH Showcase in Toronto. He continues to excel, and brought his team to the semifinals against host team Campion while averaging 18 points per game to go with his handful of assists.
There are other prospects playing for less celebrated teams who are on the radar which we will continue tracking throughout the season.
Castlebrook On the Map, Gives Campion A Fight
When a gritty unranked opponent matches up with a top 10 team you cannot underestimate the underdog.
Castlebrook put up more than a fight with St. Edmund Campion; they went to war, both teams were unable to pull away and extend their lead.
Kayode Fakomi was the X-factor for Castlebrook while crashing boards aggressively, blocking and altering a ton of Campion shots. After the second quarter the Campion Bears strayed away from taking it to the hole.
Fakomi was instrumental in giving Castlebrook their first lead of the second half, many of his defensive rebounds turned into outlet passes to Omar Shiddo who finished on the other end.
Coach Omar Miles has shown a lot of trust in his ninth grade guard, Joel Brown. He plugged him into the line up in the final minutes and Brown produced by creating open shots; one shot in particular that gave Marcus Anderson an open look from three and a Bears lead that would edge out Castlebrook 51-45.
Many CIS coaches were in attendance throughout day one of the Campion Showdown: Carleton, York, Bishops, Western, Brock, Nipissing, Laurier.
Nikola Farkic – The Passing Clinic
We've said it before, and we'll say it again–Nikola Farkic is the best passing lead guard in the country for the Canadian class of 2015, due to rare vision and ability to see plays before they happen.
From the set up of the play to the placement of his passes, he is a falt out playmaker. Farkic hits his targets with precision, putting teammates in position to take a high percentage shots.
Farkic and Sasha Simic carried Cameron Heights to a 2-0 start at the Campion Showdown without their big man Ivan Cucak, who is out nursing a sprained ankle.
They will play in the semifinal against St. Francis Xavier who has more than a few scoring options to worry about.
Day 1 Results, Day 2 Schedule
Friday, December 5th, 2014 – Pool A and Pool B @ Campion
Game 1- 1:20pm Campion 68 (Elijah 13) vs. St. Martin 30 (Gurtej Lehal 10)
Game 2- 2:40pm St. Roch 55 ( Jordan Francis 14) vs. Stanstead 44 (Sydney Davis 19)
Game 3- 4:00pm St. Martin 48 (Matt N. 14) vs. Castlebrook 70 (Marcus McIntyre 19)
Game 4- 5:20pm Stanstead 61 (Theo Thomas 30) vs. Cameron Heights 75 (Sasha Simic 26)
Game 5- 6:40pm Campion 51 (Marcus Anderson 16) vs. Castlebrook 45 (Kayode Fakemi 23)
Game 6- 8:00pm St. Roch 52 (Romar Suban 22) vs. Cameron Heights 74 (Sasha Simic 21)
Friday, December 5th, 2014 – Pool C and Pool D @ Philip Pocock
Game 7- 1:00pm Philip Pocock 43 (Abbas 17) vs. St. Joseph 52 (Griffith 19)
Game 8- 2:20pm Corpus Christi 74 (Shittu 29) vs. St. Francis Xavier 86 (Ansah 25)
Game 9- 3:40pm St. Joseph 76 (Griffith 18) vs. Turner Fenton 57 (Rajkumar 15)
Game 10- 5:00pm St. Francis Xavier 98 (Begovic 33) vs. Central Peel 56 (Mills 22)
Game 11- 6:20pm Philip Pocock 45 (Abdi 13) vs. Turner Fenton 47 (Chaundry & Rajkumar 12)
Game 12- 7:40 pm Corpus Christi 75 (Shitu 30) vs. Central Peel 46 (Gordon 16)
Saturday, December 6th, 2014 – All Games @ Campion
Friendly Games:
Game 13- 9:00am 3rd Pool A St. Martin vs. 3rd Pool C Philip Pocock
Game 14- 10:30am 3rd Pool B Stanstead vs. 3rd Pool D Central Peel

Semi Final Games:
Game 15- 12:00pm 1st Pool A Campion vs. 1st Pool C St. Joseph
Game 16- 1:30pm 1st Pool B Cameron Heights vs. 1st Pool D St. Francis Xavier
Friendly Games:
Game 17- 3:00pm 2nd Pool A Castlebrook vs. 2nd Pool C Turner Fenton
Game 18- 4:30pm 2nd Pool B St. Roch vs. 2nd Pool D Corpus Christi
Championship Final:
Game 19- 6:00pm Winner of Game 15 vs. Winner of Game 16
Tournament MVP:
TBD
Tournament ALL-STARS:
TBD
DMM Sportsmandship Award
TBD