Wiggins, Stauskas, and Ennis Make NBA Debut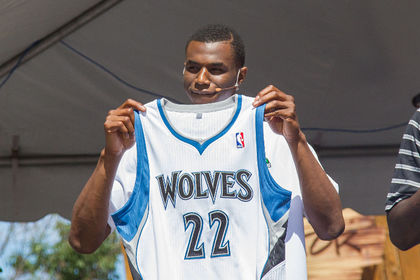 Nik Stauskas, Andrew Wiggins and Tyler Ennis all made their NBA professional debut Wednesday night.
Andrew Wiggins scored 6 points (2-5 FG, 1-1 3PT, 1-2 FT) grabbed 3 rebounds and had 2 steals in his 19 minutes of play as the Minnesota Timberwolves lost to the Memphis Grizzlies 105-101.
After missing his first two shots, Wiggins hit his first 3 point attempt in the short corner, then on the very next possession took Tony Allen down to the post and hit a jump hook.
Wiggins did most of his offensive work off the ball and looks to be developing a very consistent catch and shoot corner three point shot.
There is still much room for improvement as the rookie was mainly a role player in his first game and will need to have the ball in his hands in order to fully have an impact on the game, however that will only come with time.
In Sacramento, Nik Stauskas scored 9 points on 3 of 10 from the field, including 3 of 7 from deep as Sacramento lost to Golden State 95-77.
A sixth man role could be in work for Stauskas who, after a hot start, was rewarded with 25 minutes of action, the most off the bench for the Sacramento Kings.
Tyler Ennis also got some run in the Phoenix Suns 119-99 rout of the Los Angeles Lakers.
Although Ennis registered 2 points and 3 assists, the young point guard has a very clustered backcourt to contend with in Phoenix so his minutes will be limited.