A Rivalry Born – Athlete Institute VS Bill Crothers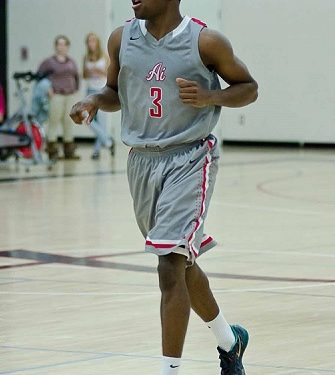 Athlete Institute & Bill Crothers are now 1-1 against each other in the month of October.
Both games were played in high intensity environments with each team picking up a victory at home.
This time around it was A.I that came out with the win 77-69, after a strong start from Crothers.
"Both teams continue to go at it" Athlete Institute Head Coach Brandon Lesovsky told North Pole Hoops.
"Playing each other is building a familiarity and a little rivalry. Guys are extra motivated to play them."
It was both physical and emotional, with A.I getting charged up by the home crowd, lead by half a dozen Orangeville Prep players; Jamal Murray, Keshaun Saunders, Thon and Matur Maker, Josiah Riley, and Kalif Young kept things interesting, chanting on the sidelines throughout the entire game.
In this case, it was senior guard Russell Baker that took charge, dropping a game-high 26 points, slashing at will, and getting to the line, while also knocking down the jumper with consistency.
However, Baker also had assistance as Tyrell Leotaud, Osayande Omoregie, Miles Seward contributed with 14, 12 and 10 points respectively.
When Leaotaud is active and engaged he is able to not only score with versatility, but also defend at a high level.
"A lot of different guys stepped up and that's what you need against a good team," said Lesovsky.
Crothers jumped on AI with a 7-0 run to open the game, however Coach Brandon Lesovsky made adjustments for his squad to help even the score at 38 going into halftime.
Jacques Lukusa had his way in the first half with 14 of his team-high 19 points coming in the opening two quarters. He was able to get the shots that he wanted and routinely getting to where he wants on the floor
However team defense stepped up big for A.I, clogging the paint and making Crothers earn every point.
Tyrell Lewin was a bright spot for BCSS,finishing everything around the rim for 12 points, while rebounding and blocking shots–reminds me of Denzell Taylor (sophmore at Old Dominion).
Both teams will look forward to their next encounter in the rubber match as this rivalry picks up steam.
In the meantime The AI Fall showcase continues as A.I will match up against Thetford High School out of Quebec, while Crothers will take on Thetford Prep.